With all we have to work for — species diversity, forests, climate, oceans, and basic justice — must we really be concerned about the state of Earth's sand?
We might wonder why there would ever be a sand shortage, since deserts cover more than a third of Earth's land surface, but wind-formed desert sand is too fine for construction. Highly valued river and lake sand contains the right-sized particles for landfill and strong concrete. Dubai, on the edge of the vast Arabian desert, imports sand from Australia. Qatar imports over $6 billion worth of sand annually.
The immense growth of human infrastructure — booming cities, roads, concrete, glass, electronics, and shale gas fracking — now requires such a massive extraction of sand and gravel, that we are now destroying rivers, lakes and ocean ecosystems just to dredge up billions of tonnes annually.
Last year, in Science magazine, Aurora Torres from the German Centre for Integrative Biodiversity Research, with colleagues Jodi Brandt, Kristen Lear, and Jianguo Liu, published "A looming tragedy of the sand commons." According to the authors, sand scarcity is now "an emerging issue … with major sociopolitical, economic, and environmental implications."
Since 1900, the global volume of resources for buildings and transport infrastructure has been increasing by about 2.8% annually, doubling every 25 years. Sand and gravel represent about 79% of this material extraction, almost 29 billion tonnes a year, exceeding fossil fuels and biomass extraction. Nations now mine about 13 billion tonnes of sand annually just for construction, second by weight only to water as the most-used resources on Earth, and this demand is growing by about half a tonne per year, expected to reach 20 billion tonnes annually by 2030.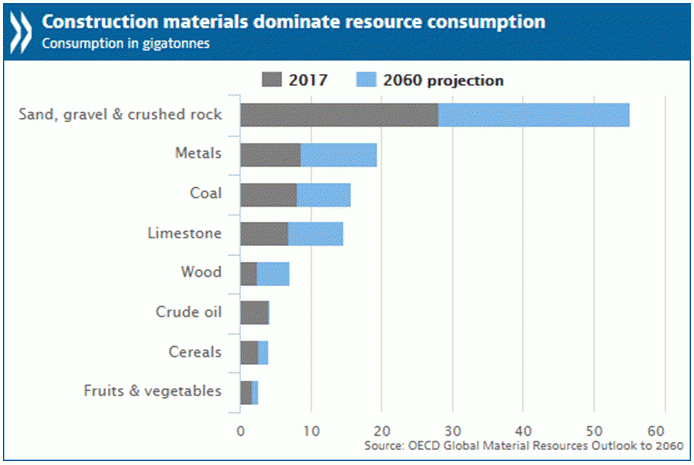 This relentless global sand trade leaves behind habitat destruction, species loss, health impacts, fishing decline, obliterated beaches, disintegrating riverbanks, and collapsing bridges. "It's the same story as over-fishing and over-foresting," says Pascal Peduzzi, co-author of the UN environment programme report on sand scarcity. "It's another way to look at unsustainable development."
Sand wars
The extraction of sand has become wild, reckless, and literally criminal. In most regions, sand is a common-pool resource, open to plunder. Sand remains mostly unregulated because extraction is so vast and because nations find it too expensive to regulate and enforce. Common-pool resources such as sand are prone to the classic "tragedy of the commons," whereby exploiters of the resource compete to extract maximum volumes without considering social or ecological consequences.
However, even where sand mining is regulated, sources are so widespread and accessible that illegal extraction and trade have become common. In India, criminal gangs have diverted rivers, destroyed aquaculture habitats, and devastated lakes and wetlands. In 2016, the European Journal of Criminology, published a study of "environmental organized crime," by Aunshul Rege and Anita Lavorgna, detailing "illegal soil and sand mining conducted by Indian and Italian organized crime groups." In some cases, those who have attempted to stop the plunder, have gone missing or have been found dead. According to the Indian supreme court, "the alarming rate of unrestricted sand mining" represents a "disaster" for fish, aquatic organisms, and birds.
In southeast Asia, Singapore's high-volume of sand imports, used to create landfill building sites, has led to international disputes with Indonesia, Malaysia, Vietnam, and Cambodia. Singapore, the world's largest sand importer, launched a vast fleet of ships to dredge and vacuum up millions of tonnes of sand from seabeds annually, destroying ocean habitat and obliterating over 20 entire islands. The sand is used to expand Singapore's land area by over a million square-meters every year. Indonesia, Malaysia, and Vietnam, have now forbidden or restricted sand exports to Singapore, although criminal gangs still extract sand from those regions.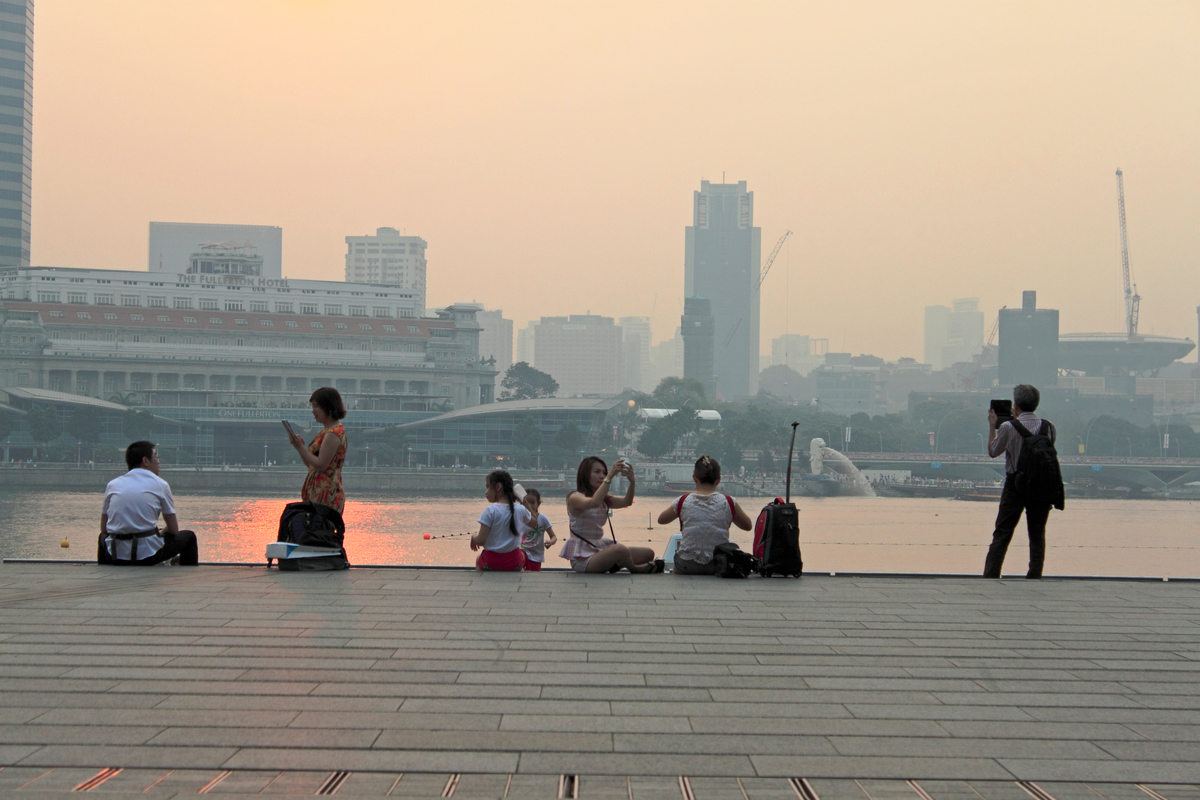 In Cambodia, the dredging threatens mangrove forests, seagrass beds, rivers, estuaries, and the ocean floor. Researchers have linked sand mining to the decline of endangered species, including the Irrawaddy dolphin, spinner dolphin, and the rare Royal turtle. Throughout Asian river systems, the rare Gharial crocodile has become critically endangered, threatened by sand mining's erosion of river banks.
Vietnam, which has outlawed sand exports to Singapore, continues to lose forest and farm land to supply its own domestic demand. In the Mekong Delta, sand mining of river sediment is causing saltwater intrusion into rice paddies, farm land, and fresh water resources. Even so, Vietnam is on pace to exhaust its local construction sand supplies within three years.
Collapsing bridges, vanishing porpoises
In Africa, China, and Southeast Asia, the extraction of sand from rivers and lakes creates standing pools of water that have become breeding sites for malaria-carrying mosquitoes. Health officials also suspect that such pools contribute to the spread of Buruli ulcer outbreaks in West Africa and other emerging diseases.
Meanwhile, fishermen and entire fishing communities have complained that dredging ships are destroying fishing grounds and fish-breeding estuaries. In some communities, fishermen have had to take work on sand barges after losing their fishing income.
A 1998 study in California showed that every tonne of sand removed from a California river caused $3 in infrastructure damage, including the failure of roads, dikes and bridges. In 2000, in Taiwan, sand mining caused a bridge to completely collapse. The following year, in Portugal, due to sand mining, a bridge collapsed as a bus passed over, killing 70 people; likewise a weakened bridge collapsed in India in 2016, killing 26 people.
In China, during the 1980s and 90s, companies mined construction sand from the Yangtze River.
Thousand-foot sections of riverbank routinely collapsed, shipping lanes were blocked, and water supply equipment became clogged with sediment. Finally, in 2000, as bridges began to weaken, the Chinese government banned sand mining on the Yangtze River, and miners moved operations up river to Poyang Lake in Jiangxi Province, 500 kilometers southeast of Shanghai. We won't be surprised by what happened next.
China's largest freshwater lake became the world's largest sand mine. Hundreds of dredgers extract about 10,000 tonnes of sand an hour from the lake, 236 million cubic metres annually, thirty-times more sand than flows in from tributary rivers. Dredgers widened the outflow channel, increasing drainage into the Yangtze, and Poyang's water level dropped so much that huge shipping vessels and abandoned fish boats now sit stranded on dry land.
Migratory birds — cranes, geese and storks, and other species — have been displaced from Poyang Lake. According to recent surveys, the sand dredging has pushed the rare Yangtze finless porpoise to "the brink of extinction." In 1991, when sand dredging began in the lake, approximately 4,000 porpoises lived in the Yangtze system, including Poyang and Dongting lakes. A 2006 study estimated about 1,800, and a 2012 study estimated about 1,100 remaining. Unregulated fishing and 20 billion tonnes of waste discharged into the Yangtze system every year contribute to the decline.
Most of the sand dredged from the Yangtze/Poyang waterway goes to Shanghai, which has has been adding half-a-million new residents annually. Sand is also extracted for hundreds of kilometers of new roads, for glass, and concrete infrastructure, including the expansion of Shanghai Pudong airport.
As China exhausts its domestic sand supplies, sand companies seek foreign sources. In 2011, Mozambique allowed Haiyu Mining, a subsidiary of the giant Jinan Yuxiao Group, to open sand mines in the fishing community of Nagonha. Sand mining buried wetlands, blocked the lagoon channel to the ocean, changed the flow of fresh water, and created flash flooding. Houses were washed away, fishermen lost boats and gear, and the community lost its modest tourism income. The community of Nagonha was virtually destroyed for sand.
Limits to growth
According to a 2016 paper in the Journal of Industrial ecology, "Global Patterns and Trends for Non‐Metallic Minerals used for Construction," the "environmental burden" of sand extraction has followed the growth patterns of population, gross domestic product (GDP), and particularly "driven by unprecedented urban growth."
According to the UN, the world's urban population has quadrupled since 1950, reaching 4 billion today, and expected to approach 7 billion by 2050. The Tokyo, Japan metropolitan area is now approaching 40-million inhabitants. Fast-growing cities, such as Delhi, India and Lagos, Nigeria are on pace to reach 60 million inhabitants by 2050. About three thousand years ago, when the Earth had already suffered several millennia of anthropogenic soil destruction, the entire human race comprised 60 million people. By 2050, there could be at least five cities that size: Delhi and Lagos; Dhaka, Bangladesh; Jakarta, Indonesia; and Karachi, Pakistan; with Tokyo, Shanghai, Mumbai, Mexico City, New York City, and São Paulo not far behind. This urban expansion requires landfill and concrete, which translates into a massive demand for sand and gravel.
This year, the Organisation for Economic Co-operation and Development (OECD) presented a "Global Material Resources" report at the World Circular Economy Forum in Yokohama, Japan. The report projected raw material extraction "to double by 2060 with severe environmental consequences." Sand, gravel, and crushed rock account for more than half of these materials. "[A]s the global economy expands and living standards rise," the report states, we will witness "twice the pressure on the environment that we are seeing today."
Questions remain, regarding whether or not the Earth can even sustain such human population and economic growth over the next forty years, and how the environmental movement can or will respond.
Resources and Links:
"Global Patterns and Trends for Non‐Metallic Minerals used for Construction," Alessio Miatto, Heinz Schandl, Tomer Fishman, Hiroki Tanikawa, Journal of Industrial ecology, 2016
"The world is facing a global sand crisis," by Aurora Torres, Jianguo Liu, Kristen Lear, and Jodi Brandt, The Conversation, 2017.
"Uncovering sand mining's impacts on the world's rivers," WWF study report, PhysOrg, August 22, 2018.
"Sand mining and increasing Poyang Lake's discharge ability: A reassessment of causes for lake decline in China," by Xijun Lai, David Shankman, Claire Huber, Herve Yesou, Qun Huang, Jiahu Jiang, Journal of Hydrology, v. 519, 2014,
"Raw materials use to double by 2060 with severe environmental consequences," The Global Material Resources Outlook to 2060, OECD report, Oct. 2018.
"System Dynamics Model for Global Sand Production Rate (Sand, Gravel, Crushed Rock, Stone)," Harald U. Sverdrup, Deniz Koca, Peter Schlyter; BioPhysical Economics and Resource Quality, May 2017.
"Abundance and Conservation Status of the Yangtze Finless Porpoise in the Yangtze River, China,"
Xiujiang Zhao (Chinese Academy of Sciences), Xiujiang Zhao, Jay Barlow, Barbara L. Taylor, Robert L. Pitman, Kexiong Wang, et al., U.S. Department of Commerce, Science Direct, 2008.
"Yangtze finless porpoises in peril," Jane Qiu, Nature, 24 December 2012
"Sand mining: the global environmental crisis you've probably never heard of," by Vince Beiser, Guardian, 2017.
"China's search for sand is destroying Mozambique's pristine beaches," Lynsey Chutel, Quartz Journal, October 23, 2018.