June 12 was Philippine Independence Day and also the 89th day of quarantine in Metro Manila, thus far the longest COVID-19 quarantine undertaken anywhere in the world. It's supposed to end on June 15, but we haven't even flattened the curve yet. There are still reportedly no mass testing capabilities in the country and the results of those already tested are still very confusing.
We're still struggling every day.
Of course, this has been the reality for a good number of our citizens for decades now, especially the most vulnerable sectors: our food producers, ironically, the farmers and fisherfolk, are the poorest and most hungry in a country that's classified as primarily agricultural. But the reality of struggle has been spreading to more and more citizens, especially with the twin crises of the pandemic and the now long-impacting climate emergency.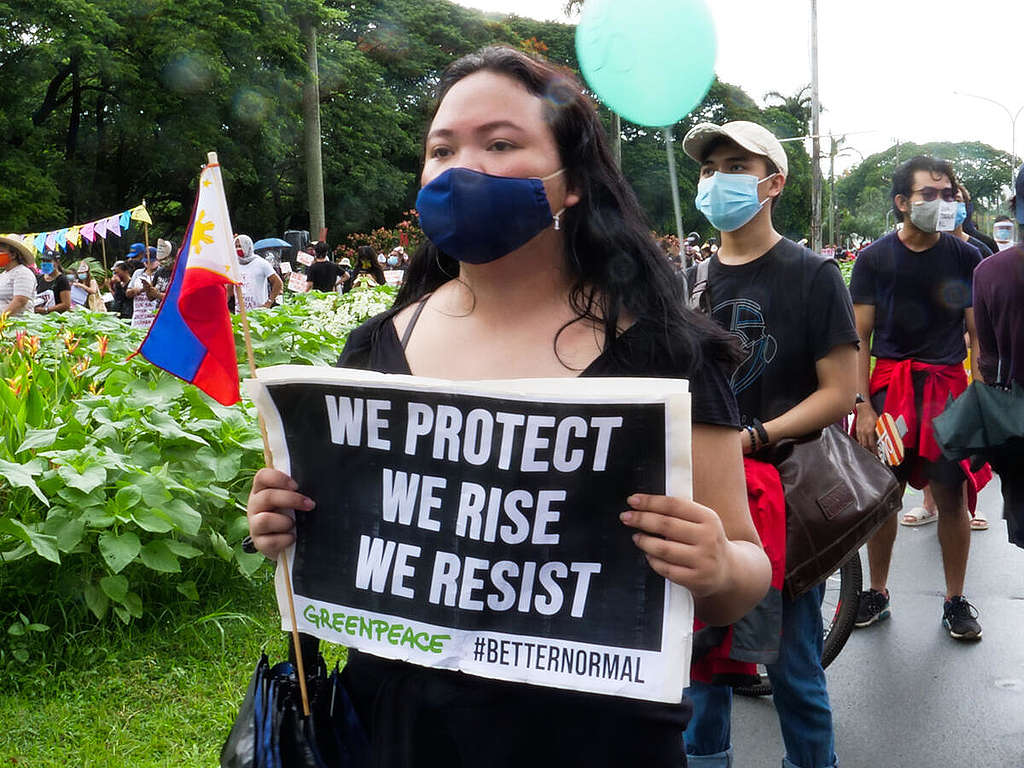 Greenpeace Philippines and the movements here have been hard at work supporting citizens, communities and local governments in voicing out their needs and concerns to hopefully shape recovery efforts towards a #BetterNormal.
Meanwhile, national government agencies have instead been pushing business-as-usual economic stimulus packages, such as corporate bailouts or even mining and river dredging. On top of this, instead of concentrating on solutions to the impacts of the pandemic, President Rodrigo Duterte has instead "certified as urgent" the passing of an anti-terrorism bill that looks to clamp down on activism and dissent more than on actual terrorists.
The bill was transmitted to Malacañang Palace by the Senate President and the Speaker of the House (both administration allies), despite a number of lawmakers withdrawing their authorships and 'yes' votes on the bill, and despite explanations to media from some representatives that there were errors in the tabulation of their votes and authorships.
The impending approval of the Anti-Terrorism Bill has been tagged by human rights lawyers and advocates as "problematic, vague and worrying" because it risks eroding constitutional and other legal protections, and threatens to disrupt groups' efforts to fight for security of the most vulnerable groups during and beyond the pandemic. Simply put, it can lead to weaponizing of the law to create fear even among legitimate critics.
We are all for fighting terrorism, but proper safeguards should be put in place which do not contravene the supreme law of the land– the 1987 Philippine Constitution. While we need to strengthen the previous Human Security Act of 2007, the new law to be passed should not be vague to leave much discretion to law enforcers or the Anti-Terrorism Council (ATC), which is expected to be created and chiefly composed of the President's Cabinet members. This will effectively erode the check-and-balance mechanisms put in place to avoid corruption, tyranny, and oppression.
A glaring criticism of the bill is its very broad definition of terrorism that allows too many interpretations that open it up to abuse, especially since it is coupled with fewer restrictions on law enforcement. Its provisions also allow the apprehension of individuals without need for an arrest warrant, detention of up to 24 days without charges and prior to an appearance before a judge, and surveillance of up to 90 days by mere suspicion and without the presentation of countervailing evidence.
The bill practically criminalizes any opposition to the government as it makes it a criminal offense to "incite others" to acts "by means of speeches, proclamations, writing, emblems, banners or other representations." It opens anyone — even activists, environmental defenders, valid critics — whether groups or even individuals, to indiscriminate tagging as terrorists solely by the Executive branch of government. This goes against not just the Philippine Constitution, but violates the principles of legality under international law.
It also neglects vulnerable groups and sectors already wrongfully discriminated against, such as members of the Muslim and Lumad (Indigenous People) communities, who weren't consulted at all in the crafting of the bill, but have come together to voice their opposition.
Rather than address real terrorist threats, the bill will only serve to stifle activism and citizens' participation in nation-building. This is a real danger, especially at a time when governments need to be able to hear and listen to the concerns and needs of their people the most.
In a place like the Philippines, where the impacts of consumerism and poverty, of the ongoing pandemic, and of the long-standing climate crisis are all exacerbating each other, the repercussions of such a bill threatening basic human rights will reverberate not just within the country, but with people of all nations.
At a time when the whole world is in dire need of leadership that is inclusive and just in its decision-making — especially if we ever hope to recover to a better normal — the struggle in the Philippines to keep activism and peaceful confrontation alive is one that resonates with activists, freedom fighters and peace-lovers the world over.
Angeli is a writer and activist based in Manila. She is a Communications Campaigner with Greenpeace Southeast Asia – Philippines