Four climate justice activists share their visions for re-imagining tax, democratic ownership, stewarding nature and climate care.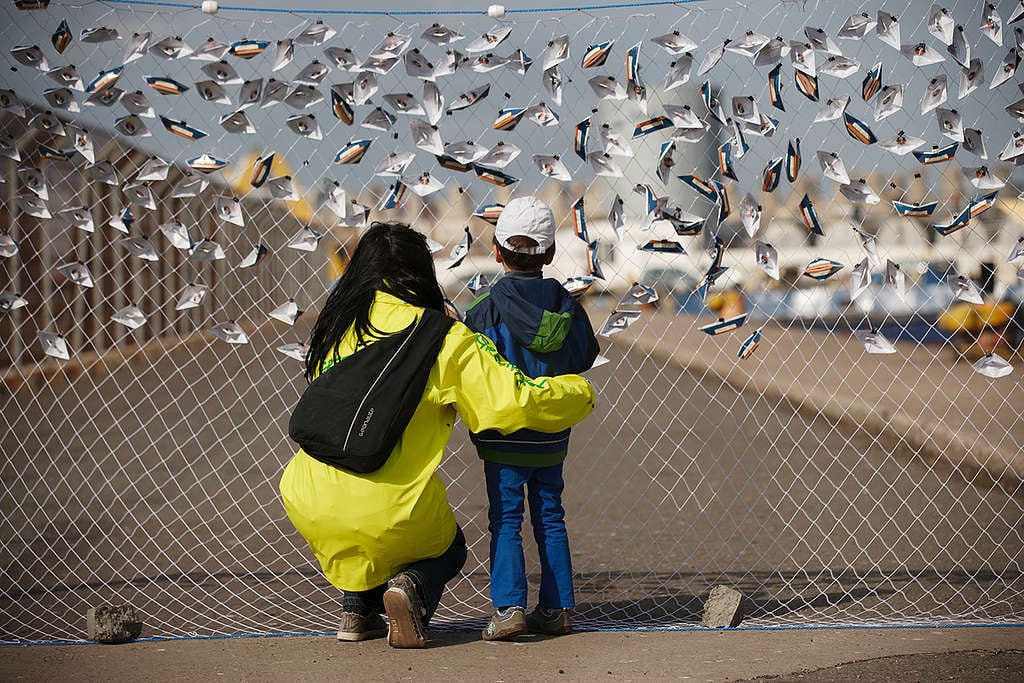 The climate crisis, right-wing populism, health crisis, discrimination of all kinds, economic and political pressure on poorer countries by the rich countries, injustice and inequality—we see something terribly wrong happening to our world and how we live together within it. Understandably, many of us feel hopeless. Can we really hope for a better world? What does a better world look like?

At Greenpeace in Europe, 2020 has shown us that the crises we face are all connected. We saw roots of the pandemic in destruction of forest habitats. We saw how the poorest and those without healthcare were most impacted by COVID-19; and we saw how the ensuing economic crisis exacerbated these inequalities.

In our efforts to campaign for our planet, we know that we cannot ignore the struggles of people or the politics of greed and profit that keep the fossil fuel industry alive. We must campaign with intersectionality at our core—we can no longer view environmentalism separate from people, politics and the economy. Any attempt to fight for change without that perspective is superficial, and does not tackle the root causes of the crises we face.

Greenpeace is new to many of these struggles and we have a lot to learn. That's why our European climate team at Greenpeace talked with four climate justice activists across Europe about their visions of system change,re-imagining tax, democratic ownership, stewarding nature and climate care.
Guppi Bola: Decolonising Economics
Guppi Bola and Noni Makuyana are the people behind Decolonising Economics. In this video, Bola explains how we can decolonise the economy, repair our ecological crisis, address the deepening wealth gap and build a fairer, more just world. Decolonising Economics is a collective working to build a new economy movement rooted in racial justice, moving away from the white-dominant analysis of economics that holds us back from achieving climate justice.

Chihiro Geuzebroek: Climate Care
Chihiro Geuzebroek is a grassroots activist, organizer and songwriter of Shell Must Fall, co-founder of pan-decolonial foundation Aralez and Climate Liberation Bloc collective. She is also a filmmaker, and the director of climate justice film Radical Friends. In this video Chihiro highlights how important it is to stop production and rebirth our work ethics to heal our broken planet, with the basic universal income as a basis for job transformation.
Tatiana Garavito: Democratic Ownership
Tatiana Garavitois a Latinx organiser and facilitator with Wretched of the Earth, working on issues around migration, race and climate justice and democratic ownership. Tatiana invites us to imagine new economic and political systems in which we work to nourish ourselves and each other; new systems that guarantee that we will never again plunder the earth's resources or seek to dominate and exploit all other forms of life.

Samie Blasingame: Food as Global Commons
Samie Blasingame is active in the Berlin-based BIPoC (Black Indigenous People of Colour) Environmental and Climate Justice Collective, Black Earth, as well as in the sustainability networking association, GreenBuzz Berlin. In this video, Samie shares the importance of reevaluating policies to reform our global food system and seeing agricultural land as a global common.
We need to work with the climate justice movement and to center their voices as we reimagine the world we want to live in. Thank you to the brilliant Guppi, Chihiro, Tatiana and Samie for sharing your vision with us at Greenpeace. We all know that a better world is possible, and we definitely know that people and the planet deserve better. Let's dare to dream and begin creating the change we want to see today.
Georgia Whitaker is the Lead Campaigner of Greenpeace EU Climate Ambition and Fossil Free Future Project