This is a decisive moment: in order to avert the worst impacts of the climate crisis, we need immediate, dramatic, and consistent action from world governments.
The 26th UN Climate Summit, also known as COP26, will take place from 31st October- 12th November and is the agreed upon deadline for nearly 200 countries to share how exactly they plan to take the much needed action.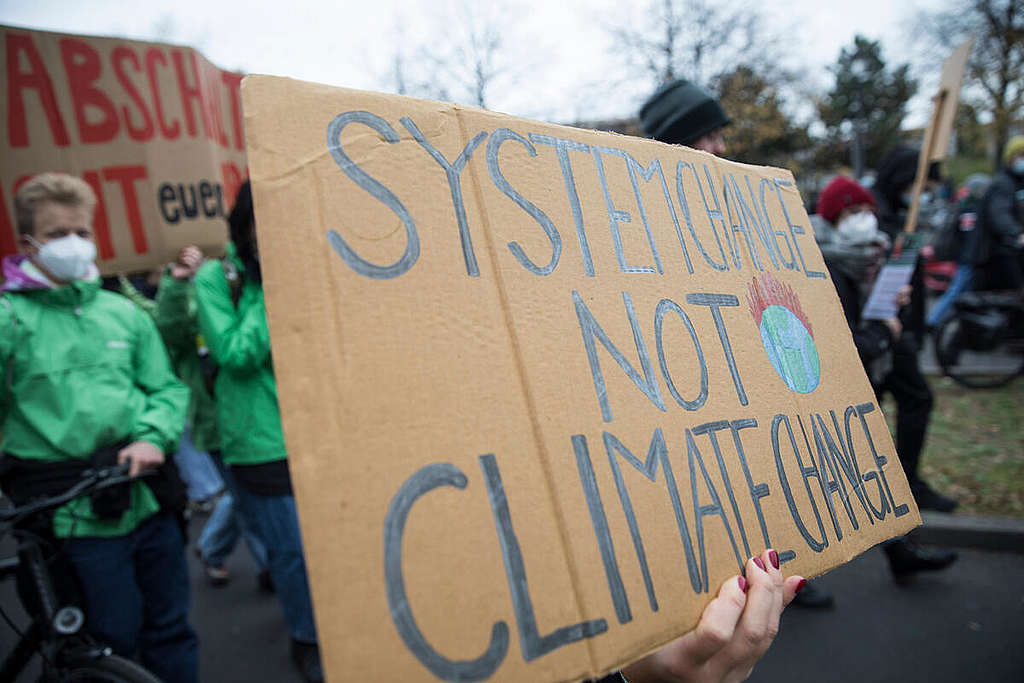 As things stand currently, the plans of participating countries to cut emissions are not ambitious enough and we're well on our way to breaking the 1.5 C goal agreed upon in the Paris Agreement. To get back on track, we need to see real action at COP26.
Given the sheer scale of the challenge we face, here are the climate actions Greenpeace International is calling on governments to take and will be pushing for in every way at COP26. These four demands can ensure a fairer, safer, and more sustainable future for everyone:
Stop all new fossil fuel projects immediately and phase-out the industry
COP26 is where the world must finally declare an end to the fossil fuel era. From this meeting onwards, we need commitments that there won't be any new fossil fuel investments anywhere, and the phaseout of existing fossil fuel infrastructure must align with the 1.5C goal. That means no new oil wells, no new coal plants, no new coal mines and no new gas projects.

To stay under the 1.5C warning, emission reduction targets must be increased. This not only means no new projects but also no new finance, and no public support for existing projects, which should also be phased out. Priority should also be placed on phasing coal out as quickly as possible and the final COP26 decision text must specifically mention fossil fuels as the main culprits of the climate emergency.

The phaseout of fossil fuels must also include a just transition for workers and affected communities. Smart, efficient and sustainable solutions are ready to meet all our energy needs, if allowed to.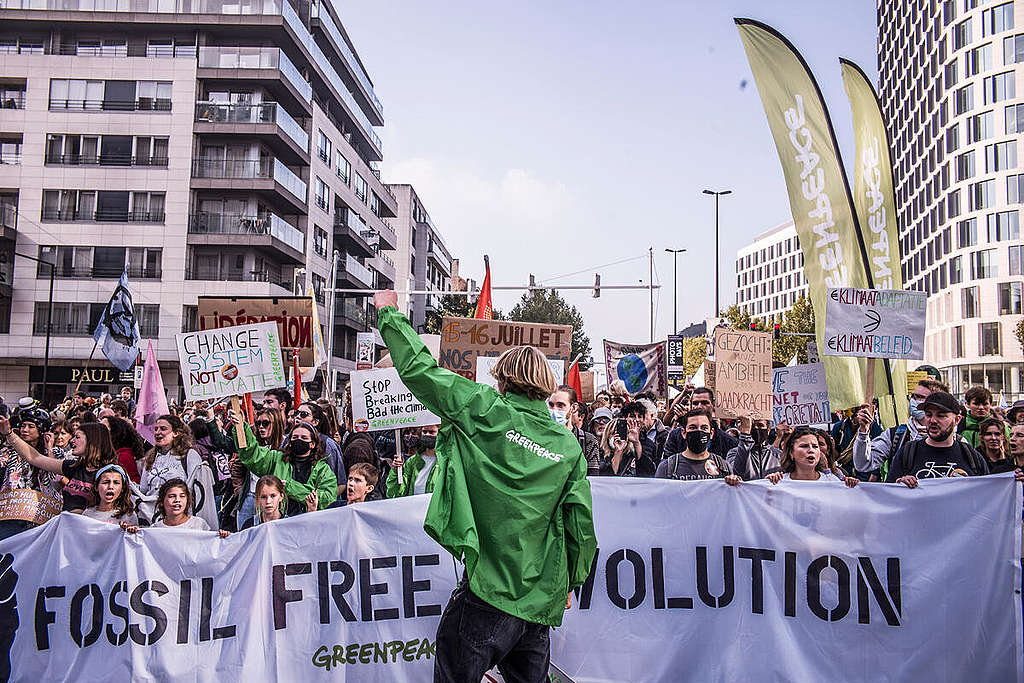 2. Set ambitious emissions-cutting plans to halve global emissions by 2030
The Intergovernmental Panel on Climate Change (IPCC), a group of the world's top climate scientists convened by the United Nations, sayswe must not emit more than 500 billion tonnes of CO2 (counted from the beginning of 2020) to give ourselves a 50% chance of limiting global warming to 1.5C above pre-industrial levels. To improve our chances of avoiding the worst climate scenarios to 67%, we must limit ourselves to 400 billion tonnes. Unfortunately, currently, human activities are emitting over 40 billion tonnes a year so we need decisive, urgent action to avoid surpassing these limits.

We need to see action that will halve global emissions by 2030 and set us on a pathway to Net Zero emissions by 2050. If governments fail to upgrade their emissions reductions commitments they submit to the UN they will close the door on the Paris Agreement goal of limiting temperature rises to 1.5C. Current pledges show emissions rising by 16% by 2030, putting us on track for 2.7C of warming by the end of the century. Meanwhile current global government policies would leave us even worse off – heading towards 2.9C.

G20 countries account for nearly 80% of global emissions, but too many of them have not yet improved their climate plans ahead of COP26, including India, China, Australia, Saudi Arabia, Russia and Brazil. That's why, in Glasgow, we need the richest nations to show leadership and move significantly faster.

3.Strong rules that foster equitable international cooperation rather than plans to open a global market in carbon offsets (they're scam and don't work)
Offsetting doesn't stop emissions entering the atmosphere and warming our world – it just stops those emissions appearing on the ledgers of the polluters. Essentially, they are an accounting trick. According to the scientists behind the latest UN scientific report, the world needs to make immediate, dramatic and consistent emissions reductions – but offsetting is the opposite of that. It's simply a licence to keep polluting, it incentivises the commodification of nature and allows powerful corporations and governments to take over the lands of vulnerable communities, trample on human rights and violate environmental integrity. ​​

Let's just be honest: offsetting is a dangerous scam, it doesn't work and expanding it will just delay real action.
4. Financial commitment for climate vulnerable nations being hit by climate impacts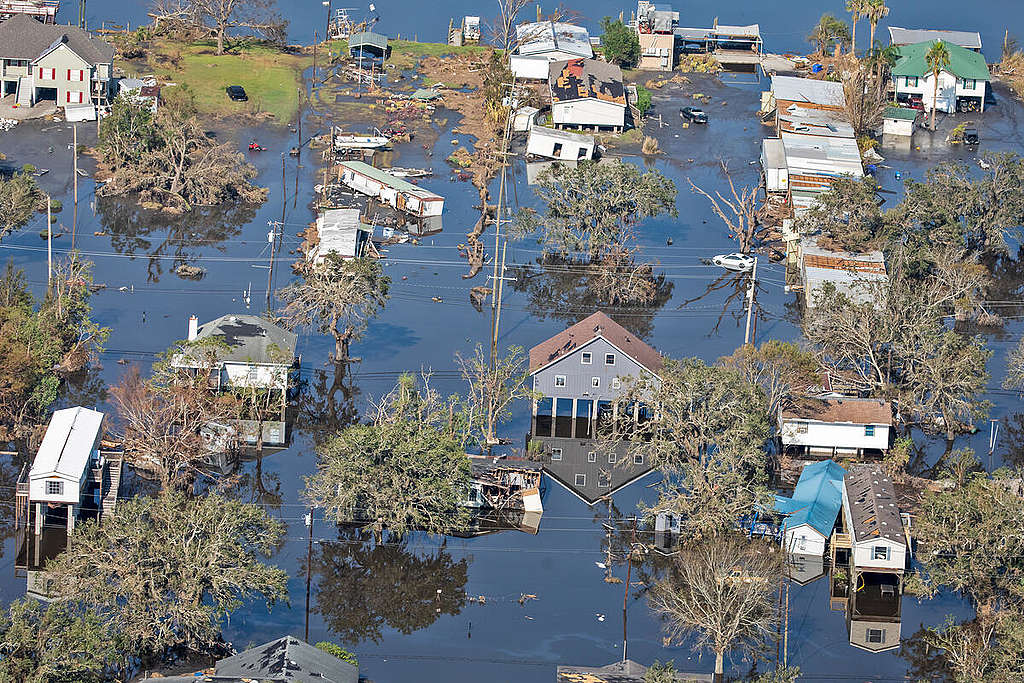 Climate change is a global problem and it requires a global solution. Historically, the biggest emitters are the USA, China and Russia – with Japan, Germany and the UK also in the top ten.

The US, EU, UK, Japan, Canada and Australia were also among the main countries and blocs that committed to delivering $100 billion of climate finance a year by 2020 but they have failed to do this. There's a $20 billion gap and those countries have to step up and fulfill their responsibility.

Committed countries need to come forward at COP26 with a robust, transparent and needs-based plan that shows how the $100 billion will be met annually for the next five years. Funds will help develop clean energy systems and transition away from fossil fuels as well as adaptation to future climate heating. More money on top of that will be needed for further adaptation and to address and compensate for the damage already being caused by climate impacts in vulnerable countries.
All this change will not and is not happening on its own. Since the Paris Agreement, there has been a remarkable increase in awareness and a huge upswell in activism. Millions have taken to the streets to strike for the climate, elections have been dominated by the politics of the climate crisis, and more people are taking the climate justice fight to the courts and winning. People power is working!
At its core, this conference is about delivering equity and justice, especially for vulnerable communities. It's about who owns the future – the polluters who are profiting from the industries which are causing this crisis, or the people at the sharp end of its impacts – Indigenous Peoples, vulnerable communities and young people across the world.