Policy-makers are about to rendezvous online and in person in Kenya's capital, Nairobi, for a second round of negotiations on how to deal with our current plastic pollution crisis. National governments and multinational corporations will gather for the next session of the UN Environment Assembly (UNEA 5.2), presenting the international community with a historic opportunity to make substantial decisions on plastic pollution.
Greenpeace and allies are calling for a treaty that will quickly move us away from unnecessary plastic packaging and support the development of refill and reuse systems on a global scale. We need a treaty that includes the entire life cycle of plastic, which focuses on reducing the use of plastic – otherwise the impact of plastic on climate, environmental justice, and human health will not be addressed. Anything less will be a missed opportunity.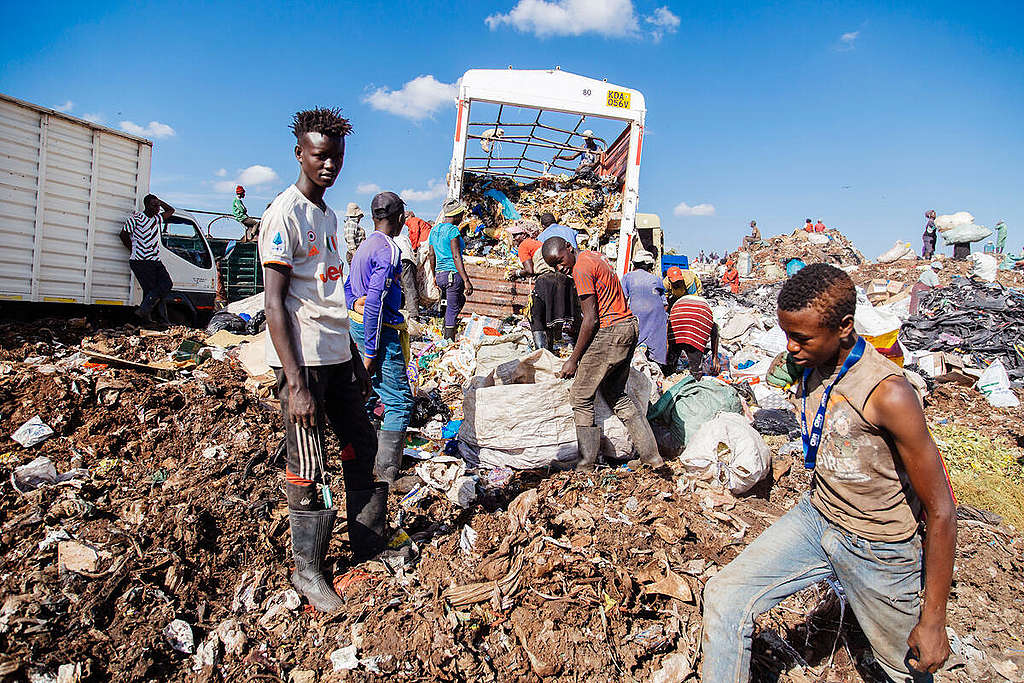 Decision-makers don't have to look very far from where they are right now to understand why an ambitious global plastics treaty is not only necessary, but urgent if we are to restore dignity to communities that have been ravaged by plastic pollution. It's time to #BreakFreeFromPlastic or continue life like this…
Johannesburg, South Africa: The ugly surge of plastic
First stop is my childhood community south of Johannesburg, Lenasia. Townships aren't exactly known for their aesthetics; in fact, communities like mine, which were created under the apartheid government as a form of spatial oppression, were underserviced under the past regime and remained so in South Africa's new democratic dispensation because of the lack of wealth circulating in the community.
Over the past two decades, plastic pollution has made an already uncomfortable living environment even worse. The dramatic rise in production of plastic coupled with lack of government service delivery for a growing population living in informal settlements means underprivileged communities are awash with plastic pollution.
Read: #PlasticsTreaty: Stop exploiting African and other global majority countries with 'waste colonialism'
Douala, Cameroon: Drowning in plastic
The impact of plastic pollution is not just a matter of aesthetics; for communities in the Central African economic hub, plastic pollution is a matter of life and death. Year after year, annual flooding caused by heavy rains and blocked drainage systems claims hundreds of lives, leaves countless more displaced, and destroys the livelihoods of families that are already struggling to get by.
And no matter how many clean-ups communities do to curb the impacts of plastic pollution, the constant and increasing supply of plastic to the fast-growing population undermines people's battle against plastic pollution. What remains are whole neighbourhoods submerged in water as soon as the rainy season arrives.
Matadi, Democratic Republic of Congo: Eating plastic
Even in the most remote from major population centres on the African continent, the detrimental impact of plastic pollution is still felt. Local fishers an hour out of the busy city of Matadi say that the plastic pollution makes its way into their water systems, interfering with their ability to provide for their families.
According to fishers, not only has the number of fish decreased dramatically because of plastic, but they often find plastic in their nets and inside the fish that they catch (in fact, plastic is more frequently finding its way into our food). Plastic pollution is interfering with food security in the region, which relies on fish as a source of protein. They are pleading with their government to intervene before it is too late, their existing legislation just needs to be enforced.
Nairobi, Kenya: The forces holding us back
Even in what is said to be one of the most progressive countries in the world as far as anti-plastic legislation is concerned, there is still no avoiding the flood of plastic on the roadsides and in waterways of the Kenyan capital.
Since Kenya's ban of the plastic bag and subsequent ban on all plastic items in national parks and conservation areas, there has been talk of expanding restrictions because of the impact they've had on improving the environment. Despite these efforts, there has been international pressure to drop its existing restrictions, which has opened the Kenyan public's eyes to the beast that they are really facing.
So, what do we actually need to defeat the plastic pollution crisis?
We need a solution that matches the scale of the problem, and a global treaty that includes the entire life cycle of plastic is that solution. We need a strong global plastics treaty that ensures a holistic approach to ending the plastic pollution crisis and not one that is laced with loopholes which allows the top plastic polluters like Coca-Cola to continue flooding the world with even more plastic.
A strong global plastics treaty means:
creating a legally binding instrument to ensure compliance from governments and industry;
keeping oil and gas in the ground, and protecting our climate;
big brands switching to refill and reuse systems and reducing single use plastic pollution;
holding countries accountable for managing their own waste and ending waste colonialism; and
governments working to ensure a just transition for workers and the health of the most affected communities.