When global leaders fail to urgently implement the necessary political and environmental actions while people and the planet are facing the catastrophic impacts of the climate crisis, it is natural to feel climate anxiety. According to a December 2021 global study, 84% of young people are worried about the climate crisis, and more than 45% of respondents have said that it has negatively affected their daily lives.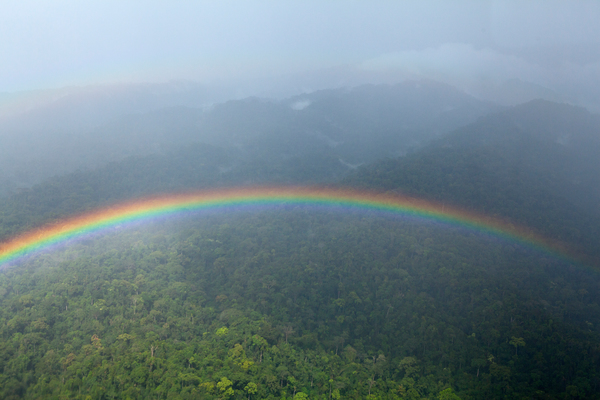 If you are feeling uncertain about what the future may hold, try listening to these podcasts, and episodes from climate podcasts, that discuss mental health effects of climate change and ways in which to cope. They offer practical advice on how to manage your climate anxiety and remain hopeful, or even turn your despair into climate action, helping you know that we are not alone in this.
1. Climate Change and Happiness
Climate Change and Happiness, which just kicked off its second season this month, provides conversations that encourage us to articulate how we feel about climate anxiety. Although it is normal to have such fears, it is profoundly important to acknowledge ways we can get through the situation.
The people behind this podcast are Panu Pihkala, a well-known researcher, public speaker, and environmental scholar in Finland, and Thomas Doherty, a notable expert in clinical & environmental psychology. "If you feel anxious about climate change, well, join the club. We all do and it's a big issue," said Doherty, who is known for his paper, The Psychological Impacts of Global Climate Change.
2. How to Save A Planet
The How to Save A Planet team aims to deliver smart, funny, and inspiring stories that will leave you feeling energized. First, their opening music is a mood booster. Second, their talks are informative and engaging with a crew who call themselves "climate nerds", as hosted by Alex Blumberg and Dr. Ayana Elizabeth Johnson. Finally, witty jokes. Lots of them.
Listen to Johnson explain her climate action Venn diagram and how it can help us figure out what we can do to help address the climate crisis; or learn and laugh in a fun segment where contestants propose unusual ideas on generating electricity. You can also listen to this episode with Britt Wray, a researcher and author at the intersection of mental health and climate change about how common climate anxiety is, and why learning to process it is vital for taking climate action.
3. Outrage and Optimism
We start feeling anxious when we finally realize how serious the climate crisis is. Then, comes the outrage. Hosted by former Executive Secretary of the UN Framework Convention on Climate Change, Christina Figueres, along with Tom-Rivett Carnac and Paul Dickinson, Outrage + Optimism is a podcast that acknowledges that our outrage is not only justified, but is also met with big sprinkles of optimism that will make you feel more enthusiastic and inspired.
The podcast's many prominent guests include Sir David Attenborough on their first episode (excellent choice!), Jane Goodall, Rebecca Solnit, Greta Thunberg, and so on. You can find episodes on their website by matching the climate change topic with any other topic you'd like: economy, policy, science, culture, and of course, wellbeing.
A recommendation is one with Luisa Neubauer, a young German climate activist who talks about a published study on climate anxiety in children and young people globally and its relationship to government response. This discussion will inspire you to keep caring and continue cultivating resilience while advocating for our planet.
4. Climate and You
As the sole podcaster on Climate and You, climate activist and Buddhist teacher Domyo Burk states that she wants to explore questions about climate and emotions: how to stay engaged with the overwhelming climate issue, how to face the truth of what's going on without falling into despair, or if there is any way out of a sense of powerlessness with respect to the climate crisis.
"I want this podcast to be a support to you as you strive to live your life, day by day, while facing the terrifying and mind-numbing prospect of the breakdown of earth's natural life-support systems," she says on her website.
Burk might not bring the newest climate updates or environmental experts to the table; instead, she talks about matters to support people who want to engage with nature or to learn more about the climate crisis. Listening to her podcast can be such a reminder that despite everything, it's important to stay strong. If it's a music genre, this podcast would surely be categorized as easy listening, and a comforting one.