South African courts revoked Shell's exploration 'rights' to do seismic blasting off its beautiful Wild Coast last week – and we're still dancing with joy at the news!
This is a massive victory for local communities fighting toxic fossil fuel companies to protect their livelihoods and our environment – including the whales and dolphins that would have been subject to deafening seismic blasts EVERY 10 SECONDS. ⁠
The judgement to stop Shell is a victory for people across Africa, and everywhere, fighting for a better planet against polluting and destructive industries.
None of this would have been possible without the efforts of Sustaining the Wild Coast, Amadiba Crisis Committee, Natural Justice, Legal Resources Centre, Wild Coast communities, and the hundreds of thousands of people taking action online and on the ground. It shows how powerful we can be when we come together.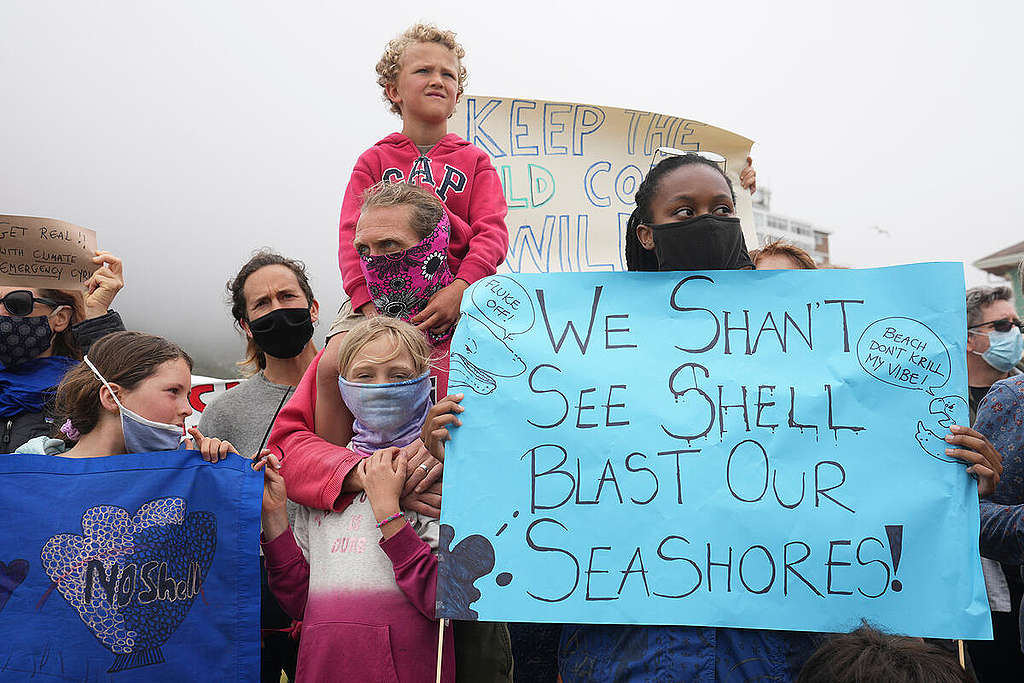 Recap – how did we get here?
Last year, petroleum giant Shell announced that it would start searching for oil and gas reserves off South Africa's eastern coast. The government had granted the company exploration rights in 2014, renewing them in 2021. Under the ruling, Shell could conduct underwater explosions to locate deep-sea oil and gas reserves – deafening blasts that can disturb, injure and kill marine life.
But the plans were met with strong resistance by coastal and Indigenous communities, creative protests at South Africa's beaches and Shell stations and the company's head offices in London and Amsterdam – and petitions signed by hundreds of thousands of supporters online.
Local organisations took the case to court, arguing that exploration rights were granted unlawfully: affected communities were not consulted and decision makers failed to consider the harm to local people's rights – and the global climate.
On 1 September 2022, the High Court in Makhanda, Eastern Cape revoked Shell's exploration rights, ruling that they were granted illegally. The judge also acknowledged the key role of the ocean in the livelihoods and spiritual and cultural life of coastal communities.
The tide turns
Here's how those involved welcomed the victory – a major boost in the ongoing battle against big oil:
Sinegugu Zukulu, Sustaining the Wild Coast: "Winning this means we are all moving towards an understanding that we need to find sustainable livelihoods; we need to move away from fossil fuels. This is for the good of everyone. Allowing Shell and the government to continue exploring for oil and gas and other fossil fuels would be detrimental to everybody's lives and to the life of the planet."
Nonhle Mbuthuma, Amadiba Crisis Committee: "This victory is not just a victory for Wild Coast communities and making our voices heard. This is a victory against capitalist extraction and destruction of our future. This victory is not just about protecting the ocean upon which rural coastal communities depend. This is about protecting the planet and the whole of humanity."
Siyabonga Ndovela, Wild Coast resident: "As Wild Coast people, we live off the land and the ocean. Government tells us that oil and gas will bring job opportunities but we know very well that this will destroy our livelihoods. The ocean is our best defender against climate change, shielding us from its worst impacts. By helping the ocean we help ourselves. Ocean action is climate action."
Melita Steele, Greenpeace Africa: "The decision to protect the Wild Coast from Shell's destruction is proof that the world is moving into an era of social and environmental justice, where the voices of people are put before the profits of toxic fossil fuel companies. There is still much work to be done to undo the destructive colonial legacy of extractivism in Africa, but this decision gives South Africans renewed hope that people's lives and precious ecosystems are valuable and worthy of protection from climate criminals. The future is renewable!"
Pooven Moodley, Natural Justice: "The victory in the Shell case is truly a victory for the people and planet. It sets an important precedent during this climate emergency. The court was clear that communities need to be properly consulted and that environmental impact assessments are critical. The cultural and spiritual connection to the land and ocean featured strongly in the judgement. This victory provides hope and momentum as people stand up across the planet. There are 148 oil and gas projects in the pipeline in Africa. This victory will ensure the tide turns."
You can read more reactions in the Greenpeace Africa press release.
Lerato Tsotetsi is the Supporter Engagement and Direct Marketing Manager at Greenpeace Africa, based in Johannesburg.