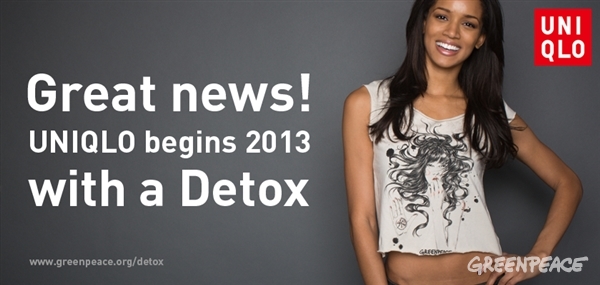 Uniqlo commits to eliminate all releases of hazardous chemicals throughout its entire global supply chain and products by 2020.
Another fashion brand is detoxing. Japan's leading international casual wear brand, Uniqlo, begins the new year with a public commitment to eliminate all releases of hazardous chemicals throughout its entire global supply chain and products by 2020.
This comes just a month after Zara, Mango, Esprit and Levi's announced similar individual commitments, responding to waves of pressure from activists and consumers around the world.
Competitors in the fashion world including GAP, G-Star Raw and Calvin Klein are looking increasingly out of touch now that 12 of the world's top high street fashion brands have committed to Detox. Do these brands not know that transparent production practices and toxic-free fashion are hot in 2013, or do they simply not care?
Rising from the East
Fast Retailing Group, Uniqlo's parent company and the largest fashion company in Asia, will accelerate the transparency revolution taking place in the sector by disclosing discharge data from at least 80 percent of its global suppliers (including all of their facilities) in 2013. This move will give people living near manufacturing facilities, journalists and activists the right to know what is being discharged into the environment, and turns up the heat on other brands to disclose more information via their suppliers in 2013.
The commitment covers all of the brands in the Fast Retailing Group, which include Uniqlo, Comptoir des Cotonniers, Princesse Tam Tam, g.u. and Theory, which together have more than 2,000 stores worldwide.
What makes this commitment even more significant is the fact that Uniqlo has also committed to lead the development of alternatives to the hazardous chemicals currently used and released by the fashion industry. This is a victory for local communities around the world affected daily by the effects of water pollution, and for the millions of people forced to be part of a broken system when they buy and wash their clothes.
Help spur on the next success
We know that big brands such as Victoria's Secret, GAP and Calvin Klein spend a huge amount of time watching what is being said about their brand online, as well as monitoring what their competitors are up to.
Today, Uniqlo has sent a powerful signal to the entire sector that toxic chemicals are outdated, outmoded and obsolete. You too can use your voice to send these brands a signal by getting our video, Detox Fashion on as many screens as possible.
Every time you like, share, comment on, or promote this video, it increases the pressure on these companies to change their ways: to stop poisoning rivers in the countries where their products are made, and to stop shipping hazardous chemicals all over the world in their clothes.
A toxic-free world is possible. Together we can help create it.