Levi Strauss & Co. today committed to go toxic-free. Why? Because you and hundreds of thousands of other people demanded that Levi's "Go Forth and Detox".
The world's biggest denim brand joins ten other clothing companies that have made credible commitments to Detox, including the world's largest fashion retailer, Zara.
Levi's commitment comes just eight days after we launched our Toxic Threads: Under Wraps report in Mexico, and screened a documentary about a family struggling to hold factories in the region to account for the pollution they are causing, including suppliers of brands like Levi's.
The brand is living up to its claims of being a leader. Competitors that have so far failed to take responsibility for the pollution created along their entire supply chain are looking increasingly exposed. These include familiar big brands names such as Calvin Klein, GAP and Victoria's Secret.
A change of direction
Today's commitment from Levi's is great news for people power and the environment. Levi's will begin requiring its largest suppliers (each with multiple facilities) in China, Mexico and elsewhere in the Global South to disclose pollution data as early as the end of June 2013. This means that's those living near all these facilities gain crucial access to information about discharges into their local environment – a basic right that up to this stage they had been denied.
But rather than use hazardous chemicals in the first place, Levi's will look for non-hazardous alternatives. This is a bold move away from its previous position, which was focused on managing rather than eliminating hazardous chemicals.
And in addition, the company has embraced the precautionary principle, which will be fundamental to shift the entire industry towards the adoption of non-hazardous chemicals.
Toxic-free fashion is a trend to last the seasons
More than 400,000 people have joined the Detox campaign since we re-launched in November, demanding toxic-free fashion and clean water. Fashionistas, activists, designers and bloggers took action on Twitter and Weibo, spreading news about the industry's toxic addiction and reaching many millions of friends and followers.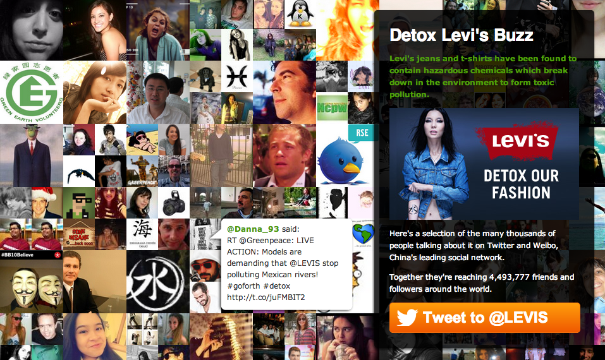 First Zara committed to Detox, then Mango and Esprit, as people around the world made their voices heard. Levi's was next on the shopping list, and in just eight days hundreds of thousands of people had called on the brand to match its bold proclamations with real actions. Activists and volunteers also took to the street in over 20 countries to take the message directly to the brand's customers and to speak with the staff working in their stores, who sent the message back to Levi's HQ.
The rising tide of people power has again shown what it's capable of. But unfortunately the toxic discharges from clothing factories continue, and while 11 top brands have now committed to Detox, more companies must recognise and act upon the urgency of the situation.
Help spur on the next success
Help get our new video, Detox Fashion, on as many screens as possible.
We know brands like Calvin Klein, GAP and Victoria's Secret monitor social media as closely as they monitor traditional media, and every time you like, share, comment on, or promote this video, it increases the pressure on these companies to change their ways: to stop poisoning rivers in the countries where their products are made, and stop shipping hazardous chemicals all over the world in their clothes.
A toxic-free world is possible. Together we can help create it.