The IPCC report underlines the urgent need for stronger national and international climate action
Luxembourg, 9 August 2021 – Today, the Intergovernmental Panel on Climate Change (IPCC) [1] presented its report on the "Physical Science Basis" of climate change. This report is the first of three reports the IPCC will publish over the next year as part of its 6th Assessment Report. The document [2] summarises the latest scientific understanding of what is happening to our climate system, and gives a stark warning of where we are headed if urgent action is not taken. In light of the IPCC's findings, Greenpeace calls on the Luxembourg government to finally make climate protection its top priority. Especially in view of the upcoming UN Climate Change Conference (COP26) in Scotland, the political leaders in Luxembourg must adopt far-reaching and binding climate protection measures for all sectors of our economy and society.
Floods, heat waves, droughts, storms – news about extreme weather events worldwide dominate the headlines these weeks. Dead and missing, people who have lost all their belongings, destroyed houses, entire neighbourhoods that have to be rebuilt: these incidences of severe weather, as could be experienced in Luxembourg, are on the rise. Recent events have unequivocally proven that climate protection must be at the top of the political agenda and that immediate and decisive action is needed.
"The recent floods in Luxembourg and our neighbouring countries must be a wake-up call for society. Our policy makers must finally open their eyes and recognise the urgency of the dire straits we are in," explained Frank Thinnes, Climate and Energy campaigner at Greenpeace Luxembourg. "It is not too late, but the window of opportunity to prevent the worst consequences of climate change is closing fast".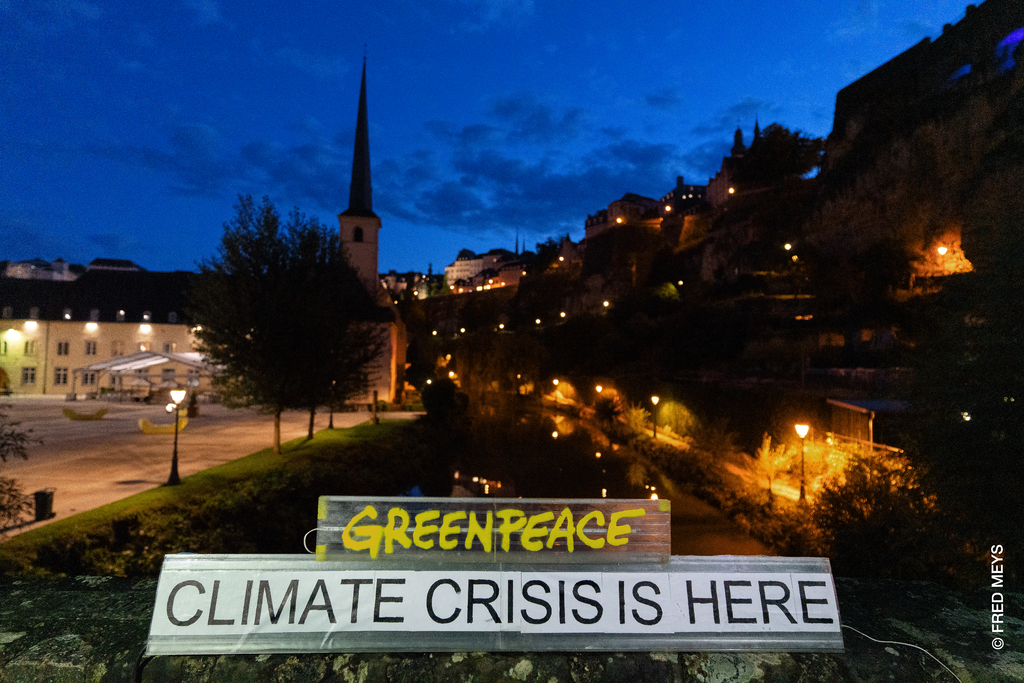 Since the publication of the previous Assessment Report (WG1/AR5) 8 years ago, global surface temperature has warmed strongly. The rates of sea-level rise and ice loss have accelerated. According to AR6, it is unequivocal that human influence has warmed the atmosphere, ocean and land. In light of these dramatic findings, Luxembourg must push for stricter climate and energy targets at both the national and EU level. Last month, the EU Commission proposed a package of measures to reduce the EU's net greenhouse gas emissions by at least 55% by 2030 compared to 1990 levels. [3] However, for the goal of limiting global warming to a maximum of 1.5°C to still be achieved, the United Nations estimates that global greenhouse gas emissions must be reduced by at least 7.6% per year [4], which corresponds to an absolute reduction of at least 65% by 2030 for the EU [5].
The national climate and energy targets must also become significantly more ambitious. In mid-July, as part of the national legislation, the government adopted emission reduction targets for five sectors (energy and manufacturing industries, construction, transport, residential and tertiary buildings, agriculture and forestry, waste and sewage treatment), which aims to achieve a 55% reduction in greenhouse gas emissions by 2030. However, it remains questionable whether these targets can be achieved given the flexible mechanisms that allow annual reductions in one sector to be deferred to subsequent years or to other sectors.
Not only the sectors responsible for national emissions, but also Luxembourg's financial industry must assume its responsibility in climate protection. The fact is that thousands of billions of euros flow through the country's financial centre into the global economy, where economic activities cause many times the national greenhouse gas emissions. But so far, the Luxembourg government has not taken the country's financial industry to task when it comes to climate protection, even though this would be urgently necessary in view of the financial risks associated with investments in fossil fuels and other emission-intensive sectors.
"Luxembourg's financial industry must stop financing the climate crisis and align its investment decisions with the goals of the Paris Agreement," explained Martina Holbach, Climate Justice and Finance Campaigner at Greenpeace Luxembourg. "In the coming years, the global economy must undergo a profound transformation towards sustainable, low-emission products and production processes. The financial sector has a key role to play in this."
Already in its last report [6] on the impacts of climate change in 2014, the Intergovernmental Panel on Climate Change warned that the global temperature increase – currently more than 1.2°C above pre-industrial levels – will lead to an increase in extreme weather events. Scientists predict that in the worst climate scenario, floods will be 14 times more frequent by 2100 [7], while economists estimate that the annual cost of climate change will amount to 1.7 trillion US dollars by 2025 [8], without taking into account the human losses that will mainly affect the most vulnerable members of our society.
"This is already the 6th IPCC Report that underlines the urgent need for measures to be taken", added Frank Thinnes. "The government must finally face reality. We must confront climate change with the same determination as we did the Covid crisis. Otherwise, the extreme weather events of the past weeks were only a foretaste of what we can expect in the future."
---
[1] The mission of the Intergovernmental Panel on Climate Change (IPCC) is to provide regular reports on the current state of knowledge regarding climate change to provide governments at all levels with information they can use to develop their climate policies. The 6th IPCC Assessment Report, written by leading climate scientists from around the world, summarises the latest science on what is happening to our climate system and where we are heading, depending on the scale and speed of action.
[2] IPCC Assessment Report 6, WG1
[3] European Commission, "European Green Deal: Commission proposes transformation of EU economy and society to meet climate ambitions", 14 July 2021.
[4] UNEP, Emissions Gap Report 2019. Executive summary. United Nations Environment Programme, 2019.
[5] Greenpeace European Unit, "Hot air balloon activists blast EU's inflated climate promises", 10 December 2020.
[6] Climate Change 2014 Synthesis Report Summary for Policymakers
[7] Damian Carrington, "Catastrophic floods could hit Europe far more often, study finds", The Guardian, 21 July 2021.
[8] Les Echos, "Climat : l'inaction coûte plus cher que des mesures fortes", 30 March 2021.