Greenpeace calls for fertilizer reduction policies
The use of chemical fertilizers is a significant source of greenhouse gas emissions and contributes greatly to climate change, Greenpeace said today during the Philippine launch of the report Cool Farming: Climate impacts of agriculture and mitigation potential.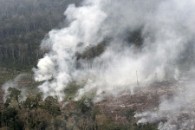 An aerial view shows hotspots of forest fires in the Riau region. Palm oil companies have recently cleared forest and peatlands in preparation for oil palm plantations.
The report is the second to be released by Greenpeace to reveal how the unbridled use of chemical farm inputs pose harm to people and the environment. Last November 2007, the environment group presented  evidence that drinking water in key agricultural areas in the Philippines and Thailand was already contaminated by toxic pollution from nitrate fertilizers.
"The environmental impact of chemical-dependent farming has reached critical levels. Greenpeace has shown that farm chemicals work against nature and create more problems than solutions. This
is a call for our government to support a future of farming that is sustainable," said Greenpeace Southeast Asia campaigner Daniel Ocampo.
Cool Farming, written for Greenpeace by Professor Pete Smith from University of Aberdeen, a lead author on the latest Intergovernmental Panel on Climate Change (IPCC) report, is the first to detail both the direct and indirect effects farming has on climate change. The report outlines how agriculture is one of the largest sources of greenhouse gas emissions and recommends urgent
changes if it is to be transformed from a key contributor to climate change into a carbon sink, or reservoir that absorbs, rather than creates, greenhouse gas emissions.
The report describes how energy- and chemical-intensive farming has led to increased levels of greenhouse gas emissions, primarily as a result of the overuse of fertilizers, land clearance, soil
degradation, and intensive animal farming. The total global contribution of agriculture to climate change, including deforestation for farmland and other land use changes, is estimated to be equivalent to between 8.5 -16.5 billion tons of carbon dioxide or between 17- 32% of all human-induced greenhouse gas emissions.
Fertilizer overuse is responsible for the highest single share of agriculture's direct greenhouse gas emissions, currently equal to some 2.1 billion tons of CO2 annually. Excess fertilizer results
in the emission of climate change-causing gas nitrous oxide (N2O), which is some 300 times more potent than carbon dioxide.
"The saturation bombing of farmland with fertilizers can and must be stopped. As a start, the government must phase out chemical fertilizer subsidies and implement fertilizer reduction policies
ensuring that farmers use less fertilizer with more precision," said Ocampo. "Governments must stop supporting environmentally destructive practices in agriculture, and focus instead on
assisting farmers in converting to ecological and sustainable farming systems."
Cool Farming details a variety of practical, easy to implement solutions which can reduce climate change, including reducing fertilizer use, protecting the soil, improving rice production and
cutting demand for meat, especially in developed countries. The report can be downloaded at: http://greenpeace.org.ph/cool-farming.
Professor Pete Smith was a coordinating lead author of 'Mitigation of Climate Change', Chapter 8 (Agriculture), by the Intergovernmental Panelon Climate Change Fourth Assessment Report,
Working Group III, online at http://www.ipcc.ch/ipccreports/ar4-wg3.htm
Get involved!
If you want do more for our planet, sign up for our newsletter. Every month, we'll send you easy things you can do to help create a green and peaceful future.
Support us!