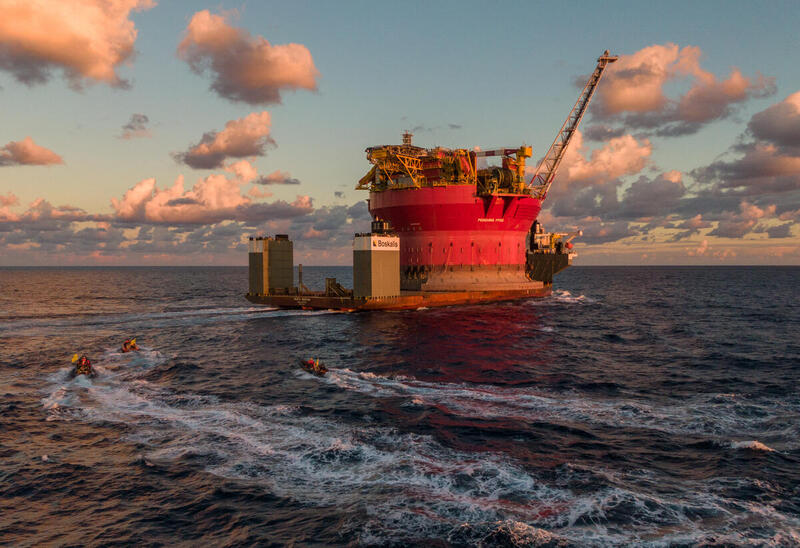 AMSTERDAM — Greenpeace International activists hailing from climate-impacted countries on Tuesday have boarded a Shell contracted vessel in the Atlantic Ocean, with a banner bearing the message: "Stop Drilling. Start Paying".
The activists boarded the White Marlin vessel at sea north of the Canary Islands in a peaceful protest against the climate devastation around the world caused by Shell and the wider fossil fuel industry, who refuse to pay reparations for the loss and damage they have knowingly contributed to. Filipino climate advocate and Greenpeace Southeast Asia executive director Yeb Saño, along with Waya Pesik Maweru from Indonesia, attempted to join the rest of the activists but did not manage to board.
"Shell must stop drilling and start paying. We're taking action today because when Shell extracts fossil fuels it causes a ripple of death, destruction, and displacement around the world, having the worst impact on people who are least to blame for the climate crisis," said Saño, who is onboard the nearby ship Arctic Sunrise, relaying the call of vulnerable Filipino communities to the fossil fuel industry and the world.
The four activists: Carlos Marcelo Bariggi Amara, from Argentina; Yakup Çetinkaya, from Turkey; Imogen Michel from the UK and Usnea Granger from the US, are now occupying the ship's cargo: a floating production storage and offloading [FPSO]. This oil and gas platform is a key piece of production equipment that will enable Shell to unlock eight new wells in the Penguins North Sea oil and gas field, and is expected to yield the equivalent of 45,000 barrels of oil per day.
Shell recently suggested it could open up further areas for exploration. In the Philippines, Shell is eyeing a massive expansion of oil and gas import terminals, including in the fragile and biodiverse Verde Island Passage. Communities and climate advocates are protesting the move, and are additionally calling on carbon majors, including Shell, for reparations for climate impacts.
The Philippines, identified as one of the countries most vulnerable to climate change,[1] constantly deals with the staggering costs of damage to agriculture, infrastructure and resources, on top of human lives lost, due to extreme weather events (EWEs). In 2021, Super Typhoon Odette alone cost the country approximately PHP 33 billion, while six consecutive EWEs in mid-2022 cost over PHP 5 billion. In this month alone, a series of heavy rains and massive flooding affected around 2 million people, leaving 43 dead.
"The consecutive typhoons of 2020 in Albay Province are enough proof that there's indeed a climate crisis and that every year our rights and, generally, our lives are at risk," said Bill Bontigao, an Angat GenC youth climate advocate, speaking from Tabaco City, Albay in the Philippines. "Shell's ludicrous fossil fuel exploration and expansion dwindles the hope of every vulnerable community for a better future."
"Shell must take accountability for decades of profiting from climate injustice, and pay for the loss and damage they've caused. And they must accelerate a just transition towards cheap, clean, renewable energy in a way that benefits communities, workers, and the climate," Saño said.
The Commission on Human Rights of the Philippines, through the National Inquiry on Climate Change, found that Shell and its fellow climate polluters willfully concealed the fact that their activities have led to significant harm to both the environment, the climate system, and human rights. The report recommends that they, among other things, cease oil exploration and contribute to funding climate mitigation and adaptation.[2] Shell has yet to acknowledge this report.
"Shell and the wider fossil fuel industry are bringing the climate crisis into our homes, our families, our landscapes and oceans," Saño said. "So we will take them on at sea, at shareholder meetings, in the courtroom, online, and at their headquarters. We won't stop until we get climate justice. We will make polluters pay."
---
Notes to editors:
More photos and video available from the Greenpeace Media Library.
[2]The CHR recommends that the Carbon Majors: "(a) publicly disclose due diligence and climate and human rights impact assessment results, and the corresponding measures taken in response thereto; (b) desist from all activities that undermine the findings of climate science; (c) cease further exploration of new oil fields, keep fossil fuel reserves in the ground, and lead the just transition to clean energy; (d) contribute to a Green Climate Fund for the implementation of mitigation and adaptation measures; and (e) continually engage with experts, CSOs, and other stakeholders for the assessment and improvement of corporate climate response."
See full report: https://chr.gov.ph/wp-content/uploads/2022/12/CHRP_National-Inquiry-on-Climate-Change-Report.pdf
International: Activists are available for interviews. Please contact Emily Davies, Greenpeace Global Press Lead: +44 7870 260 213, [email protected]
Greenpeace International Press Desk: +31 (0)20 718 2470 (available 24 hours), [email protected]
Local Media Contact:
Maverick Flores, Communications Campaigner
Greenpeace Philippines | [email protected] | +63 9176211552