MALABON CITY, Philippines — Greenpeace Philippines, mobility advocates, and citizens joined the City of Malabon this Saturday to celebrate a recent city resolution which champions alternative transportation modes to prioritize efficient mass mobility. The resolution declares September 16-22 as Malabon Mobility Week and September 22 as Malabon Carless Day.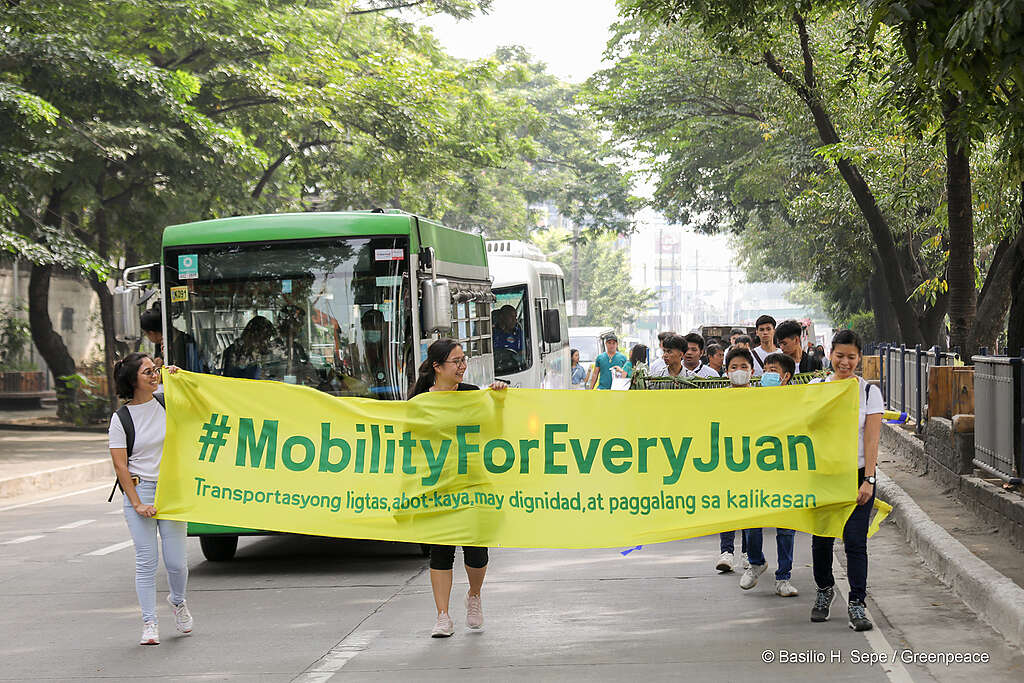 The groups, together with city officials, marked the first Malabon Mobility Week with a parade by students in mock-up "Box cars" that illustrate how cars take up a lot of space in cities while benefiting less people compared to efficient public transport and micro and active mobility options such as bicycles. The event also featured discussions on sustainable mobility solutions with speakers from Move as One Coalition, Land Transportation Franchising and Regulatory Board (LTFRB), and the City of Malabon.
Leading the event, Malabon City Mayor Jeannie Sandoval said that there is a need to raise awareness to prevent ecological imbalance, notably air pollution, because of the public's overdependence on cars. "This declaration shall serve as a show of support to the global mobility campaign and a way to awaken the people of Malabon to engage in a more sustainable means of transportation such as train, buses, jeeps, bicycles and among others," she said. "Through this, we are also encouraging people to do active walking and lessen the use of their cars or arrange a car-pooling scheme with their friends and families whenever they travel. In this manner, we will be able to lessen the volume of vehicles on the road and eliminate carbon emissions from oil and fuel burning."
Malabon City Councilor Nadja Vicencio, one of the authors of the city resolution, explained that the declaration of Mobility Week aligns with the city's commitment to achieve its sustainable development goals to make the city more livable and enjoyable for its residents. The resolution explicitly states, "Mobility is not just about 'traffic and cars' but is everyone's agenda: sustainable mobility benefits everyone's well-being, as well as the environment and climate."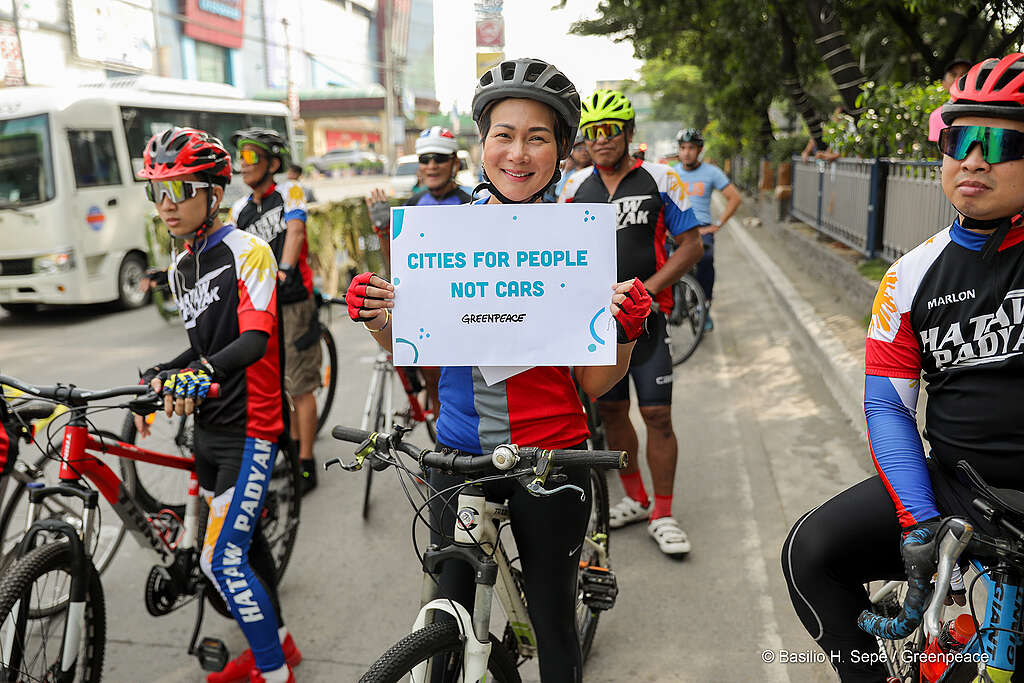 Vicencio further said that the resolution presents an opportunity to propose sustainable alternatives that can change citizens' behaviors, fostering progress toward a more sustainable and strategic transportation system.
Greenpeace, which has been working closely with Malabon City in the past few years to support people-centered urban solutions, believes that the ordinance is a step in the right direction to enable the shift away from the idea that mobility is about cars and vehicles, and from policies that prioritize cars over people. The group also says that the benefits of sustainable solutions to mobility extend beyond the objectives of mobility itself: the corresponding reduction in air pollution and traffic positively affect people's health, and the reduced reliance on fossil fuel powered vehicles present benefits for the climate.
"This ordinance gives a strong message that roads and road networks should primarily serve people and not cars," said Greenpeace campaigner Rhea Jane Mallari. "With better, people-centered hard and soft mobility infrastructure, people will also veer away from the idea that cars are a necessity. This supports the need for less cars on the road, and more sustainable mass public transport, as well as more infrastructure and policy support for active and micro-mobility."
"With the climate crisis looming, cities worldwide are experiencing devastating impacts, particularly in urban areas where over half the global population resides. The solutions to urban mobility problems are also climate solutions. Making cities sustainable not only means responding to local challenges, and making cities inclusive as well as livable, but it also means addressing the climate crisis while helping build climate resilient communities," Mallari concluded.
---
Notes:

● Malabon City resolution for mobility week and carless day – https://act.gp/malabonresolution
● Link to event photos – https://act.gp/malabonmobilityphotos
(Photo credit: © Basilio H. Sepe / Greenpeace)
Media Contact:
JM Sagum, Digital Campaigner
Greenpeace Philippines | [email protected] | +639989659573