Months into the pandemic, we realize, among other things, the importance of reflection. Though we've each had to deal with unique circumstances, I believe that at some point, all of us will (or have) come to terms with this new normal: what it means, what it changes, and what we'll become.
Thinking about how an event can bring about a drastic change in milieu, Typhoon Ondoy (international name Ketsana) comes to mind. I remember how it paralyzed society at the time, and the people around me. And I notice that I haven't had a chance to write down my Ondoy experience, much less process it. The closest thing to an anecdote I can find is this nonchalant (and embarrassing) tweet:
I remember posting this that Saturday afternoon, half-jokingly, seeing the floodwater a block away from our house. I had no idea I would stay up all night, standing guard as the water inched its way up our staircase. Or that I would be crying to my father, not knowing whether my mom and siblings were safe (all forms of communication were down) while devising a plan just in case the water reaches the second floor. I remember it was this: break through the ceiling into the roof, use the furniture as rafts.
Thankfully, we didn't have to do that. I wish it was the same for everyone else.
Maybe being immersed in the climate movement the past few years has made me forget I had an Ondoy experience of my own. Having spoken with typhoon survivors, hearing testimonies of community witnesses in the Climate Change & Human Rights inquiry hearings, and telling their stories the best way I could, drew my attention to the plight of others. Moreover, it wouldn't be a stretch to say that the regular visits of strong typhoons has become a part of my life almost every year; I'd be lying if I said it hasn't had a desensitizing effect on me, as with, I presume, many Filipinos.
Still, there must be an insight here, especially in retrospect, 11 years after. I thought, perhaps if I talked to even a few people about it, I could unlock that. And doing so shouldn't be a challenge; ask anyone in Metro Manila, and they would have an Ondoy story.
Even Filipinos who weren't physically in Manila when it happened–like actress and climate advocate Antoinette "Toni" Taus–recalls it vividly. "I remember watching everything on the news. It was a big shock. Never ko pa nakita yung ganung level ng devastation and flooding. Dati nang binabaha yung Manila, pero hindi ganung level," she said.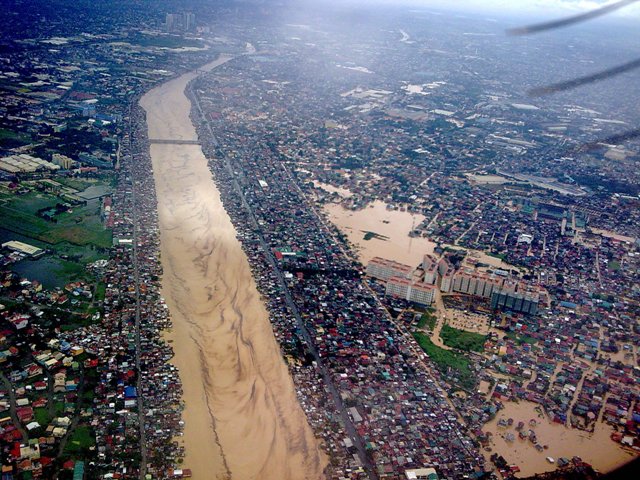 "It made us feel helpless. Pero mula noon hanggang ngayon, kitang-kita ko yung bayanihan. Even though we were in the US, there were so many fundraising initiatives and donations from overseas Filipinos in the form of cash and balikbayan boxes."
She would still hear stories of Ondoy over the years that followed, working with communities through her own environmental organization, Planet CORA. She shares, "Dati, pag naiisip natin yung ulan, natutuwa tayo. But when Ondoy happened, dun nagsimula na hindi na ako natutuwa. Today, when I hear the rain, I think, 'oh no, the rainy season is here. Kawawa na naman yung mga kababayan natin.'"
I can only imagine what strong rains evoke for those who witnessed the horror first-hand. My colleague Joel Catapang was part of a small team of Greenpeace staff and volunteers who conducted rescue operations together with the Red Cross, and in coordination with a few local government units.
Two small, inflatable boats and a pick-up truck were all they had as they scoured Metro Manila. They were confronted with streets submerged in flood reaching as high as power lines, with nothing but the poor vision of their flashlights to steer them off large debris lurking in the water.
"Hinding-hindi ko makakalimutan noong nasa isang subdivision kami sa may Ever Commonwealth, at may kumakaway na parang ilaw mula sa kabilang pampang ng San Mateo River. Hanggang sa nawala na lang nang tuluyan."
According to Mark Dia, former Greenpeace Country Representative and also part of the rescue team, "One of the things I observed, weeks after the tragedy, was that there seemed to be more people living in the streets."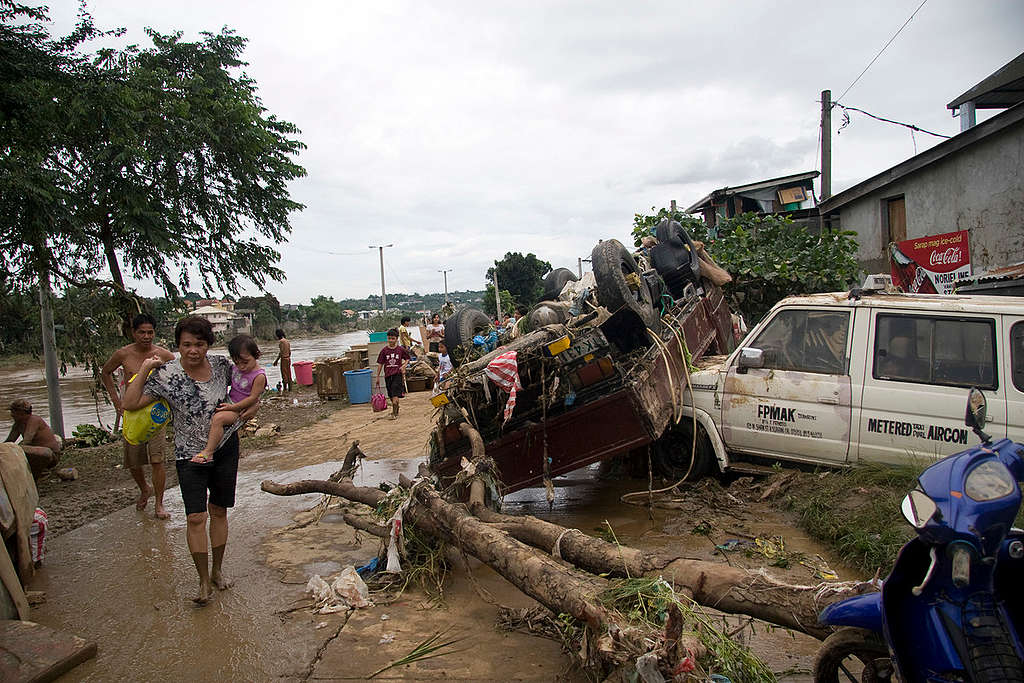 "A lot of the people we interviewed had lost everything–titles to land, property…most of them were farmers who were in debt, coming to Manila to beg or take temporary jobs as construction workers. I realized more than half of the people on the streets then were climate refugees."
But, even in hindsight, there was a glimmer of hope. The communities of San Mateo, Rizal, quickly rallied to help those affected, and Buklod Tao, a community-led calamity awareness and preparedness nonprofit organization set up as early as 1993, has doubled–if not tripled–its efforts since Ondoy.
Buklod Tao member Francia M. Encinas, in her testimony as a community resource speaker at the Climate Change & Human Rights inquiry, said, "patuloy na lumalaki ang gastos sa rescue operations–gas, pagkain, first aid at iba pa…kung hindi mapipigilan ang mga sanhi ng climate change, hanggang saan makakarating ang rescue operations na may limitadong pondo?"
Another colleague of mine, Angeli Cantillana, who was still in high school when Ondoy struck, would reflect on the vulnerabilities it exposed when she was already working with the Red Cross. "In my experience working in areas that were devastated by typhoons, the most striking images for me are always the houses. Pano ka nga naman maghahanap ng safe na tirahan kung wala kang resources to have a typhoon-proof house?"
She adds that her understanding of "natural disasters" has only expanded from that point. "Witnessing what I have in recent years has validated the idea that a large aspect of extreme weather events and impacts on communities are actually determined by people's actions. It opened my eyes to the glaring injustice that the people bearing the brunt of these impacts are the least responsible for creating the conditions that lead to such events."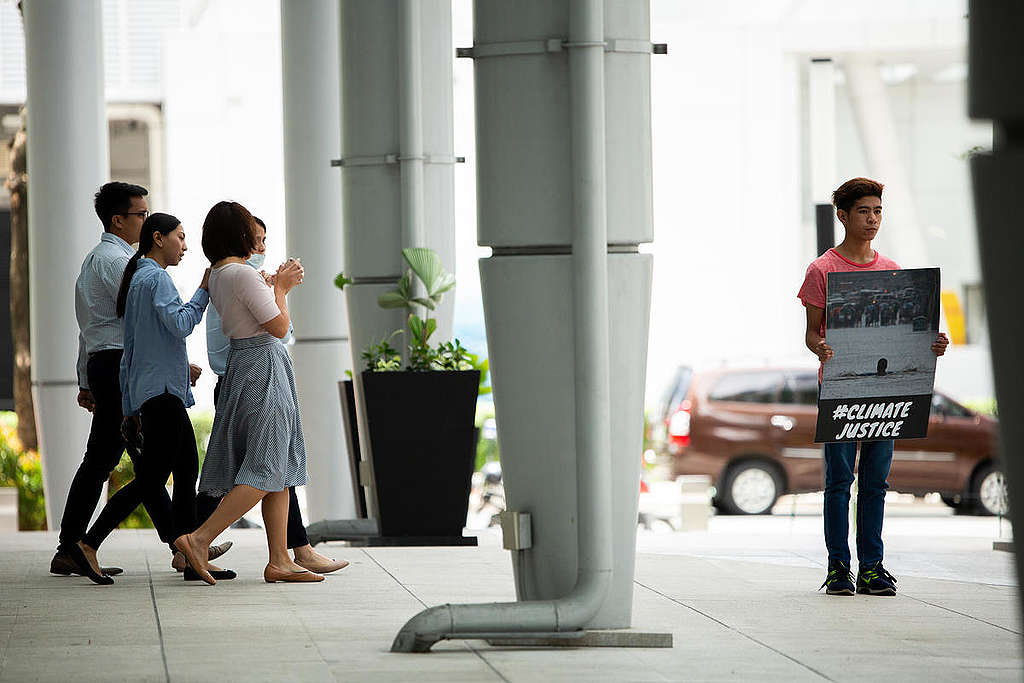 Veejay Villafranca, an award-winning photojournalist, has captured images from typhoon aftermaths and beyond, for the world to see. I can't overstate the importance of what he does, especially in the global struggle for climate action. "Ondoy started my deep dive into the topic of displacement and the re-examination of the word 'resilience' in the Philippines. That made me focus on the everyday life of displaced communities and how they're placed between a rock and a hard place," he says.
It's not just the immediate impacts of strong typhoons on people that demand urgent attention from government and industry leaders. It's also the trauma and the cycle of devastation and rebuilding that communities have to live with every day. Not to mention the compounding effect of these events on other social issues communities are already grappling with.
A lot of people play up the perception of the "Filipino resilience," and it doesn't help ease the tremendous pressure on all of us to dust ourselves off, and get up as if nothing happened. There may be some truth to this generalization, but the undeniable reality is that most Filipinos are just too busy surviving.
One of my favorite poems by a Filipino poet captures this precisely:
---
"Again, I do not anymore aspire for a house.
I cannot gather enough soil or wood
to temper the surge and change
the course of storms. I am still
hopeful, though. If the next one misses us,
then maybe I could offer you some relief,
and more relief, if it does hit. There
are many names for storms, adds
the weatherman. But what were those
I called my own again? Oh, broken and
unnamed things. Because in the aftermath,
there was never any betrayal in the forecast.
Just more stories, PAGASA insists. Just
more stories."
–excerpt from "PAGASA," in Ruins & Reconstructions by Joel Toledo
---
We remember events like Typhoon Ondoy from its triggers and in sensory details. Like how my home would smell of mud for months. Or how flood water stains were, years after, still etched on the walls of our neighborhood's houses.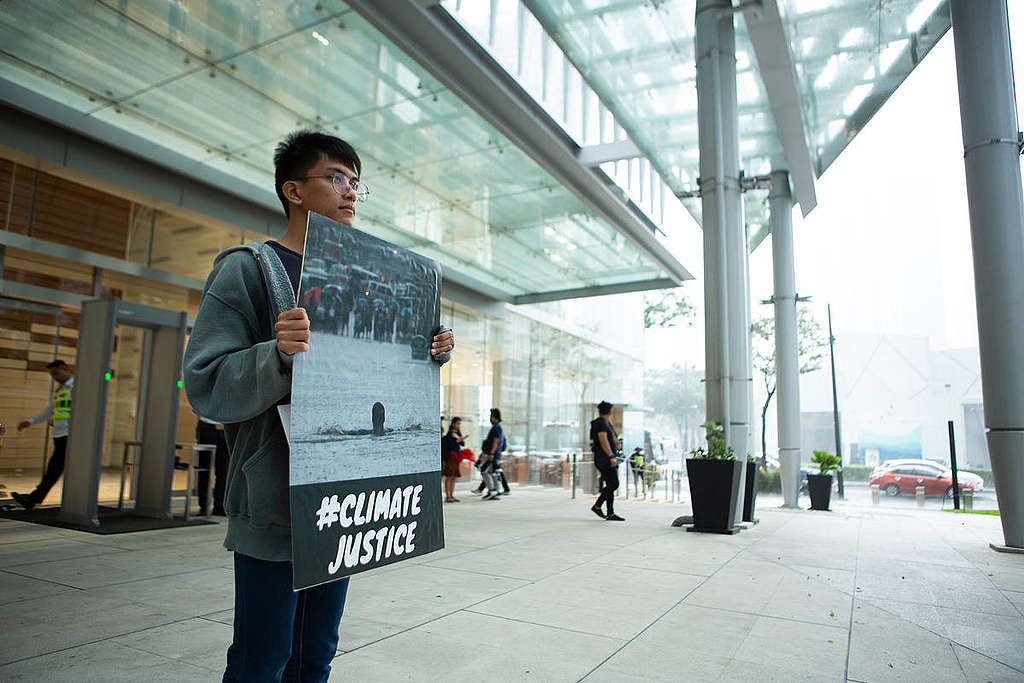 Now, whenever it's raining heavily, I think of all the people whose stories are hiding in these triggers. I think of those sharing their stories and standing up to corporations who are most responsible for the climate crisis, seeking justice. I hear thunder and notice that sometimes it's scattered, but that doesn't mean it's not there. The rumble always builds up to a rounded, unified sound.