September 19, 2019, Thursday

17:00 (GMT +8)
Krishna, together with the youth of Negros Occidental, has fought to keep their province coal-free. While protesting in front of the Shell headquarters, she painted a picture embodying the dreams of young people around the world for a future that's free from fossil fuels.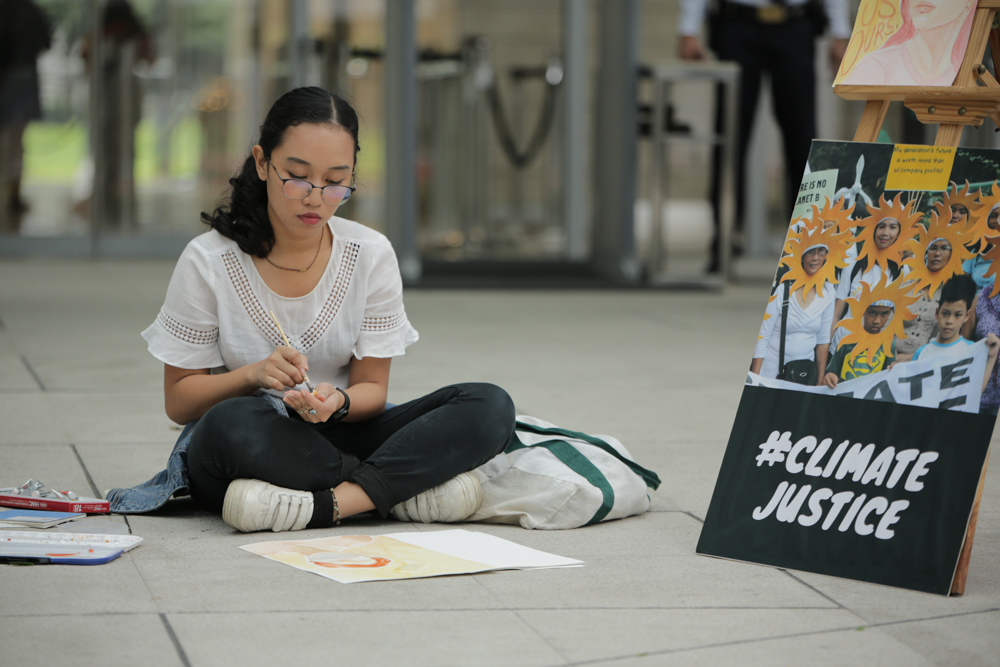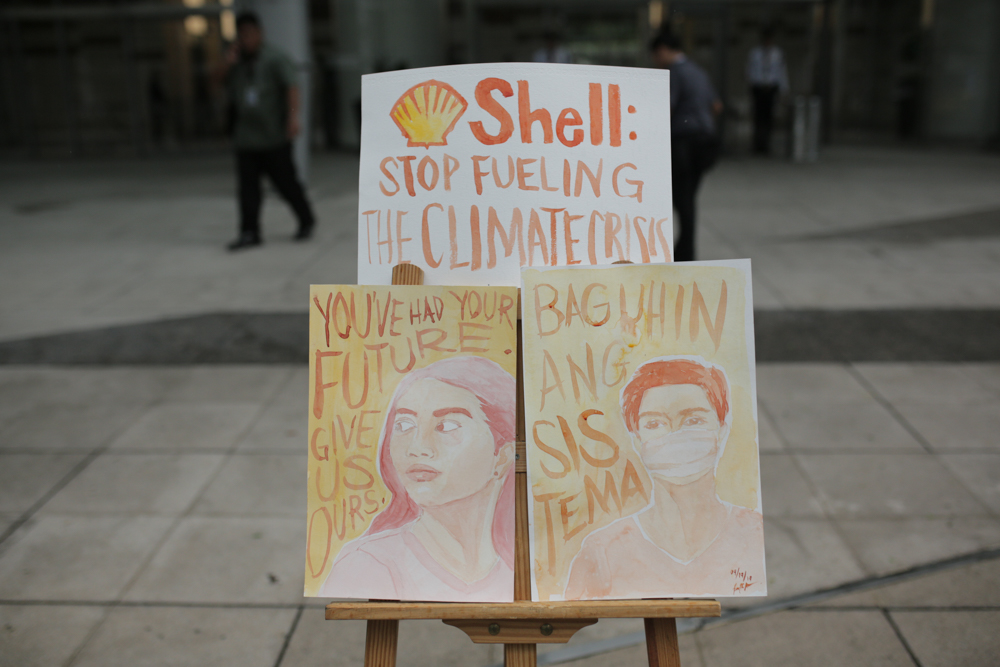 11:07 (GMT +8)
Krishna Ariola, one of the leaders behind Bacolod's strong environmental movement and lead convenor of Youth Strike 4 Climate Philippines, arrives at the Shell headquarters in BGC.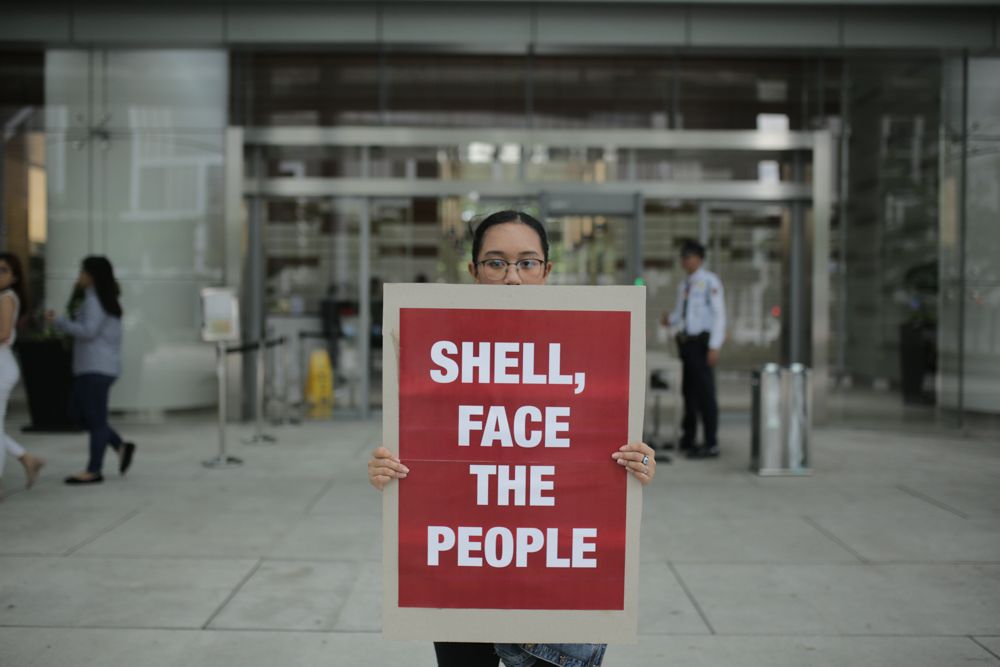 08:45 (GMT +8)
Marinel Ubaldo, Super-typhoon Haiyan survivor, is back in front of the Shell headquarters in Manila demanding Climate Justice.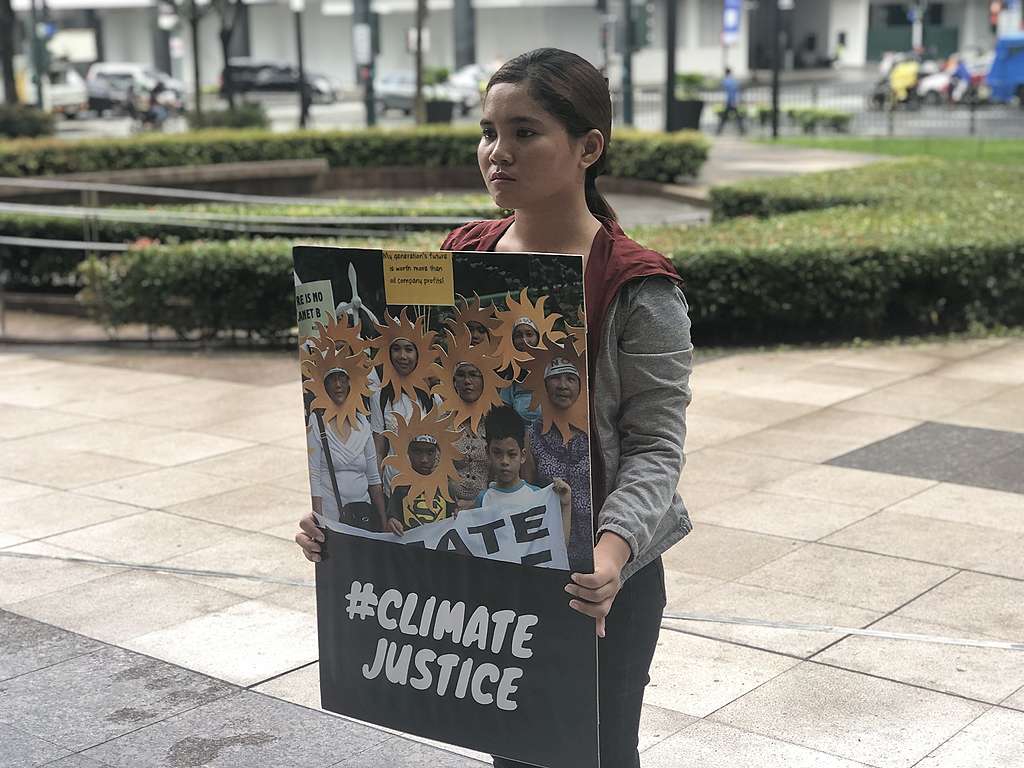 Marinel was among the community witnesses who testified at the Climate Change & Human Rights hearing held by the Commission on Human Rights of the Philippines in New York last year.
At the NY Climate Summit, she also gave a speech before hundreds of New Yorkers. She said:
"I'm here in front of you, not just as a climate statistic you see in the news, but I'm here as a human being–hoping to remind you that we need to value lives again."
---
September 18, 2019, Wednesday
15:09 (GMT +8)
Francis "Mikmik" Talatayod, chairperson of STEPGEN-a youth group from Marikina City, stands in front of the headquarters of Shell. He witnessed the dead bodies on the streets in the aftermath of Typhoon Ketsana (Ondoy).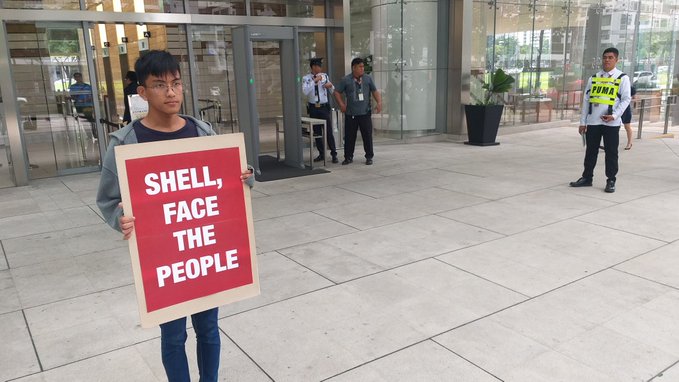 13:50 (GMT +8)
RJ has stood his ground for over 5 hours–this was nothing compared to his experience during Typhoon Ketsana (Ondoy), where he had to stay on the roof of his house, waiting for rescue, for more than 24 hours!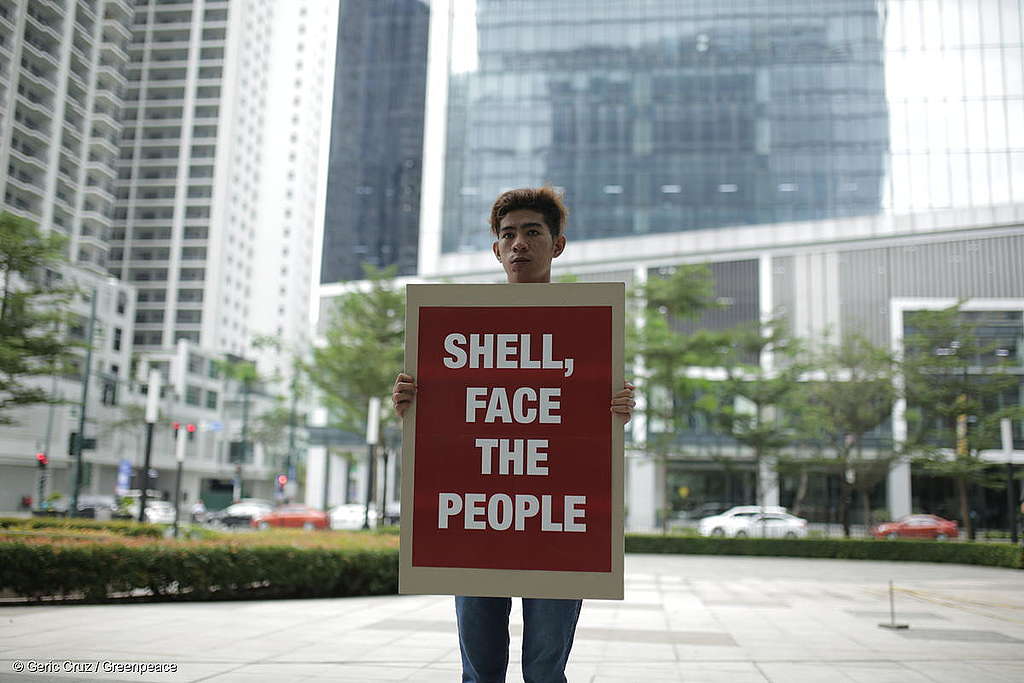 08:54 (GMT +8)
RJ de Ramos, a youth organizer, shows up at the Shell headquarters in Manila, Philippines, asking the corporation to acknowledge their responsibility in fuelling climate change.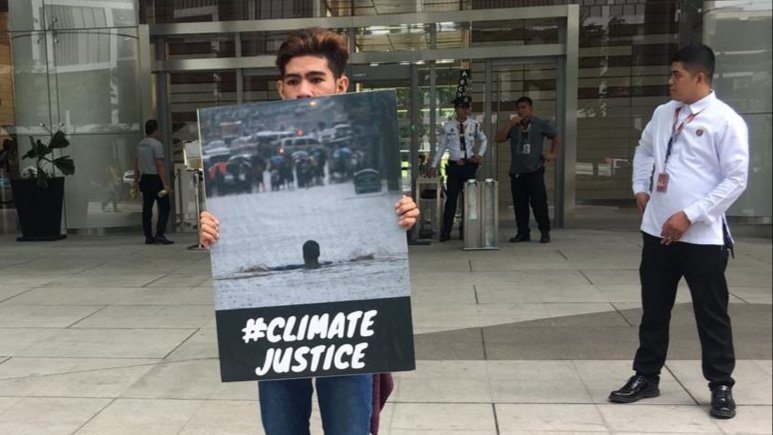 ---
September 17, 2019, Tuesday
17:03 (GMT +8)
Carina leaves the paddle with a message from  at the entrance of the building, as a reminder for Shell to think about their business' impacts on Filipinos' livelihoods.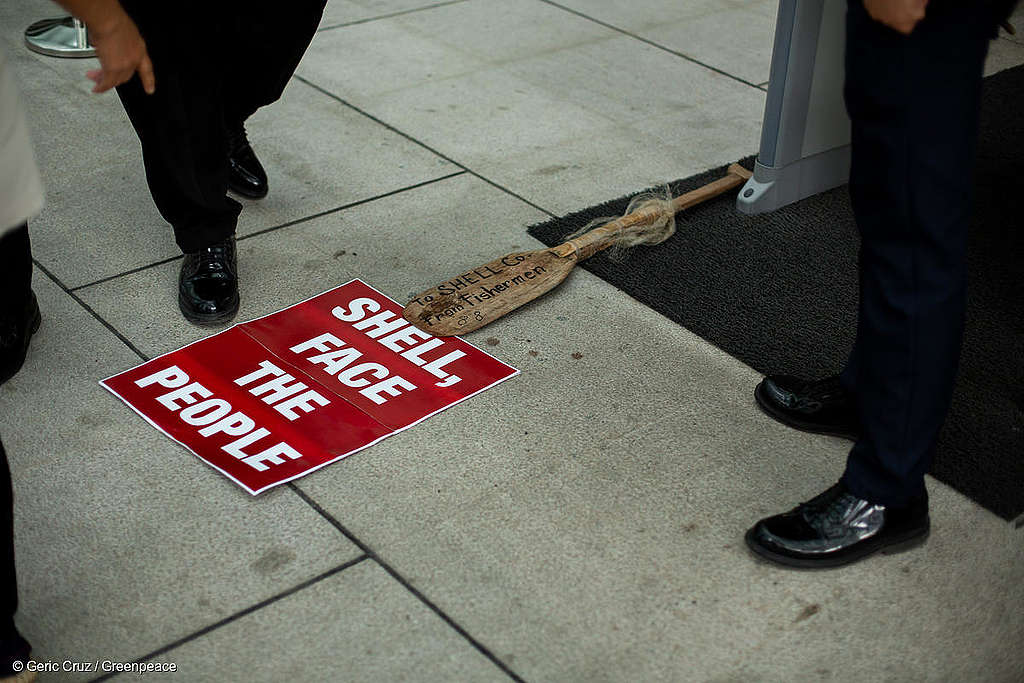 15:44 (GMT +8)
Carina Dellosa, a mother who has been part of the movement against fossil fuels since 2014. She experienced the health impacts of coal plants. She's standing up to Shell for her children's future.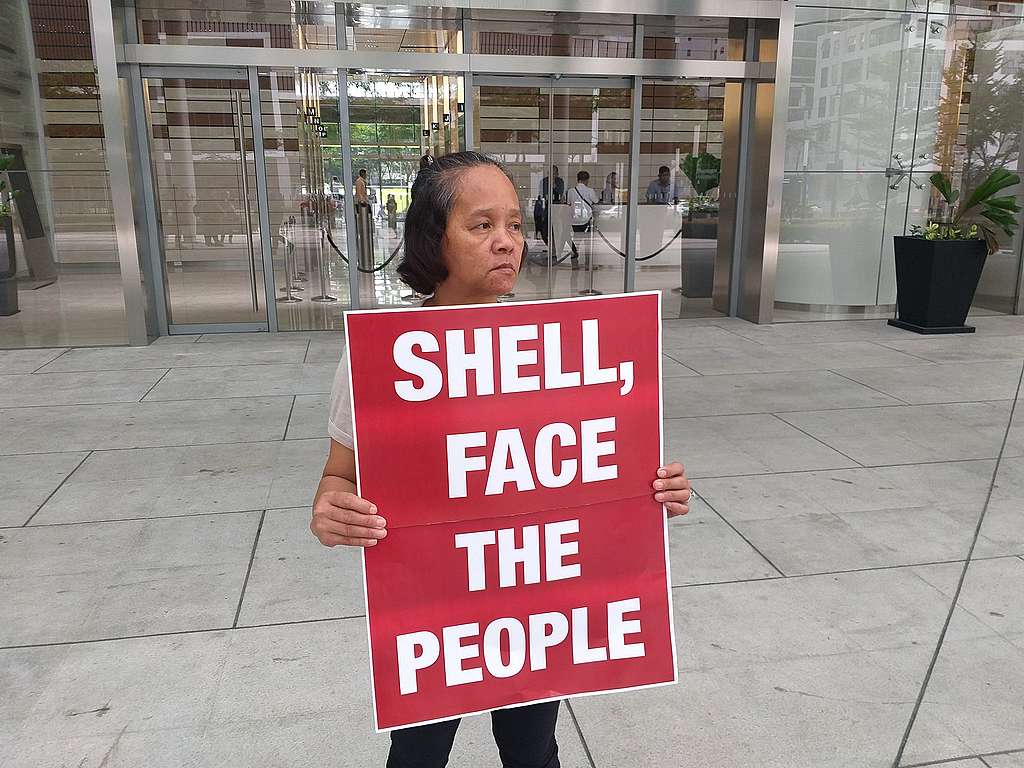 12:20 (GMT +8)
Fred dela Cruz, a fisherman, comes all the way from Bataan to represent fisherfolk in his community and across the country demanding justice from Shell. Fisherfolk and coastal communities are among those particularly vulnerable to the impacts of the climate emergency.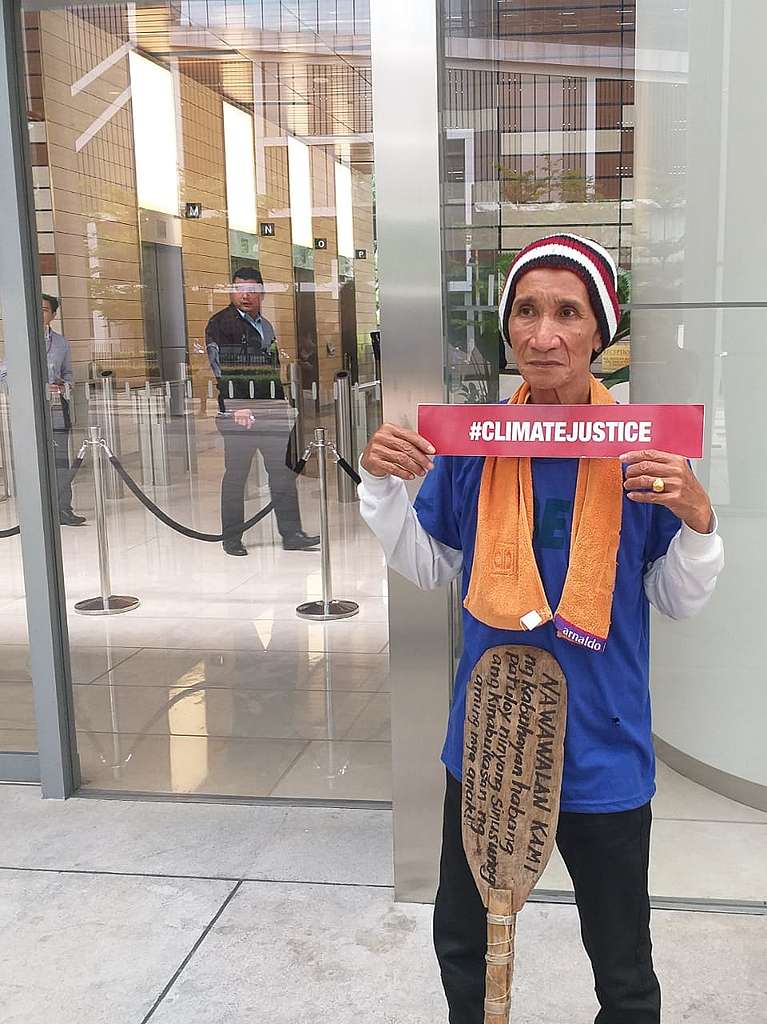 11:10 (GMT +8)
Derek holds her position at the Shell HQ to speak for Filipinos whose livelihoods are affected by the impacts of the climate emergency, such as stronger typhoons and severe droughts.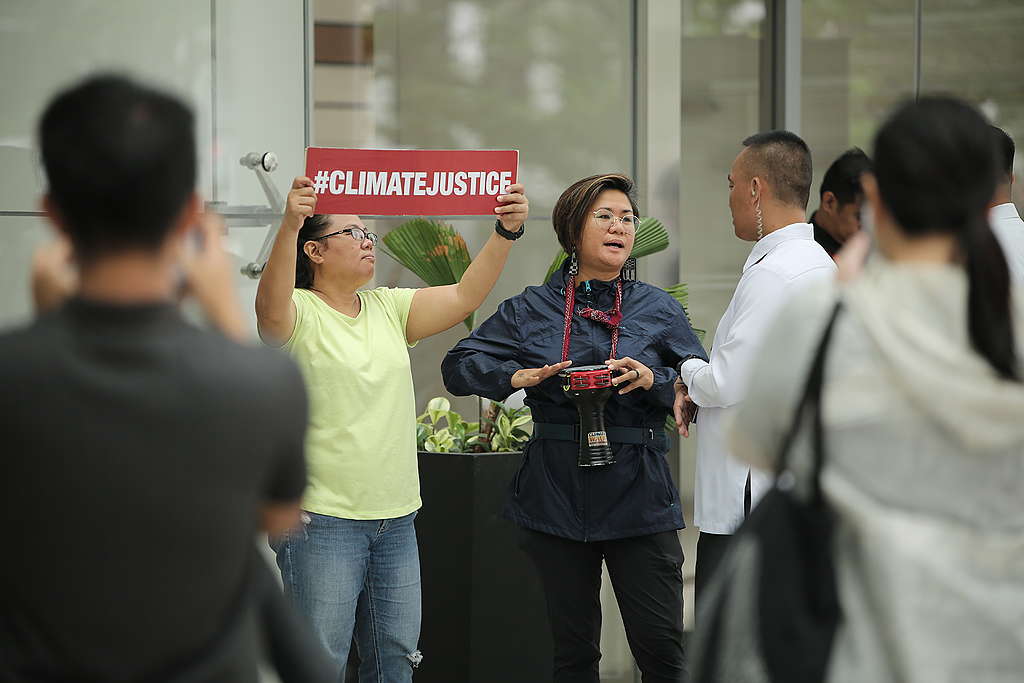 08:40 (GMT +8)
Derek Cabe, an anti-coal advocate from Bataan, Philippines, heads to the Shell headquarters in Manila calling on the corporation to face the people and answer for the human rights harms stemming from the impacts of climate change.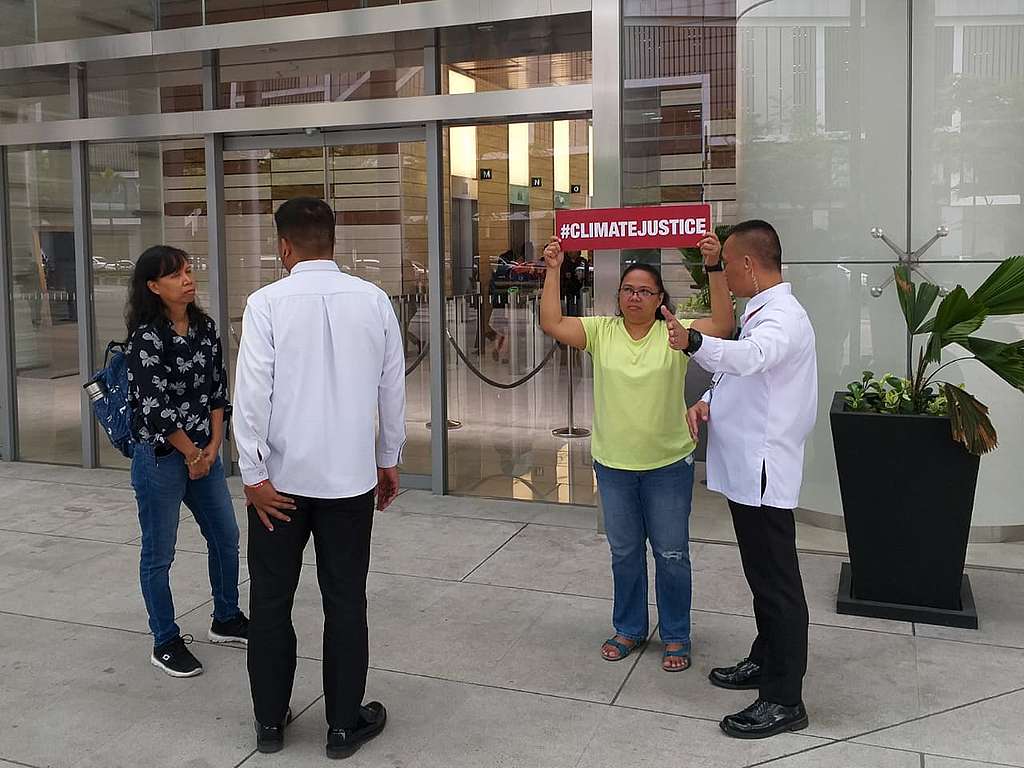 Derek is one of the petitioners that helped launch the landmark human rights investigation of the 47 "carbon major" companies including Shell, ExxonMobil, BP, Chevron, and Total.
At the Climate Change & Human Rights hearing held in London last year, she shared her experience of Typhoon Ketsana, and appealed to the corporations: "Please listen to us. Consider our suffering seriously and remember that we also have rights because we are also human beings like you."
---
September 16, 2019, Monday
17:06 (GMT +8)
Joanna Sustento joins Marinel at the Shell headquarters. She leaves a letter for Shell, and a photo of her three year old nephew, Tarin, who has been missing since Typhoon Haiyan battered parts of the Philippines in 2013.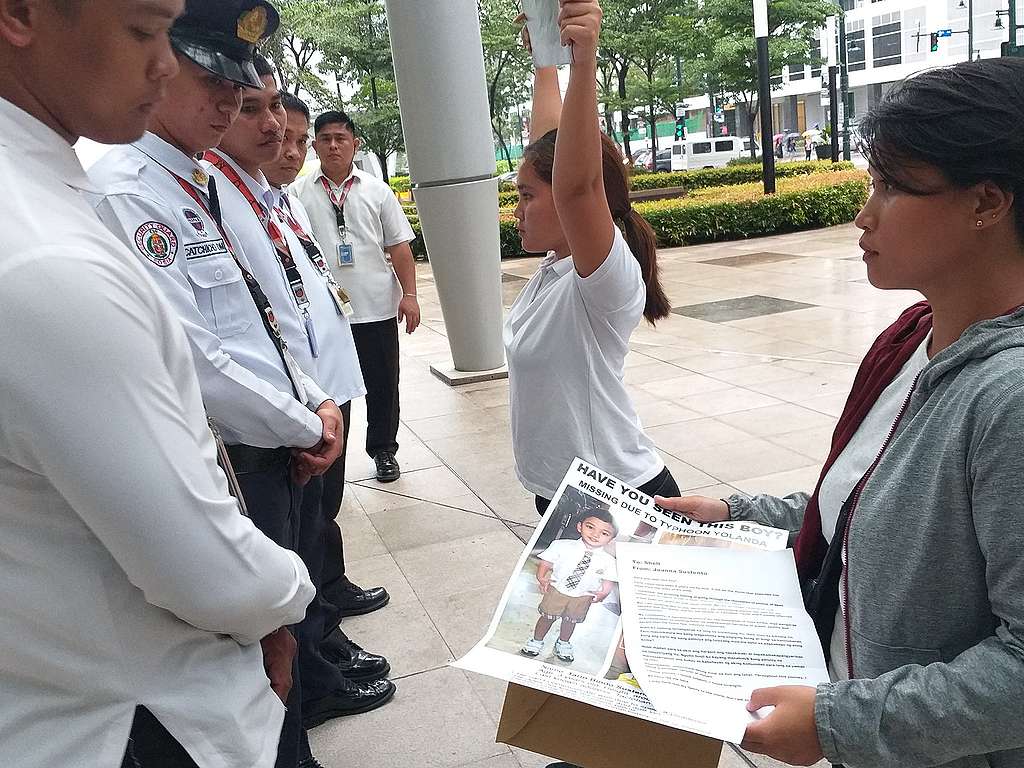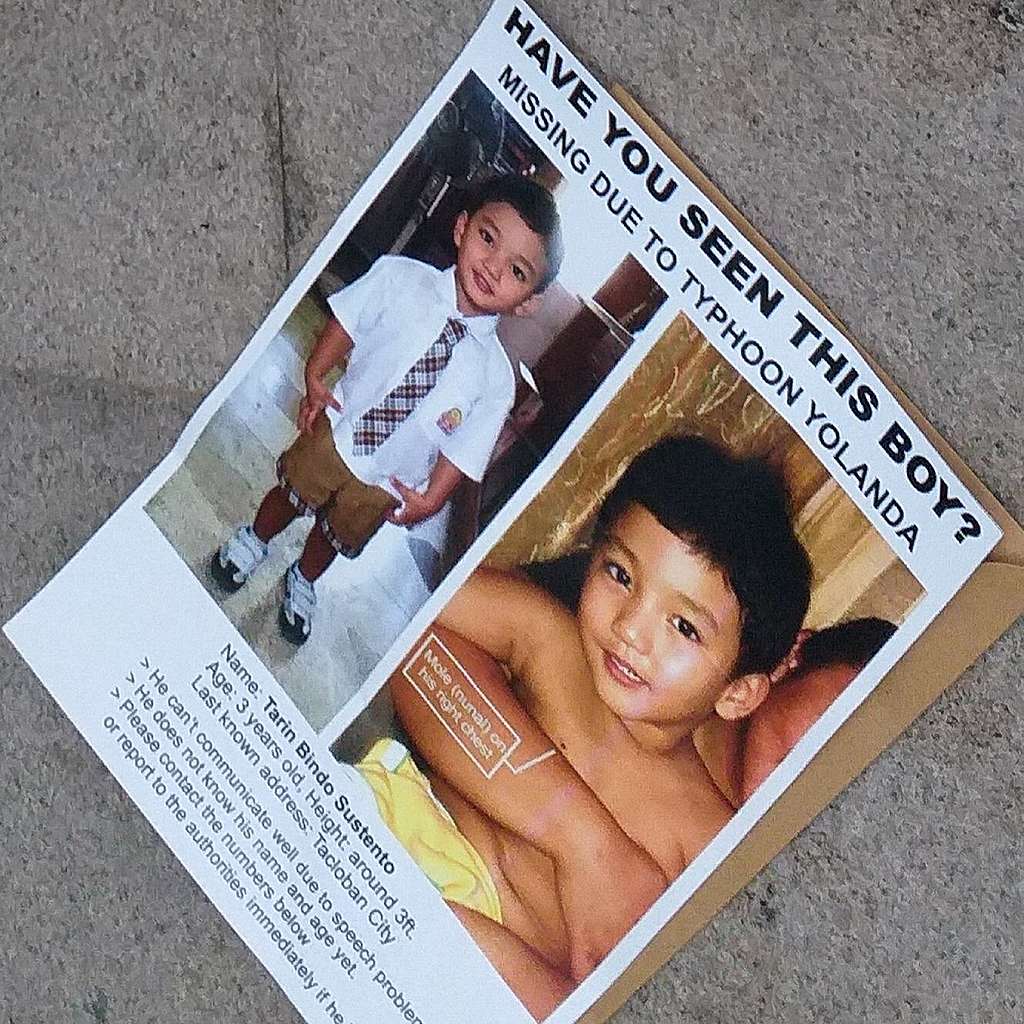 15:04 (GMT +8)
Security personnel surround Marinel but she's still standing her ground.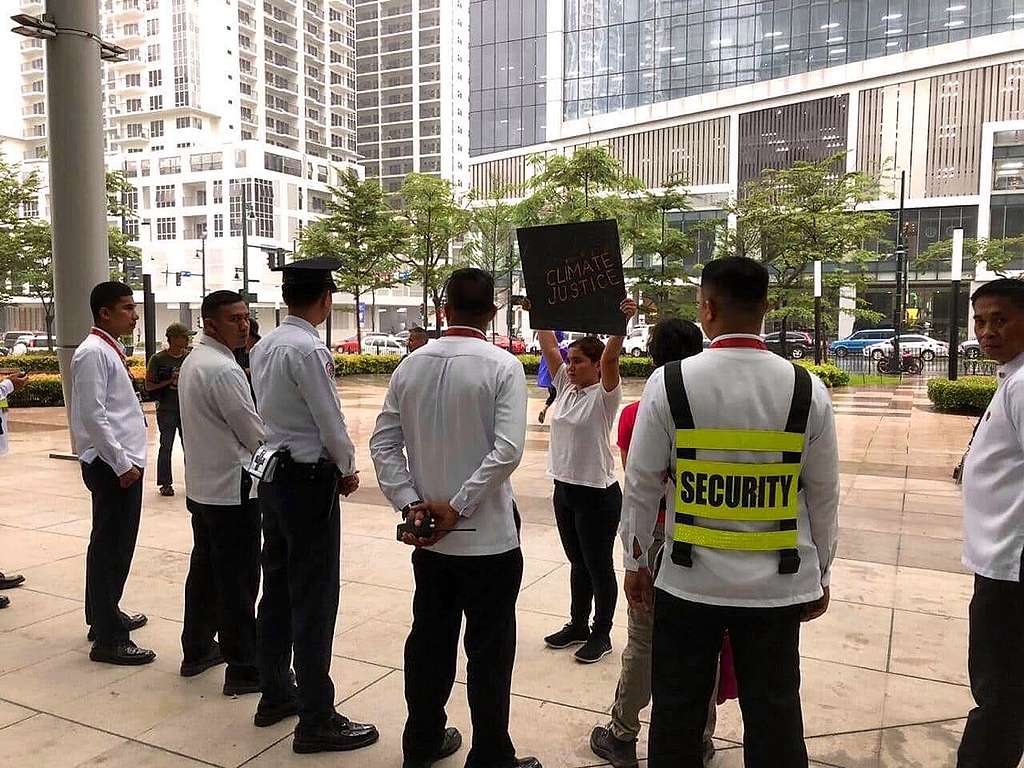 14:30 (GMT +8)
The protest continues as Marinel Ubaldo, another Typhoon Haiyan survivor, stands at Shell's doorstep in Manila.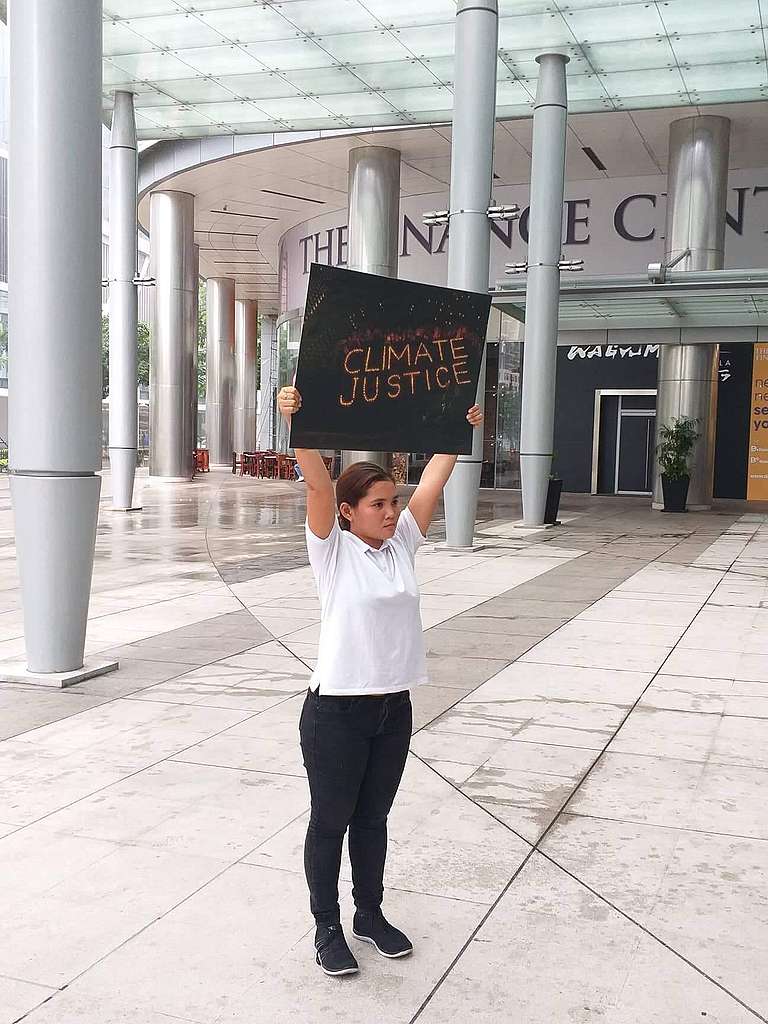 11:04 (GMT +8)
At the precinct, police tell Joanna and Greenpeace that they were invited to the station so they can talk to Shell management. They will not be charged. However, only the building management security arrives to talk to them. [Photo and update from Kristine Sabillo]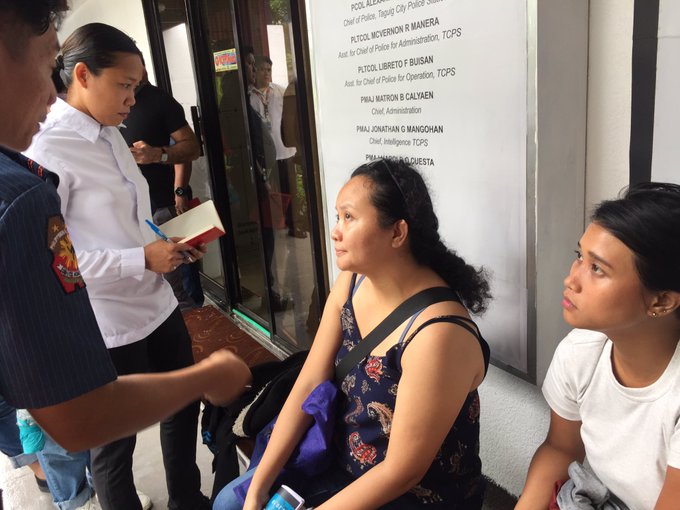 10:20 (GMT+8)
Lone protester Joanna Sustento was carted away with around 30-40 police officers to the nearby police precinct.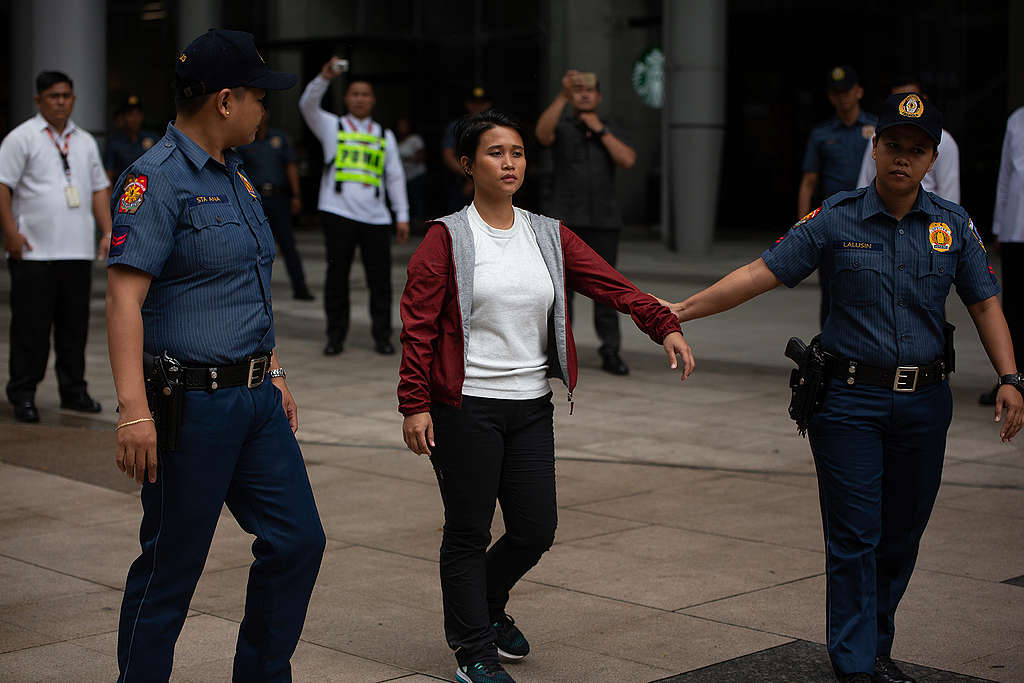 10:11  (GMT+8)
Police and security personnel take Joanna to the station, two hours into her peaceful protest on behalf of communities around the world whose future is now at risk because of the #ClimateEmergency.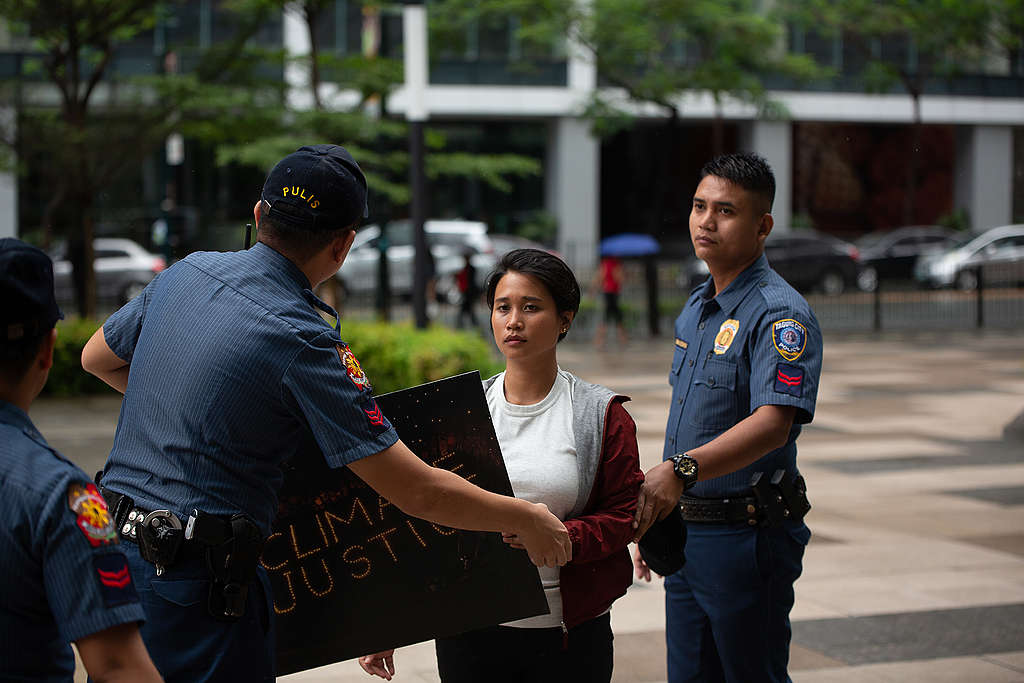 09:55  (GMT+8)
An hour into her protest, Taguig police and security personnel have asked Joanna to move farther from the building entrance.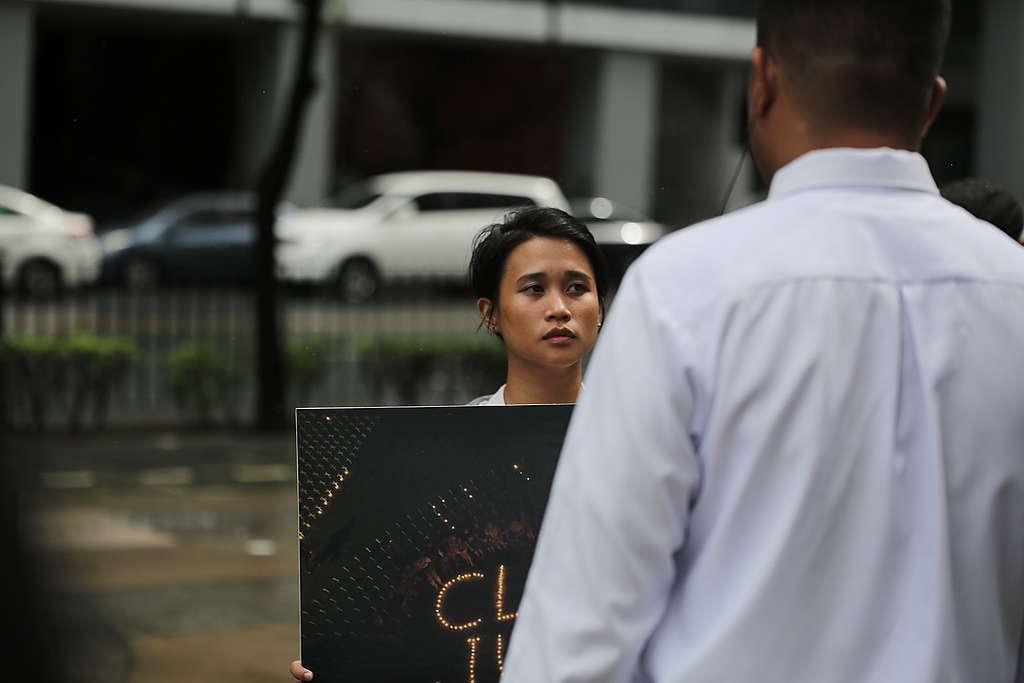 09:50  (GMT+8)
Nityalila, a Filipino singer-songwriter, environmentalist, and peace advocate, plays a song next to Joanna as a show of support.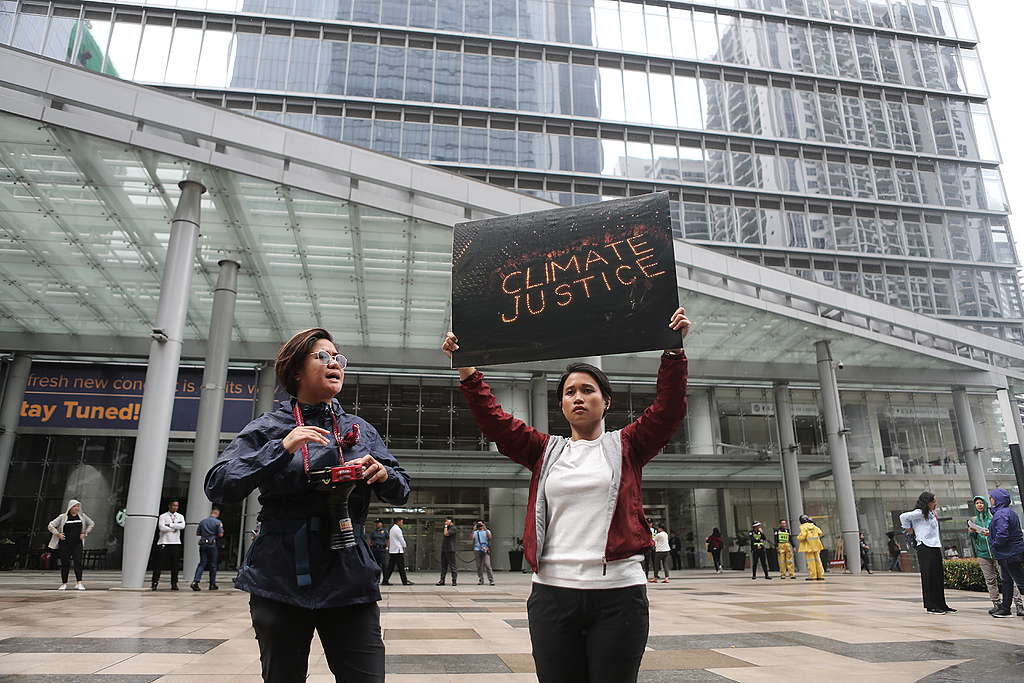 08:40  (GMT+8)
Joanna Sustento makes her way to the Philippines headquarters of Shell, located in a bustling financial district in Metro Manila.
It's raining, and walking past her are wage earners and executives rushing to their nine-to-five. But Joanna, a super-typhoon Yolanda (Haiyan) survivor, is not here to go to work; she's here to call on Shell, one of the 47 biggest investor-owned climate polluting corporations, to "face the people." She stops  in front of the building, holding up a photo of lit candles that spell out, "Climate Justice."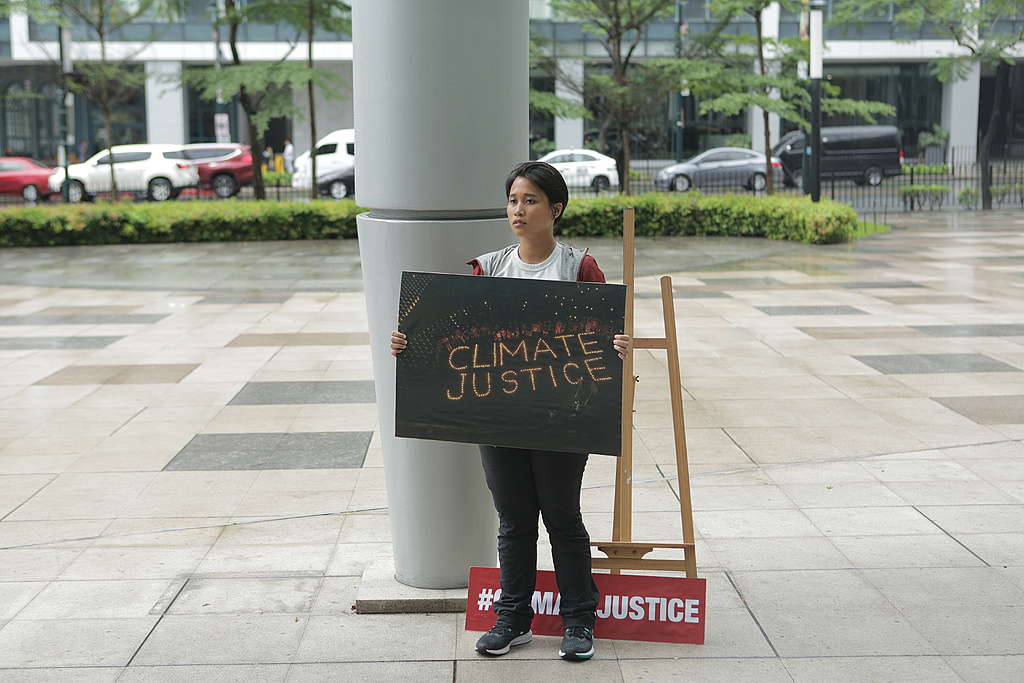 Fossil fuel companies like Shell continue to rake in huge profits while the people and the planet suffer. But up to now, they are not held accountable for human rights violations resulting from the impacts of climate change. More frequent and intense extreme weather like super typhoons and extreme drought have taken away lives and livelihoods, left thousands of families without homes, and destroyed our natural resources.