Thought you'd have to leave delicious dishes behind if you went plant-based? It's a Christmas miracle, 'cause the answer is no!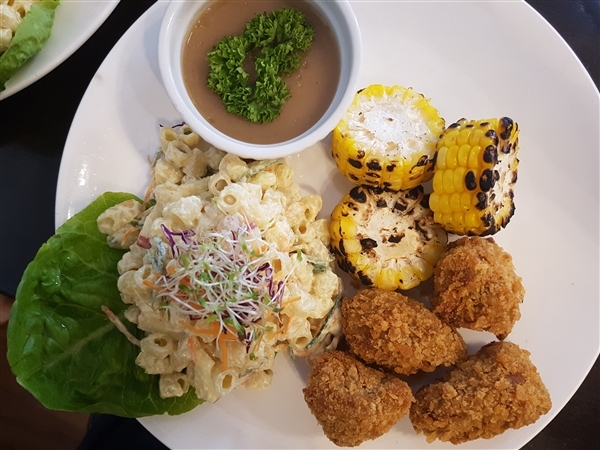 The Vegetarian Kitchen's southern fried "chicken"
At The Vegetarian Kitchen, located at 62 B Mother Ignacia Ave., Brgy. Paligsahan, signature dishes include classic caldereta made of slow-cooked "meat", tomatoes, carrots, potatoes, olives, and bell peppers; lengua in creamy mushroom sauce made of wheat protein slices cooked in mushroom cream sauce and white wine; and southern fried chicken made of homemade "chicken nuggets", macaroni salad, grilled corn, and gravy.
Familiar tastes to make your mouth water, but made of ingredients that are kinder to the planet than the usual beef, pork, and chicken!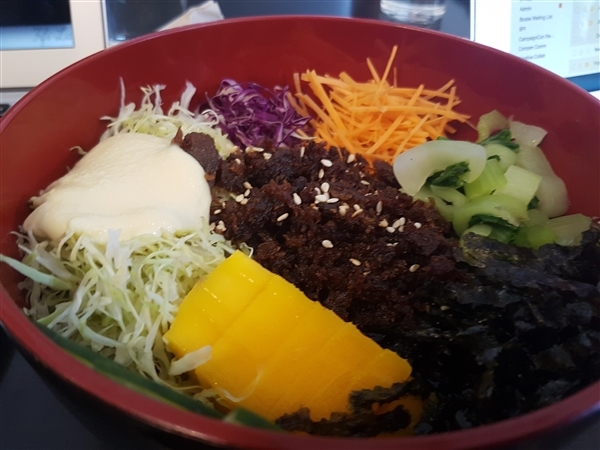 The Vegetarian Kitchen's Bibimbap
As if it wasn't hard enough to decide what to order, they have tocino and fried rice too, made of cured soy protein and served with tofu egg; crispy danggit made of deep-fried salted soy fish with tofu scramble, paired with fried rice; and double lentil cheeseburger made of lentil burger patties, cheese sauce, lettuce, cucumber, tomato, and pickles packed in a sesame bun.
And did we mention the appetizers? There's La Paz Batchoy with miki noodles, vegan chicharon, celery, carrots, and coriander; loaded vegan longganisa nachos made of tortilla chips topped with cheese sauce, vegetables, and salsa; and crispy spinach and ricotta dumplings with vegan mayo.
The scrumptious desserts are not to be missed. How does vegan dark chocolate cake sound? And since it's Christmas, why not order what they proudly call Manila's first vegan fruitcake? It's made with applesauce, pineapple, candied fruit, walnuts, dates, and raisins.
Pair them with soy coffee or tea!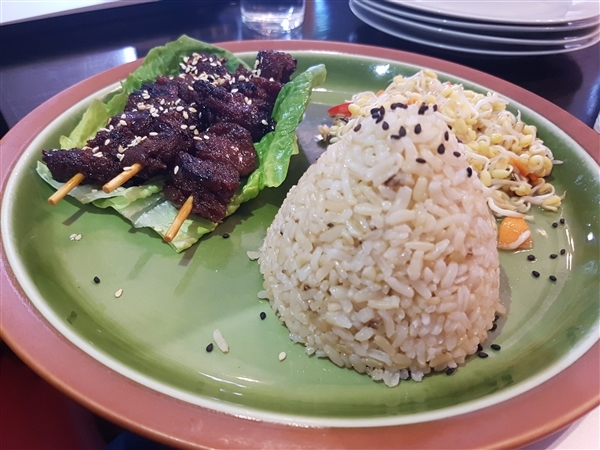 The Vegetarian Kitchen's satay barbecue skewers
Who says you have to give up these great familiar flavors you've always loved? Restaurant options like this prove that going plant-based for the planet can be as tasty as any diet.
Stay glued to this page for the rest of our series! Which city do you want us to explore next? Got a suggestion? Type it in the comments section below!