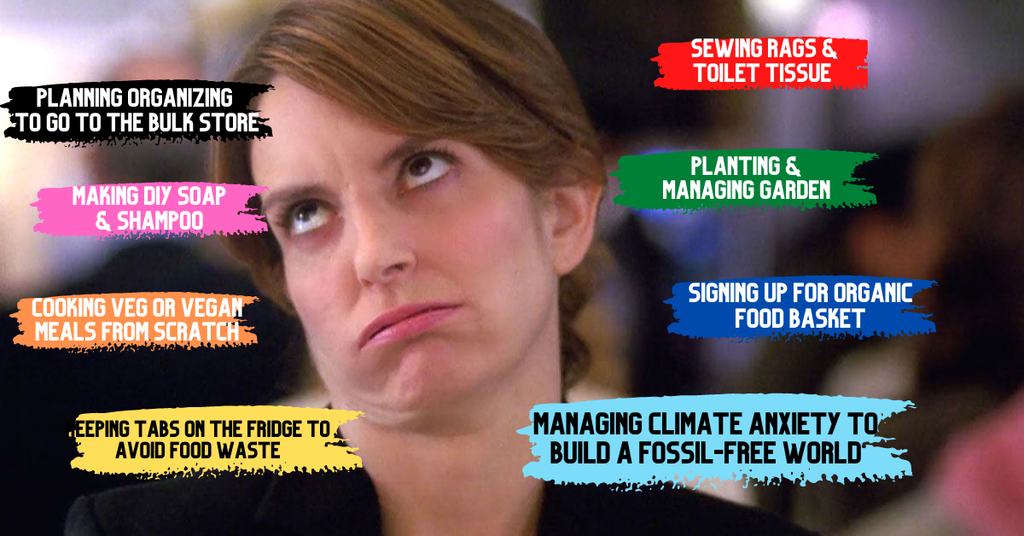 The mental load is a term for the constant demands which typically fall on women's shoulders, related to the planning, management and execution of a task or set of tasks. Emma's excellent comic book will introduce you to the concept in a playful and lightning-fast way.
When it comes to zero waste, organising a system to overcome the fact that only 9% of waste is recycled, thinking about it, and inventing solutions is a long, gruelling job that requires a privileged family situation.
And this task generally falls on women. According to the Climate Action Barometer 2020 (french), women, people aged 55 and over and those with children are most likely to adopt actions to reduce their impact on the climate.
From bulk to bidet: A personal account of the long road to zero waste
I still remember when I discovered bulk grocery stores. Finally, a real alternative to supermarkets! I jumped at the opportunity. I rethought our grocery shopping and the products we were buying and I trained my partner. He followed.
I didn't stop there. I rethought our cleaning products and opted for zero waste, inexpensive and non-toxic alternatives. I researched and learned how to make soap bars and shampoos. My partner followed.
When we had a baby, I thought about, planned, and organised diapers and bought everything for my daughter second-hand — and I still do. I even found the ultimate recipe for homemade diaper cream. This time, my partner proudly got onboard.
While everyone was scrambling for toilet paper at the beginning of the pandemic, I cut up an old towel. We now have 'pee wipes' and a bidet. My partner followed, but with less enthusiasm this time 😉
Organising and improving our zero waste system takes time. A lot of time and energy. I do it out of conviction, but I am also fully aware of the systems in which I operate, hence this story.
Resisting eco-sexism
I have no passion for cloth nappies and saving mason jars. I imagine I'm not the only one.
At home, I believe that zero waste and anti-waste are part of a lifestyle that aims to reduce our carbon footprint. However, being the one who researches and implements these changes, I'm targeted with digital ads for reusable products and tips on how to use vegetable peelings. Notably, these ads only ever seem to feature women.
In this time of climate emergency, when all of us are responsible for taking care of the planet and life on earth, capitalist and destructive patriarchy is never far away.
Identifying and balancing this unequal relationship within our privileged white family remains important to me. I want the mental burden of our carbon footprint not to be an inevitability, but a way of rethinking traditional gender identities and our way of life. I see it as an opportunity for mutual growth and education to rebalance roles and provide a flattened domestic model as an example for our daughter.
Zero waste, from the private to the public sphere
Despite all of this, we need to remember that zero waste is not only a domestic issue, it is a process that must be organised by public authorities and governed by the law.
As such, the federal government needs to ban the production, distribution and sale of all non-essential single-use plastics. It also needs to require companies to take full responsibility for the life-cycle of their products and their waste. Companies need to prioritize reuse and deposit schemes.
Does this mean women still have to fill the mason jars? On the contrary, it seems more necessary than ever to put our finger on the systems of power, identify their gears, and deconstruct them.
Further reading:
Have you thought about how the ecological imperative alienates women ?
A couple good reading suggestions here :
Who am I ? As a hard-working feminist, I like to learn about gender issues and point them out to those close to me. I also like to put feminism in an anti-colonial and anti-capitalist perspective, all with a touch of dry humour. Becoming a mother has added a new layer of climate action to my mix of activism, which is formed of love and rage.