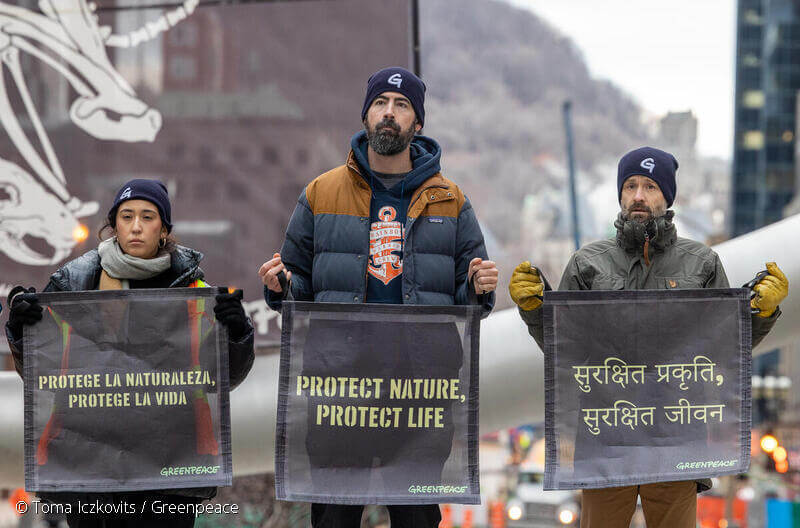 Until December 19th, governments, Indigenous leaders and environmentalists from around the world are gathering in Montreal for the Convention on Biological Diversity (CBD) COP15, the biggest biodiversity conference of the decade. As the host country, Canada has a responsibility to lead by example and mobilize world leaders to commit to nature protection.
Prioritizing Indigenous peoples and turning nature protection pledges into reality
That's why we've been campaigning for a federal Nature & Biodiversity Act that would lay out a policy roadmap to turn nature protection pledges into reality. But to make an Act like this happen, we need thousands of Canadians speaking up to support it.
I'll be attending COP15 negotiations over the next two weeks alongside Indigenous representatives from the Amazon, the Congo Basin, West Papua, and Northern Québec. Together we'll be campaigning for a rights-based approach to nature protection, urging governments to prioritize Indigenous peoples and frontline communities over corporate profits and false solutions.
What's at stake
The commitments made at COP15 will determine the protections given to nature until 2030. To say the stakes are high is an understatement—we're in the midst of a sixth mass extinction event, with 1 million species at risk of extinction worldwide and earth's natural systems being pushed to the brink of irreversible tipping points. [1]

It can feel like an uphill battle, but I know I am not alone because of our supporters. Our new poll shows that a majority of people in Canada are genuinely worried about the nature crisis and think our federal government is the one that needs to tackle it. [2] In theory, Canada loves a nature protection pledge, but our government has missed virtually every biodiversity target it has ever set for itself. Most recently, they failed to achieve their target of protecting 17% of land by 2020; it's already 2022 they've protected just over 13%. [3]
Please join our campaign calling on the federal government to pass a Nature & Biodiversity Act.
Thank you for your time and energy. I'm nervous going into these negotiations, but because of people like you, I'm also very hopeful.
Sources:
[1] The Amazon rainforest is approaching a tipping point in Rio Branco
[2] New polling: over 80% of Canadians are worried about the nature crisis and believe the federal government should lead at COP15

[3] Canada's conserved areas