Greenpeace sent a letter to the European Investment Bank's (EIB) president asking to cancel the bank's €264 million loan (signed in September) to fund the extension of the A49 motorway between the AS Schwalmstadt and Ohmtal-Dreieck junctions in Hesse, Germany. A centuries-old forest is currently being cut to make way for the motorway. The EIB itself estimates the extension will be responsible for 277,000 tons of CO2-equivalent emissions per year. The EIB is trying to become "Europe's climate bank"; it has the opportunity to do so by cancelling climate-destroying loans for motorways and airports and by adopting a strong climate roadmap.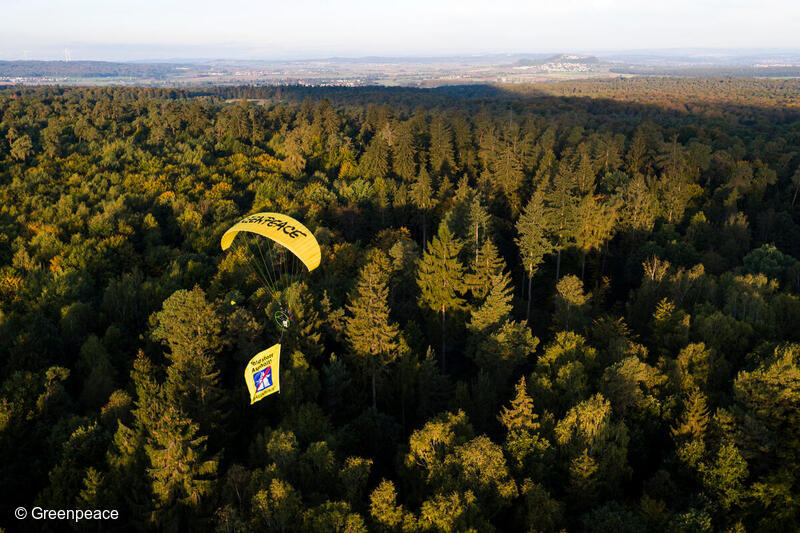 The EIB is currently developing a new climate roadmap for itself. The roadmap will outline how the EIB intends to align its lending policy with the Paris Agreement in the next five years. Despite its commitment to ending lending money to fossil fuels projects from 2021, there is a big gap between the EIB's stated aims to act as Europe's climate bank and its operations.
Some 27 hectares of the Dannenröder forest are to be cleared in the coming months for this extension project. Over the past year, people started moving into the forest to prevent its destruction, and Greenpeace joined in September, urging public authorities to stop the planned clearing of the Dannenröder forest and the construction of the A49 motorway. More than 200,000 people have signed a petition to save the Dannenröder forest and stop the motorway project.
Read the full letter to EIB President Hoyer here