APP (Asia Pulp & Paper) is Indonesia's largest pulp and paper company, and for the last five years Greenpeace has been watching and providing input to make sure it followed through on its promise to end deforestation.
We recently conducted an investigation to find out if APP and the Sinar Mas Group were still linked to forest destruction.
Here's what we found: almost 8,000 ha of forest and peatland has been cleared in two concessions linked to APP and its parent company the Sinar Mas Group since 2013. We put these allegations to APP and Sinar Mas, but the group failed to provide a credible response or to take meaningful action.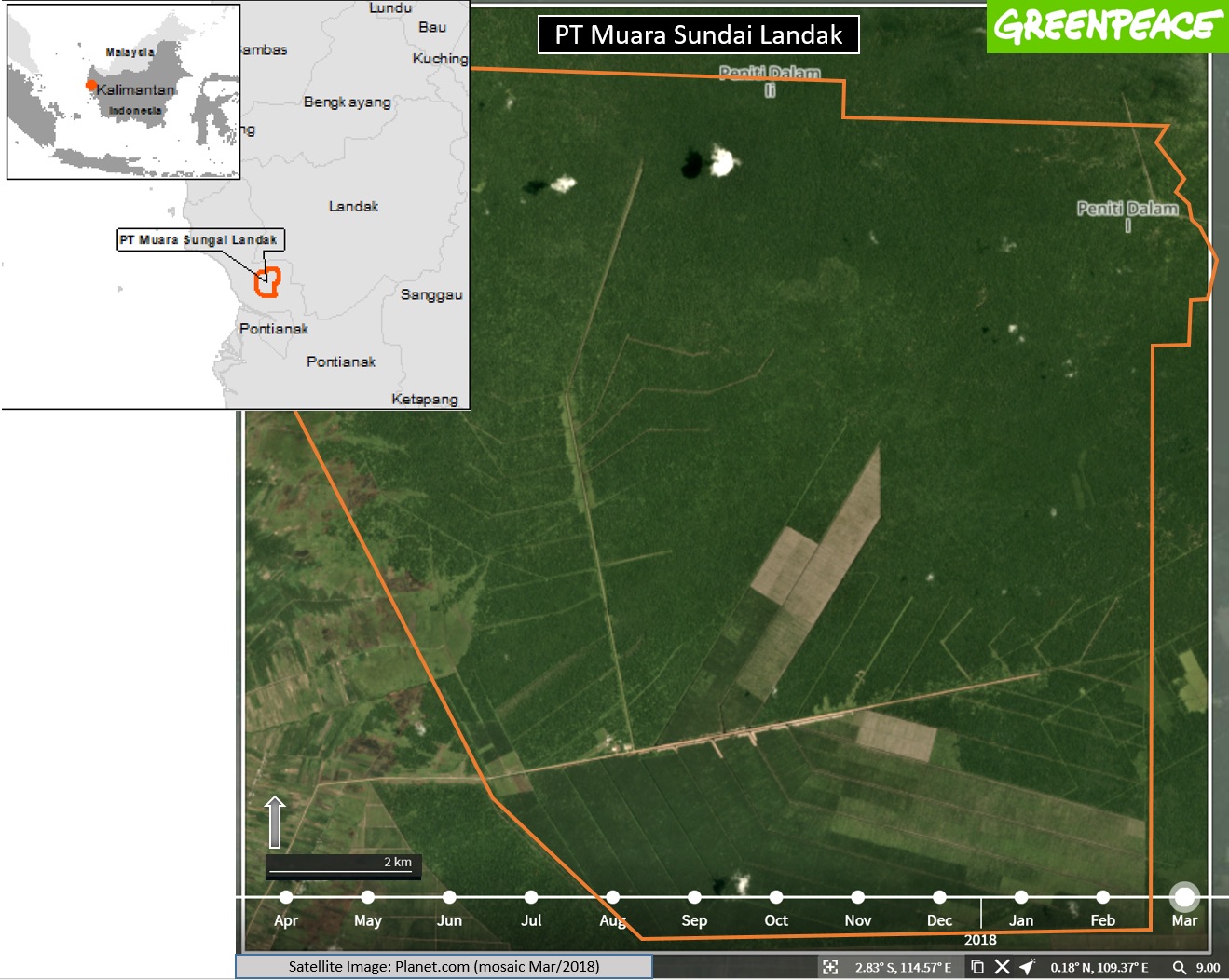 Nearly 3,000 ha of forest and peatland has been cleared in PT Muara Sungai Landak (PT MSL), in West Kalimantan, since 2013
So why were we engaging them?
In 2013, APP bowed to pressure from Greenpeace, other NGOs and its customers, and adopted a Forest Conservation Policy. It was a groundbreaking commitment: Indonesia's biggest forest destroyer promising to turn off its bulldozers and end its addiction to deforestation. A year later there was a further commitment to protect and restore one million hectares of forests and peatlands. APP also promised to resolve its many conflicts with local communities across Indonesia.
This was a big moment with the potential to have a huge impact. Greenpeace subsequently called off our campaign, which had exposed APP's destruction to the world and persuaded over 130 of its customers to walk away.
Getting companies to make commitments for change is often only half the story.
Talk and paper commitments is one thing but following through to put them into practice is another. After getting this far with APP we wanted to do all we could to make sure this meant real change on the ground. So we rolled up our sleeves and got stuck in. Our team walked a fine line: supporting APP on its implementation and calling it out whenever it looked like straying from the path.
I'm proud of what we achieved through our campaign against APP and the engagement that followed. This included the largest use to date of the global method for putting no deforestation into practice, the High Carbon Stock Approach, identifying and conserving over half a million ha of rainforest. Independent experts used cutting edge LiDAR technology to map 5 million hectares of peatland and peatland forest (an area larger than Denmark). In 2015 the company had even started canal blocking to re-wet the peat, and moves towards rewetting and rehabilitation of significant areas of peatlands – key to the fight against climate change.
And well ahead of the palm oil sector: transparency and maps were part of the deal we struck that meant all APP suppliers of pulpwood were made public and any new suppliers were screened for consistency with their Forest Conservation Policy.
However, does this mean APP has fully reformed?
Unfortunately not. After many years of hard work and significant progress these latest revelations on transparency failures and deforestation linked to APP and at a Sinar Mas Group level show the company can no longer be trusted. So in keeping with the Greenpeace principle of 'no permanent enemies, no permanent friends', we have now ended our engagement with APP. This means we will work with a company that is committed, transparent and making progress but when they drag their feet or lie to us, we're out of there.
APP has gained credit for their commitments and progress shown on the ground, but they are jeopardising it all through hiding their group-level ownership links to deforestation. There is growing awareness that if we are going to fully confront deforestation, then it needs to be addressed at a group level i.e. in the context of APP this means ensuring no deforestation by any companies owned, linked or associated with the Sinar Mas Group. While we always suspected Sinar Mas Group level links to deforestation, it is only recently that clear evidence has come to light. Our engagement with APP was never static. After the Forest Conservation Policy, there was recognition of the need for restoration and thus APP responded with the 1 million hectare restoration and conservation commitment. Then to address concerns that any new suppliers will be screened carefully for NDPE, APP developed a Procedure for Association. So the group level aspects are a further step in this evolution, and APP/Sinar Mas refusal to be transparent and address deforestation across all the companies associated with the group is unacceptable for us and why we are cutting our ties.
However, not everyone agrees: APP's consultants, The Forest Trust (TFT), say that despite our findings, they're sticking with APP and its links to deforestation and are urging customers to do the same. They say this is because APP is committed to 'improving its accountability and solving the complex issues that have been raised'. This is wishful thinking, to say the least and very much putting the blinkers on to the group-level deforestation. When confronted with the evidence, the people at the very top of the company refused to come clean – showing that they simply cannot be trusted. We have played a straight bat here: they have not.
We will now go back to APP's customers, investors and the public and ask them to question APP and demand answers and reform. If APP doesn't provide this, then its customers must also walk away. It seems APP have forgotten their global reputation is on the line here – going back in time, like five years ago.
Grant Rosoman is the Global Forests Solutions Senior Advisor for Greenpeace International