On March 8, International Women's Day, Dr. Vandana Shiva published a short address, in which she examined the connection between the colonization of Earth and of women. She discussed food security and Indigenous seed protection as foundations for women's emancipation globally.
Shiva inspires me as one of the world's leading environmental activists, because she so seamlessly connects human justice with a deep understanding of ecology. Ten years ago, I wrote a brief history about some of the women who were essential to the founding of Greenpeace. This year, Shiva's Women's Day statement inspired me to think about some of women who have been essential to ecological awareness in human society.
The roots of ecology action
Perhaps the first ecology activists were the Bishnois Hindus of Khejarli, India, who in 1720 attempted to protect their local forests from loggers supplying lumber to the Maharaja of Jodhpur. Bishnois spiritual beliefs acknowledged the sacredness of all living beings, including the trees. According to historian Jyotsna Kamat's account of the Bishnoi, a young woman, Amrita Devi, confronted the loggers and embraced a tree to protect it. Others joined her, and soldiers beheaded 363 Bishnoi villagers. When the Maharaja learned of this, he appeared horrified, apologized, and designated the Bishnoi state as a protected area, legislation that still exists today.
Fast forward to 1973 in northern India, when village women in the Alaknanda valley, inspired by the Bishnois and by Gandhi, defended their forest from commercial logging by embracing the trees, the original tree-huggers. Their action launched the Chipko movement (Chipko: "to embrace") that spread across northern India.
In the late 19th century, Alice Hamilton grew up in an Irish/German family in the eastern United States, served as a professor of pathology at the Woman's Medical School of Northwestern University in Illinois, and became the first woman appointed to the faculty of Harvard University. In the 1920s, she began a research career, examining industrial toxicology. She uncovered carbon monoxide poisoning among steelworkers, mercury poisoning among hatters, spastic anemia among limestone cutters, and an "unusually high incidence of pulmonary tuberculosis" among granite carvers. Her discoveries laid the groundwork for widespread industrial reform. When she uncovered lead poisoning from leaded gasoline, and met aggressive resistance from the oil and automobile industries, she accused General Motors of "willful murder." Governments failed to ban lead in gasoline for decades, until the 1950s, when industrial smog choked major cities worldwide, and 4,000 people perished in London's infamous 1952 "killer fog." The British Parliament finally passed the first Clean Air Act, as Hamilton had recommended decades earlier.
In 1962, Rachel Carson's publication of Silent Spring, might have been the most influential event to inspire modern ecological awareness. Carson's book examined thirty-five bird species threatened with extinction due to organo-chlorine chemicals such as DDT, the nastiest toxic garbage in the industrial waste stream. "For the first time in the history of the world," Carson wrote, "every human being is now subjected to contact with dangerous chemicals."
Carson's work set her on a crash course with the chemical industry. Since chemical companies found it difficult to safely dispose of these toxins, they created a market for them and spread them around the world. Chemical corporations attempted to vilify Carson. Today's chemical polluters are still at it, spinning out new Rachel Carson smear campaigns, blaming her for malaria deaths because, allegedly, we haven't sprayed enough organochlorines around the world. In fact, Carson supported responsible disease control, and malaria mosquitoes become immune to most pesticides.
"The 'control of nature' is a phrase conceived in arrogance," Carson wrote. "It is a wholesome and necessary thing for us to turn again to the earth and in the contemplation of her beauties to know the sense of wonder and humility." Her writing launched a re-evaluation of our relationship with nature and ignited the modern environmental movement.
Modern environmentalism
In addition to some of the Greenpeace founders (see below), two women who inspired me in the 1970s were Stephanie Mills and Donella Meadows.
Stephanie Mills gave a famous college commencement address in 1969, "The Future Is a Cruel Hoax," in which she anticipated vast ecological impact from runaway human population and consumption, and announced her decision to not bring children into this world, a commitment she called "the ecofeminist version of burning a draft card." I met Mills at ecology events in San Francisco in the 1970s, as she became influential as a writer and editor for the Friends of the Earth's Not Man Apart magazine.
Mills published seven books, including Epicurean Simplicity (2002), Tough Little Beauties (2007), and the 1989 Whatever Happened to Ecology?, a personal narrative of her ecological journey and work in the bioregional movement, (New Catalyst Books, edition, 2008).
"The Earth is an organism of organisms, an interrelated whole, thriving in balance, with no preference for one species over another," she wrote. "The task of our species is to find our way back into the web."
Donella Meadows, earned a Ph.D. in biophysics from Harvard in 1968, became a research fellow in system dynamics at the Massachusetts Institute of Technology, and in 1972, she was the lead author of the ground-breaking study Limits to Growth (with her husband Dennis Meadows, Jørgen Randers, and William Behrens, for the Club of Rome).
I met Meadows in 1980 at MIT. We passed a summer day on the lawn, where she talked about systems theory and how her team had arrived at their projections of Earth's natural limits to economic growth. Meadows' insights now appear prophetic. Limits to Growth: The 30-Year Update shows how well the original predictions have held up as industrial society has plundered and degraded wild ecosystems to fuel global economic growth, while creating a waste stream that toxifies our ecosystems and heats up the atmosphere.
In her 1999 book, Leverage Points, Meadows examines the most effective ways to intervene in complex systems. Typically, she writes, world leaders exhibit a "backward intuition … pushing with all their might in the wrong direction." She suggests that typical efforts to mitigate environmental decline — market subsidies, taxes, and regulations — are the least effective ways to alter a complex system. Far more effective are efforts to work with the system's self-organized structures and goals. The most effective of all are efforts that work with the paradigm out of which the system's structures and goals arise, and to transcend the social paradigms that blind us to the system as a whole.
In her 1995 book, Paradigms in Progress, economist Hazel Henderson, made pioneering contributions to the idea of an ecological economy, tracking ecosystem health and human well-being rather than mere financial activity. In My Name is Chellis and I'm in Recovery from Western Civilization, (Shambhala, 1994), Chellis Glendinning, compares the ecological crisis to personal trauma, and recovery. She points to deep ecology and Indigenous wisdom as paths back to our "innate wholeness."
Janine Benyus in Biomimicry, 2002, and Nancy Jack Todd in A Safe and Sustainable World, 2006, introduced innovative ideas about how to use nature's own patterns to fashion society through ecological design.
Nora Bateson founded the "Warm Data Labs" as a means to help groups shift discussions away from typical biases or binary squabbles to what she calls " trans-contextual mutual learning." Within living ecosystems, all learning is mutual, and a reflection of various contexts, each one influenced by other contexts. In 2017, the Harvard Innovation Lab selected her book, Small Arcs of Larger Circles: Framing through Other Patterns, (Triarchy Press, 2016), as a core text for incoming students. "There is no language to define the spiraling processes of the vast context we are participants in," Bateson writes. "We do not have names for the patterns of interdependency."
Alice Friedemann shares a vast knowledge of energy systems in her books and essays. Friedemann operated logistic networks for some of the world's largest delivery systems. Her book, When Trucks Stop Running: Energy and the Future of Transportation," (Springer, 2015) surveys our dependence on heavy freight, and the challenges ahead to replace diesel engines with electric motors for ships and large trucks. Friedemann publishes regularly at Energyskeptic and Resilience, on energy, agriculture, and transportation. Her most recent book, Life after Fossil Fuels: A Reality Check on Alternative Energy, (Springer, 2021, with free chapter previews), examines the range of energy alternatives – wind, solar, hydrogen, geothermal, nuclear, biomass and more.
A lyrical approach to nature also matters. Some of my favorite poets, who reflect deep insights of nature, are Mary Oliver, Denise Levertov, Susan Griffin, and Diane di Prima; and novelists/essayists such as Annie Dillard, Camille Dungy, Andrea Wulf, and Helen MacDonald.
The Women who built Greenpeace 
Dorothy Stowe was the first president of her local civic employees union in Rhode Island, spent her wedding night at a civil rights dinner, and immigrated to Canada with her husband Irving in protest against the US war in Vietnam. She hosted early Greenpeace meetings in her home and infused the radical politics with a sense of openness and community.
Marie Bohlen was a nature illustrator, Sierra Club member, a Quaker, and pacifist. When her son Paul became eligible for the US military in 1967, she and her husband Jim Bohlen immigrated to Vancouver, Canada, where they met the Stowes. Borrowing a Quaker tactic, Marie proposed the idea to sail a boat into the US nuclear test zone in Alaska, the first Greenpeace action.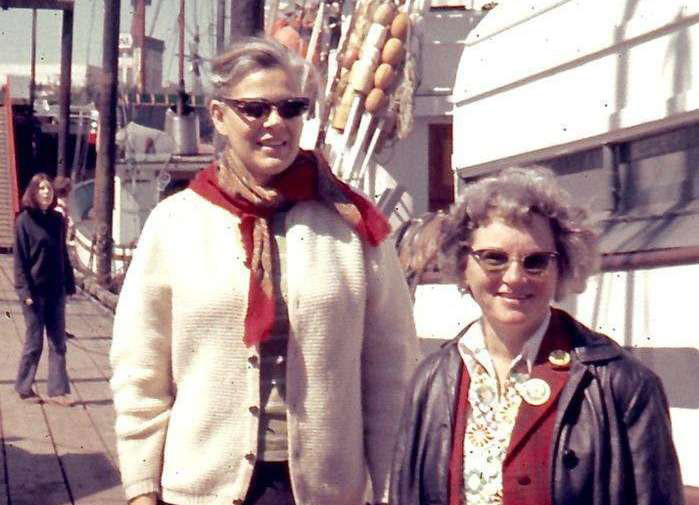 Deeno Birmingham led the B.C. Voice of Women in Vancouver and raised funds and public awareness for the first campaign. Her colleague Lille d'Easum wrote the first Greenpeace technical report, a study of radiation effects.
Dorothy Metcalfe, a seasoned journalist, converted her home into a radio room during the first campaign and relayed news reports to the media. She was later arrested in Paris protesting nuclear testing and arranged an audience with the Pope at the Vatican to bless the Greenpeace mission. Dorothy Metcalfe was a brilliant campaigner. Some of her feats are recounted here, in this short history.
In 1963, Zoe Hunter (Rahim), was a member of the Campaign for Nuclear Disarmament, when she met Canadian Bob Hunter in London and took him to his first peace march. Later, in Canada, they both helped launch the first Greenpeace campaign.
In 1970, at the age of 27, Canadian musician Joni Mitchell headlined the benefit concert that raised the money for the first Greenpeace campaign.
The first two women to sail on a Greenpeace campaign were Ann-Marie Horne and Mary Lornie from New Zealand, on board the Vega, which sailed into the French nuclear test site at Moruroa atoll in 1973. Taeko Miwa, and Carlie Trueman sailed on the first Greenpeace whale campaign in 1975. Trueman trained the crews in the operation of the inflatable boats that became a Greenpeace icon. Miwa had led campaigns against mercury poisoning and air pollution in Japan.
Bobbi Hunter (Innes) managed the first public Greenpeace office in Vancouver. In 1976, Bobbi and Marilyn Kaga were the first women to blockade a whaling ship, the Russian Vlasny harpoon boat.
In 1977, in London, Susi Newborn and Denise Bell acquired and outfitted the first ship that Greenpeace ever owned, the 134-foot trawler Sir William Hardy, which became the Rainbow Warrior. In 1978, they helped lead an international crew, which confronted Icelandic and Spanish whalers and exposed the UK ship Gem illegally dumping nuclear waste into the ocean. Newborn's A Bonfire in my Mouth is her personal account of the Rainbow Warrior story.
In 2013, to call attention to Shell's Arctic oil and gas drilling, six women climbers — Sabine Huyghe (Belgium), Sandra Lamborn (Sweden), Victoria Henry (Canada), Ali Garrigan (UK), Wiola Smul (Poland) and Liesbeth Debbens (Netherlands) — climbed London's tallest building, the Shard, a 310-metre glass tower. Each stage of the climb required a lead climber to free-climb a section of the building.
"Deep rooted social injustices, from worker rights to gender inequality, go hand in hand with the climate emergency," wrote Greenpeace Executive Director Jennifer Morgan on Women's day this year. "Amplifying the voices of the most marginalised and vulnerable, while boosting their access to opportunities and platforms, is central to the mission of Greenpeace."
In an address a year earlier, Shiva proclaimed: "I want to see the decolonization of Earth, women, workers, indigenous people, and of the future."
During the 2018 heat wave and wildfires in Sweden, Greta Thunberg changed ecological history when she staged a school strike outside the Swedish Riksdag, demanding that the Swedish government reduce carbon emissions. Her actions — alongside Vanessa Nakate, Jamie Margolin, Xiye Bastida, and so many other women climate activists — have inspired student strikes in over 300 cities around the world. In December 2018, Thunberg spoke at the UN climate conference in Poland and chastised the politicized delegates for their history of failure.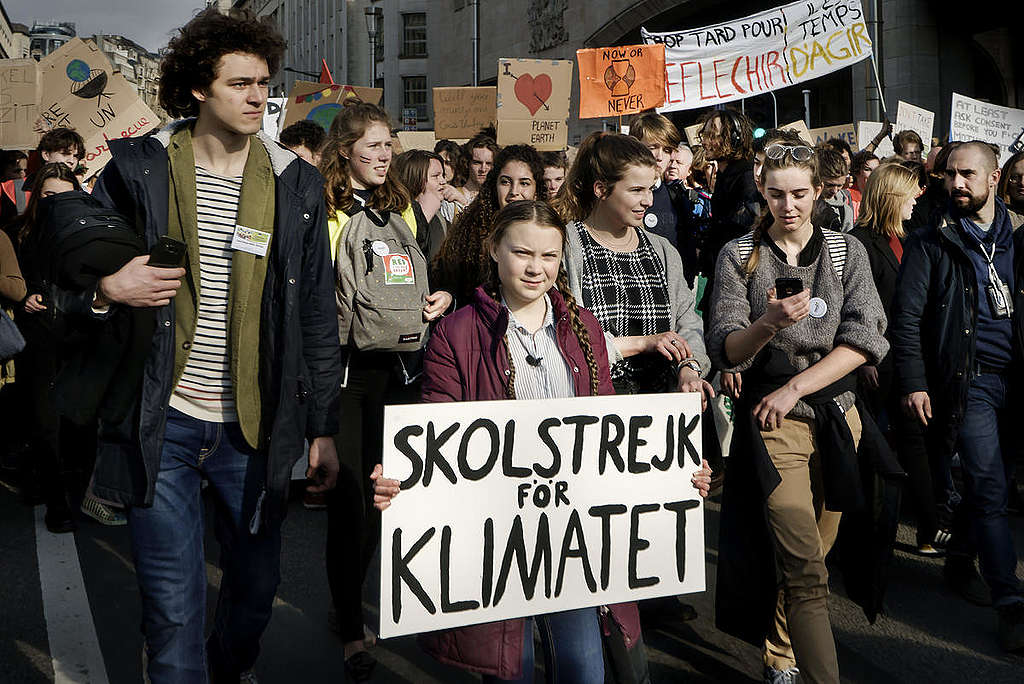 "Until you start focusing on what needs to be done rather than what is politically possible, there is no hope. We can't solve a crisis without treating it as a crisis," she said. "You only talk about moving forward with the same bad ideas that got us into this mess, even when the only sensible thing to do is pull the emergency brake. "
"The world is waking up," Thunberg said, "And change is coming whether you like it or not."
---
References, links:
"A message from Vandana Shiva," International Women's day, Navdanya, March 8, 2021
Ecofeminism, Maria Mies and Vandana Shiva, Zed Books, 1993, second edition 2014.
Vandana Shiva, Staying Alive: Women, Ecology and Development in India (Zed Press/Penquin, 1988).
Vandana Shiva, Leipzig Appeal for Women's Food Security, 1996, IATP.org
Mahila Anna Swaraj. Earth Rising, Women Rising: Regenerating the Earth, Seeding the Future. Navdanya, March, 2021.
Karen Warren, ed., Ecological Feminist Philosophies, University of Indiana Press, 1996.
Jyotsna Kamat, "The Bishnoi Community." Geographica India. historian from Bangalore
Melissa Petruzzello, Chipko movement, Britannica, 2015.
The women who founded Greenpeace, Rex Weyler, Greenpeace International, 2010.
Alice Hamilton, MD: Exploring The Dangerous Trades, (Little, Brown,1943, NWU Press 1985)
Rachel Carson: Silent Spring, Houghton Mifflin, 1962
Chellis Glendinning, "Stephanie Mills: A Life of the Mind," Wild Culture, 2019.
Stephanie Mills, In Praise of Nature, (Island Press, 1990)
Donella Meadows: Leverage Points: Places to Intervene in a System, The Sustainability Institute, 1999.
Donella Meadows, et. al., Limits to Growth (D. H. Meadows, D. L. Meadows, J. Randers, W. Behrens, 1972; New American Library, 1977); and Limits to Growth: The 30-Year Update (Chelsea Green, 2004).
Chellis Glendinning, My Name is Chellis and I'm in Recovery from Western Civilization, Shambhala, 1994.
Janine Benyus, Biomimicry: Innovation Inspired by Nature, Harper, 2002.
Nancy Jack Todd, A Safe and Sustainable World: The Promise Of Ecological Design, Island Press, 2006
Nora Bateson, Small Arcs of Larger Circles: Framing through Other Patterns, (Triarchy Press, 2016).
Hazel Henderson, Paradigms in Progress, (Berrett-Koehler, 1995).
Alice J. Friedemann, When Trucks Stop Running: Energy and the Future of Transportation," Springer, 2015; and essays at Energyskeptic.