…And the fuses that threaten to set it off.
Three long fuses lead back to the world's biggest carbon bomb: The Canadian Tar Sands. The fuses are pipelines – existing and proposed – that run from the black sludge lakes and devastated landscape of northern Alberta, Canada to marine ports where oil producers hope to ship tar sands crude oil to world energy markets.
Releasing the ancient tar sands carbon into Earth's atmosphere threatens every man, woman, and child on Earth as well as every other creature. NASA climatologist Dr. James Hansen has warned that if the tar sands is fully exploited, "it is game-over for Earth's climate." The carbon contained in the tar sands is enough to send Earth's atmosphere into runaway heating, releasing ancient methane and killing sea life and forests, so that humanity could not reverse the heating regardless of what we do.
The fuses to this carbon bomb, the pipelines and tankers, include:
1. Keystone XL: An expansion of the existing Keystone pipeline from Canada, through the central US to Port Arthur, Texas, where the crude oil can be refined or loaded onto oil tankers for the global market.
2. Enbridge pipeline: A proposed route over the Rocky Mountains, across Canadian boreal forests, wild watersheds, and indigenous territory to the marine port at Kitimat, British Columbia for export. And:
3. Kinder-Morgan TMX Trans-Mountain pipeline: Also over the Rocky Mountains, into the port of Vancouver, British Columbia. This pipeline/tanker route is already operating and Kinder Morgan has applied for an expansion. In 2010, 71 large oil tankers shipped tar sands crude oil through the Port of Vancouver and the Georgia Strait to global markets.
These three pipelines threaten to detonate the world's biggest carbon bomb, but they face resistance from indigenous nations, rural communities, farmers, unions, scientists, and private citizens in Canada and the United States.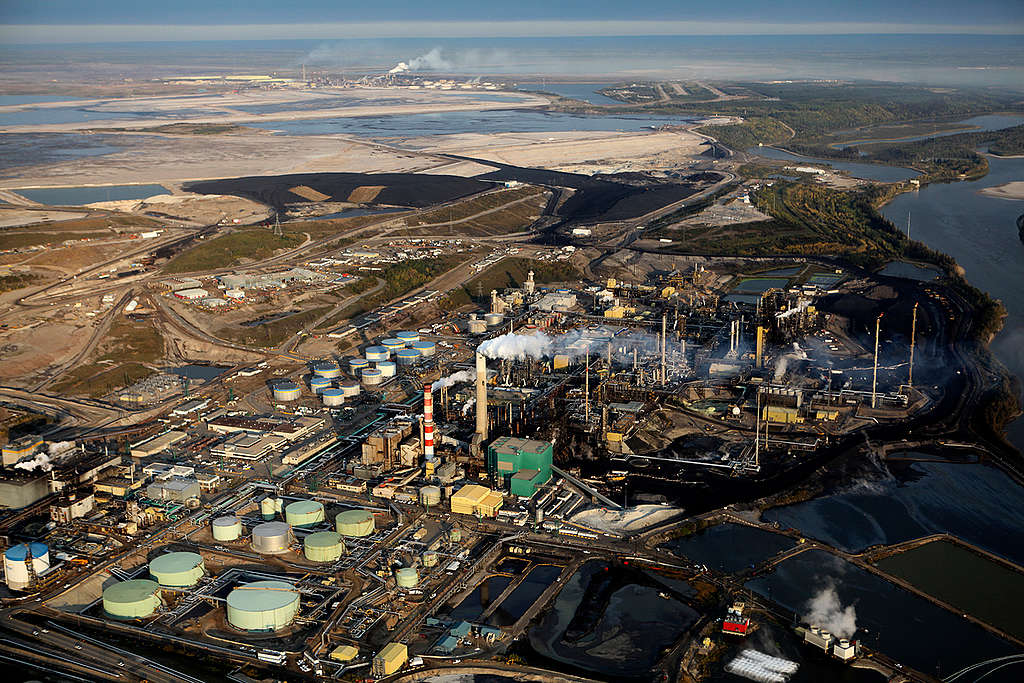 Resistance
In August 2011, in front of the U.S. White House, police arrested 1,252 citizens – including Athabasca Chipewyan indigenous leader Gitz Deranger, NASA meteorologist Dr. James Hansen, writers Naomi Klein and Bill McKibben, actress Daryl Hannah, and Greenpeace USA director Phil Radford – demanding that US President Barak Obama refuse the Keystone pipeline expansion. Nine Nobel Peace Prize winners – including the Dalai Lama, South Africa's Archbishop Desmond Tutu, and Iran's Shirin Ebadi – signed a letter urging U.S. President Barack Obama to reject the Keystone proposal.
Two major US unions joined the protest. James Little, president of the Transport Workers Union (TWU) and Larry Hanley, president of the Amalgamated Transit Union (ATU) issued a statement opposing the pipeline expansion. "We call on the State Department NOT to approve the construction of the Keystone XL pipeline or to take any actions that lead to the further extraction of Tar Sands oil [and] impacts to groundwater resources from pipeline spills [and] the high levels of GHG emissions… The Tar Sands has destroyed vast areas of boreal forest and inflicted havoc on local communities…We need jobs, but not ones based on increasing our reliance on Tar Sands oil."
Athabasca Chipewyan leader Gitz Deranger declared, "I have seen the devastation of our environment and people's health with increased cancer deaths… If Obama approves this pipeline, it would only lead to more of our people needlessly dying."
"A movement is being born right here in front of the White House," said Bill McKibben, 350.org founder, who helped organize the protest. "We're at the White House because Keystone is the pipeline Americans have a real hope of stopping, because our president must give his specific approval. Tar sands mining has wrecked native land in Alberta; endangers farms, wild areas, and aquifers along its prospective route; and poses a danger to the whole planet. Keystone XL is one of three pipeline routes that lead back to the world's biggest carbon bomb, so we're working in solidarity with the indigenous people and other citizens in Canada."
Canadian pipelines and tankers
In 2010, in British Columbia, 61 Indigenous nations signed an historic "Fraser River Declaration," promising to stop a proposed Enbridge pipeline from Alberta to the port at Kitimat, B.C. Chief Jackie Thomas of Saik'uz Nation declared, "Enbridge has spills all over North America… We refuse to be next."
Enbridge attempted to purchase indigenous consent with a "partnership" deal worth millions of dollars, but in September, the Yinka Dene Alliance – Nadleh Whut'en, Takla Lake, Wet'suwet'en, Saik'uz and Nak'azdli nations – turned down the Enbridge offer, which they called a "desperate and disrespectful attempt to buy our support for this pipeline." Chief Larry Nooski of the Nadleh Whut'en said, "The Enbridge pipeline would risk an oil spill into our rivers and lands that would destroy our food supply, our livelihoods, and our cultures… There is not any amount of money that compares to the possible damage should an oil spill happen."
The proposed pipeline would deliver tar sands crude oil to tankers. From Kitimat, these tankers would travel 150 kilometers down narrow Douglas Channel and around coastal islands, through treacherous waters and severe tidal currents, in a region of extreme weather. Thirty-four years ago, in 1977, Greenpeace joined an alliance with fishermen and the Gitga'at indigenous nation at Hartley Bay, B.C. to blockade an oil consortium vessel at the mouth of this channel. Four years later, Greenpeace vessels blockaded an oil tanker entering Georgia Strait.
The oil companies have persisted, but the indigenous nations of western Canada have taken up the challenge, insisting that this pipeline will never be built.
Floating oil
The third main pipeline from the tar sands runs over the Rocky Mountains into the Port of Vancouver, B.C. This Trans-Mountain (TMX) pipeline, owned by US company Kinder Morgan, is already operational.
In 2005, Kinder Morgan bought BC's Terasen Pipelines, part of a privatization scheme by the BC Liberal government to sell public and natural assets. Kinder Morgan received approval to increase pipeline capacity to 260,000 barrels per day and began turning Vancouver into a tar sands shipping port. In 2007, without any public or indigenous consultation, tar sands crude oil began leaving Vancouver on Panamax and Aframax oil tankers. The US company has applied to dredge Vancouver's Burrard Inlet to make way for 1-million-barrel Suezmax tankers.
Company founders Richard Kinder and Bill Morgan are ex-Enron billionaires. Enron swindled some $11 billion from their own shareholders. Richard Kinder was chief counsel for Enron from its founding in 1985 until 1996, when he received a $30 million retirement package and left Enron to start his pipeline company. He is now worth over $2.4-billion. The company has left a trail of oil spills and environmental disasters throughout the US.
The Burrard Inlet is home to three indigenous nations: The Musqueam on the Fraser River, the Squamish along Georgia Strait and Howe Sound coastlines, and the Tsleil-Waututh, the "People of the Inlet." The Musqueam Nation signed the "Fraser River Declaration," which declares they will help protect their lands, territories, watersheds, and "the ocean migration routes of Fraser River salmon."
Rueben George, Sundance Chief and Director of Community Development at Tsleil-Waututh Nation recently told the Vancouver City Council and mayor, who have launched a "green city" project: "We came from these waters… We took care of the Inlet and only took what we needed. How can we be the greenest city when there are oil tankers going through our traditional territory … which we share with every one of you?"
In August 2011, Squamish Elder Robert Nahanee welcomed and blessed a "No Tankers, No Pipelines, No Tar Sands" gathering at the Kinder-Morgan oil port. "We're going to protect the sacredness of our dear Mother in a good way," he said, and led a song his ancestors sang when they rescued white settlers from a fire a century ago.
"I've been fishing in BC since 1973," said Canadian fisherman, Ron Fowler, who serves on the Pacific Salmon Commission and as Director of the Area-F Trollers Association on BC's west coast. "If we get an oil spill anywhere in these waters, it would wipe out every fishery we have, shellfish, salmon, herring, and the plankton that they feed on. There is no sound reason for floating oil and risking our entire coastline."
Follow the Money
The reason these companies risk oil spills to float oil is simple: Money. Right now, the European price for crude oil is about $24 more per barrel than the North American price. For a million-barrel Suezmax tanker, that price difference is worth $24-million per tanker. For this reason, all tar sands oil is destined for global markets where it will fetch the highest price. Thus, the producers want the pipelines to ports in Texas and British Columbia. It is a deception that this oil will help US or Canadian "domestic energy security."
Promoters of the Keystone pipeline claim in the US that there is "no global warming impact" to the pipeline because if the US doesn't approve the Keystone line, they will lose the business to Canadian pipelines. This is another deception. The three pipelines are not mutually exclusive; they are cumulative, and tar sands operators want them all and more. In a Financial Times article, Alberta Energy Minister Ron Liepert acknowledged the tar sands goal of producing 4-5-million barrels of crude oil per day. To move this oil, the producers need the Canadian pipelines and, according to Liepert, "By 2020, we may need three Keystones."
Every pipeline or tanker that is stopped represents ancient carbon that stays in the ground and less global heating impact. More pipelines mean more tar sands development, more atmospheric carbon and more heating of Earth's atmosphere.
---
Links to pipeline, tanker, and tar sands actions international
Greenpeace Canada: pipelines and tankers in B.C.
Council of Canadians, Tar Sands Action
Indigenous Environmental Network
Rueben George Speaks to Vancouver City Council
Squamish elder Robert Nahanee, pipeline/tanker protest
Tar Sands Action, International