"We were already on this land before Brazil was Brazil," —Eliseu Lopes, Indigenous leader
After living on and fighting for their lands for centuries, the rights of Indigenous Peoples in Brazil are endangered by a legal loophole called Marco Temporal that could legalize theft of their lands—unless the Brazilian Supreme Court stops it.
The profit-hungry forces behind Marco Temporal want to deny Indigenous Peoples' rights to their lands unless it can be proven that they occupied them at the time of Brazil's 1988 constitution—which was supposed to have guaranteed their land rights. Meanwhile, a bill (PL 490) being considered by Brazil's Congress seeks to open Indigenous Lands for industrial agriculture, mining, and other extractive activities.
If Indigenous communities cannot provide the proof demanded by Marco Temporal then they are at risk of basically being ruled not to exist!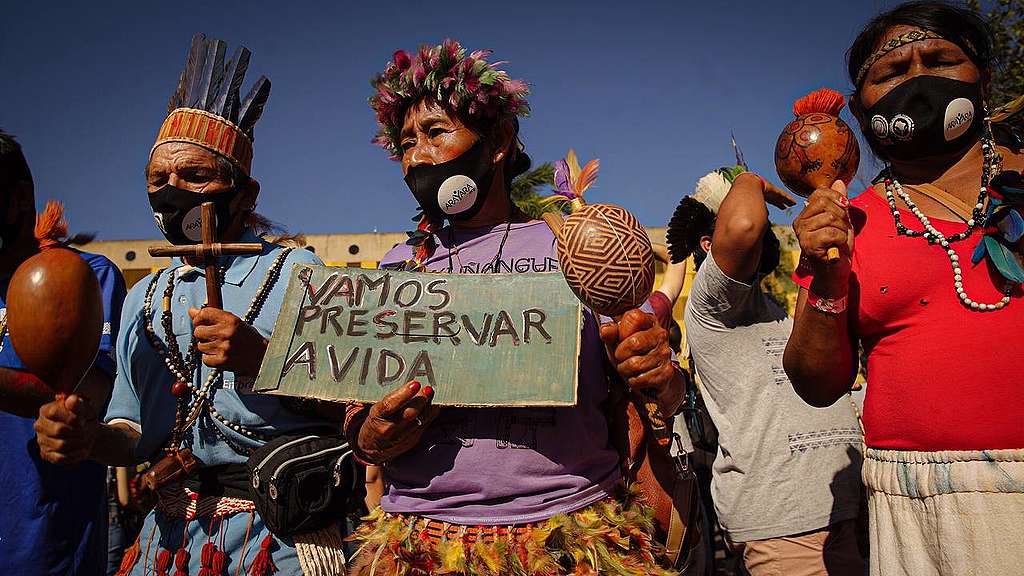 This legal loophole is a brazen attempt to trample over Indigenous rights by land grabbers who have been emboldened by Brazilian President Jair Bolsonaro and his anti-environment administration.
For safety reasons, many Indigenous communities in Brazil do not explicitly state the locations of their dwellings, and, therefore, they have not directly participated in the land demarcation process that could soon be used to steal their lands and livelihoods from them. The impact would be most heavy on the most isolated Indigenous communities.
Indigenous Peoples are the guardians of the forest. Protecting the rights of Indigenous Peoples and their lands means protecting everyone's future. It's crucial to protect the Guardians of the Forest and ensure that the Brazilian Supreme court knows the world will be watching its decision.
Indigenous rights groups like The Articulation of Indigenous Peoples of Brazil (APIB) are calling on the Brazilian Supreme Court to strike down Marco Temporal as unconstitutional. The court ended it's June session without a decision on the case, but stated the case will return to the Court's agenda on 25 August. Alarmingly, the bill PL490 has already advanced past Brazil's constitutional affairs committee and is headed for the lower house of Congress and then potentially to the Senate. 
In June 2021, hundreds of Indigenous People from all across Brazil came to Brasília to protest against the land invasions they all face and stand united. Their peaceful protest in Brazil's capital — which included children and elders — was met with violence. 
In Bolsonaro's Brazil, the lives and lands of Indigenous People are under constant threat. Next the law itself may be used to rob them of their homes and livelihoods.
Greenpeace is committed to the defense and promotion of Indigenous rights in Brazil — and all around the world. We reject all attempts to put profits over people or the planet.