People around the world have taken to the streets to say — in many languages, but one collective voice — "No War" in response to Russian president Vladimir Putin's unlawful, unprovoked, premeditated invasion of Ukraine.
From Budapest and London to Tokyo and New York, peaceful protests against the Kremlin's war in Ukraine have been happening virtually daily, on land and at sea, since the unjust attacks began on 24 February. In Russia, thousands have courageously risked arrest by participating in anti-war protests across the country.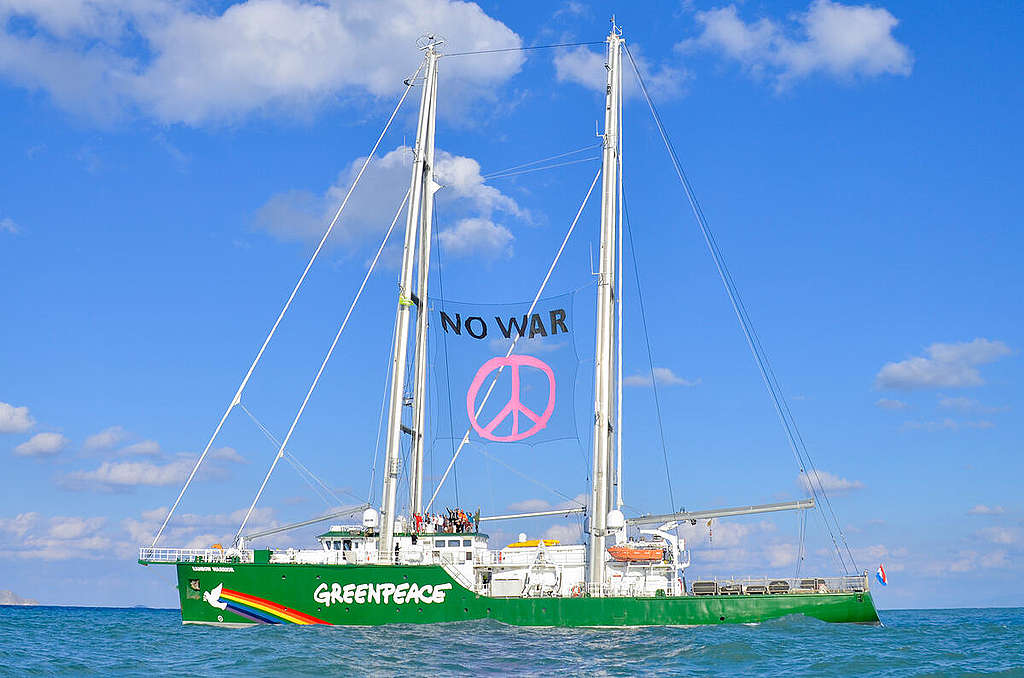 From our first act of protest, sailing a ship into a nuclear weapons test zone off the coast of Alaska in September 1971, Greenpeace has opposed war and worked toward a "Green Peace" for people and the planet. Fifty years on from that initial fusing of peace and ecology, we continue to work alongside allies around for a safer, fairer future for all.
While there is no Greenpeace organisation in Ukraine, Greenpeace activists in neighboring countries have taken action alongside fellow civil society and humanitarian organizations operating in the region to support humanitarian efforts. Already up to 2.5 million Ukranians have fled the country in what's been reported as the fastest-growing refugee crisis since World War II.
Here are just some of the ways Greenpeace organisations have joined the humanitarian efforts supporting Ukraine:
Greenpeace Slovakia is partnering with a humanitarian organization called People In Need, and has already delivered more than 5 tons of supplies to the Ukrainian side of the border.
Greenpeace Romania brought tents to two international bus stations where refugees are coming from Moldova, with volunteers greeting them with hot tea, snacks, power, water, first aid, translation support and information.
Peace Not Oil
While watching in horror at the violent tragedy unfolding, the world is becoming increasingly aware of the reality recently articulated by Ukraine's representative on the UN's Intergovernmental Panel on Climate Change (IPCC): "Human-induced climate change and the war on Ukraine have the same roots : fossil fuels and our dependence on them."
Whether it has been dockworkers across Europe refusing to unload Russian oil or sporting organizations cutting ties with Gazprom, it is undeniable that more and more people are aware that we need to break ties to fossil fuels in order to build a safe and secure future for people and the planet.
In solidarity with those under threat from fossil-fueled climate chaos and militarism, Greenpeace activists have continued non-violent direct actions to call for a just transition to renewable energy.
Greenpeace activists in Germany demonstrated on 7 March in the port of Bremen against oil imports from Russia, which help finance the Russian government's war in Ukraine. The activists painted "Peace – Not Oil" in two-metre letters on the side of the 40,000-ton tanker Seasprat, which delivers processed oil from the Russian Baltic port of Primorsk.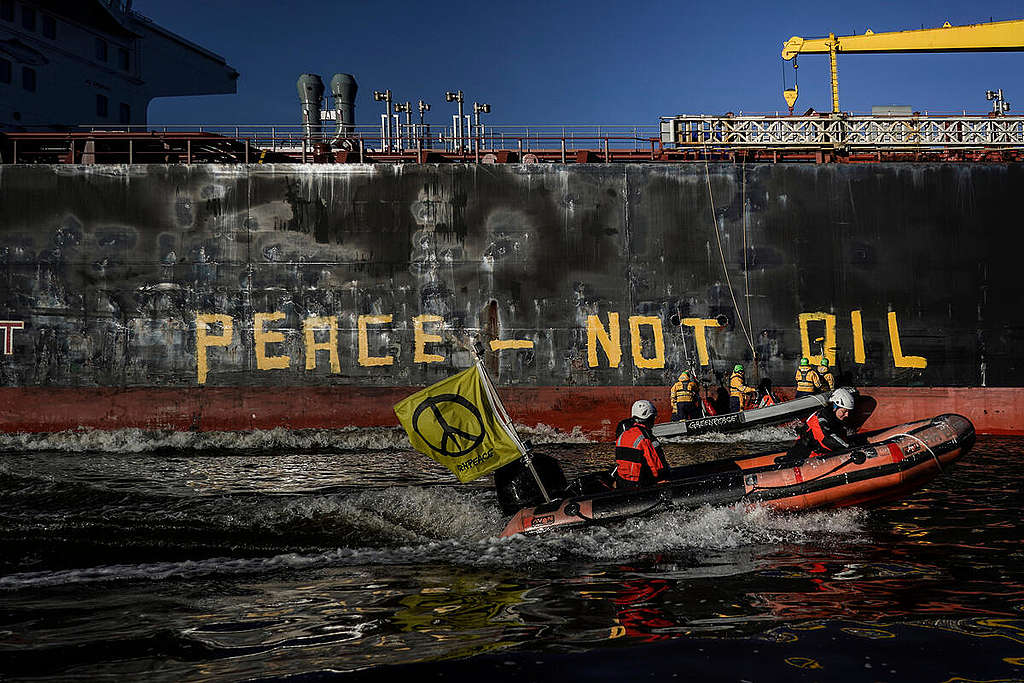 Among the other non-violent acts of resistance around the world, Greenpeace Spain activists in kayaks protested an oil tanker in Vizcaya on 10 March. Elsewhere, Greenpeace France activists protested against the arrival of an LNG carrier from Yamal, one of the largest gas sites in Russia, on 5 March.
The war in Ukraine is another jarring reminder that we must break our addiction to fossil fuels in order to build a safe and sustainable future for people and the planet. Until we can leave climate-wrecking fossil fuels behind us, world leaders like Putin who value power over people and the greedy fossil fuel oligarchs who benefit from the status quo will be emboldened to initiate conflicts with tragic consequences. It is Putin and these oligarchs, and not the Russian people, who are behind the violence unfolding now.
As part of a stand against Putin's monied support system, Greenpeace Aotearoa joined a peace flotilla on 10 March that converged on the luxury coastal retreat of a Russian oligarch. It is just another of the creative acts of peaceful resistance that will continue to take place until the world gets what is demanding: Peace.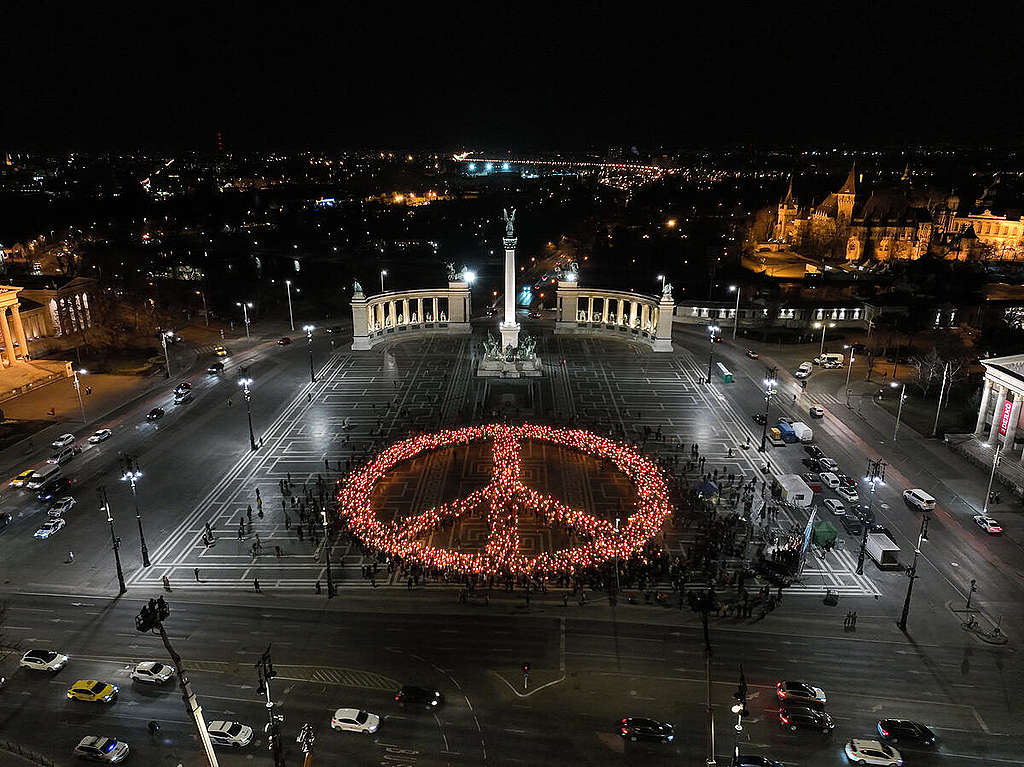 The international community must do everything in its power, especially accelerating a transition away from fossil fuels, to bring this war to a fast and peaceful end. This message was poignantly displayed in Budapest's Heroes' Square on 9 March in a demonstration organized by Greenpeace Hungary where thousands of people formed a huge peace sign to protest against the invasion of Ukraine and to express their compassion for the innocent victims of the war.
As is so often the case in times of conflict, it is the peaceful acts of solidarity and resistance of everyday people around the world that will light the way toward a just and sustainable future for all.