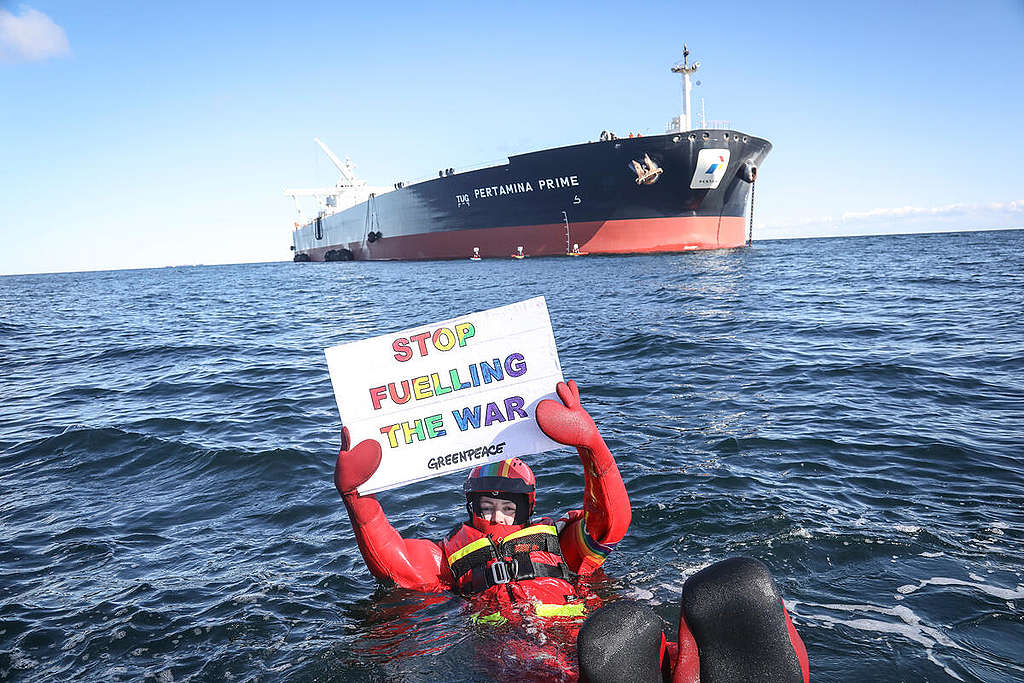 On this beautiful sunny and very cold day in the waters outside the most Northern part of Denmark, I am protesting against Russian oil and fossil fuels. Together with other activists from across Europe, I am using my body to get in the way of the tanker named Seaoath carrying 100 000 tonnes of Russian oil from Primorsk. 
I'm with Greenpeace Denmark and we have been protesting fossil fuels for years. I always knew that oil fuels war as well as the climate crisis. However, with the Russian invasion of Ukraine it suddenly became very personal to me because I am Russian.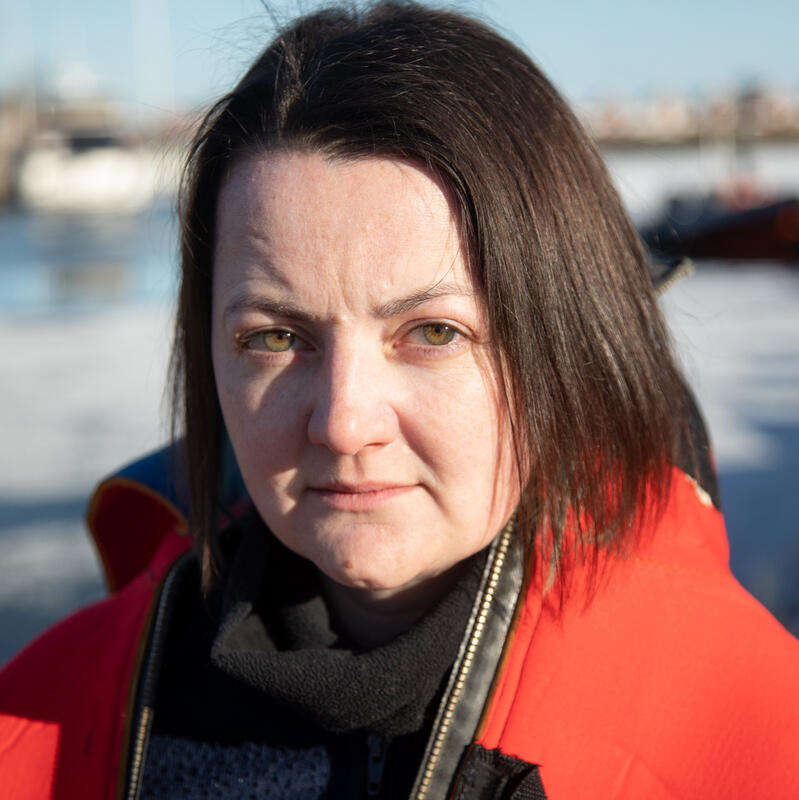 I lived most of my life in Russia and I have family and loved ones in Russia. I now live in the EU where I have more freedom to protest injustice. It's a privilege and I use it in solidarity with both the people of Ukraine who desperately need peace, and the many Russians who bravely protest against the war inside Russia despite the severe risks of suppression.
Money from oil and fossil gas fills Putin's war chest and allows it to finance the war.
The European Union buys several hundred million euros of oil and gas per day from Russia. Each barrel of oil bought from Russia is paying for the Russian military. This tanker is carrying oil worth $65 millions and it is just one of many that we have been tracking and protesting since the war began.
I am not only protesting Russian oil and fossil fuels. We shouldn't just switch to using more oil, coal and gas from other countries. If we want lasting peace and more equity globally, we need to change to peaceful green energy sources. Unlike fossil fuels, renewable energy doesn't feed geopolitical power struggles or inequality or give massive power and wealth to selected individuals, companies or countries.
I traveled all the way to northern Denmark from Slovakia, 26 hours by train, to participate in this protest. Nothing is more important to me at the moment than to make it heard all over Europe that this is not okay.
We all know how damaging and harmful oil is and we also know that the solution is right at our hands. All we need is for politicians to act. Stop the import of Russian fossil fuels and start a fast, just, green transition. For the benefit of the people in Russia, in Ukraine and all over the world.
Olga Lupilina is an activist with Greenpeace Nordic – Denmark