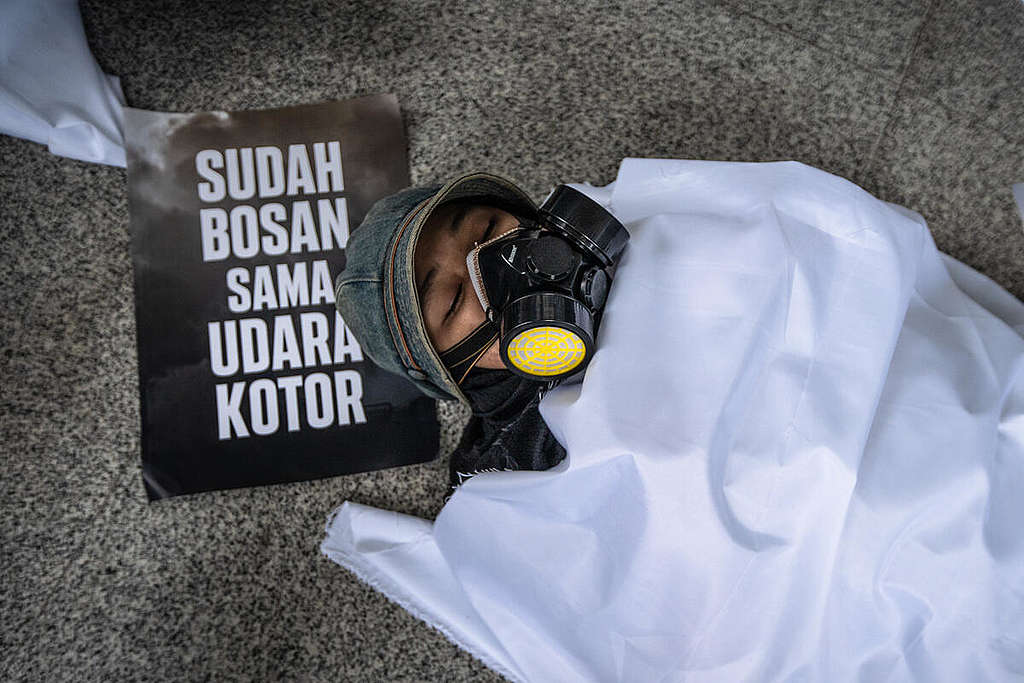 Air pollution is one of the biggest environmental risks to health. After the WHO revised its air quality guidelines in 2021 to reflect the damage air pollution can have on human health. Up to 99% of the world's population is at risk of unhealthy air, showing that no amount of air pollution is safe for human beings.
But it's not just an environmental and public health issue – air quality is also about equity and justice.
A report published by Greenpeace India revealed that the risks of air pollution are not evenly distributed amongst the population, with some groups of people – pregnant people, infants, and older adults – at greater risk of harm.
Along with a growing global movement, Greenpeace seeks for the implementation of solutions to address air pollution and to reduce its burden on people's health, the environment, and the economy. No matter who you are or where you live, clean air is everyone's right.
We take a look at Greenpeace's air pollution-related activities around the world this year.
Clean air experience in Colombia
One of the world's most congested cities, transportation using fossil fuels is one of the primary contributors to air pollution in Bogotá, Colombia. According to Greenpeace Colombia, pollution levels in the city not only exceed the parameters allowed by the World Health Organization (WHO) but citizens are unaware of what they are breathing at street level.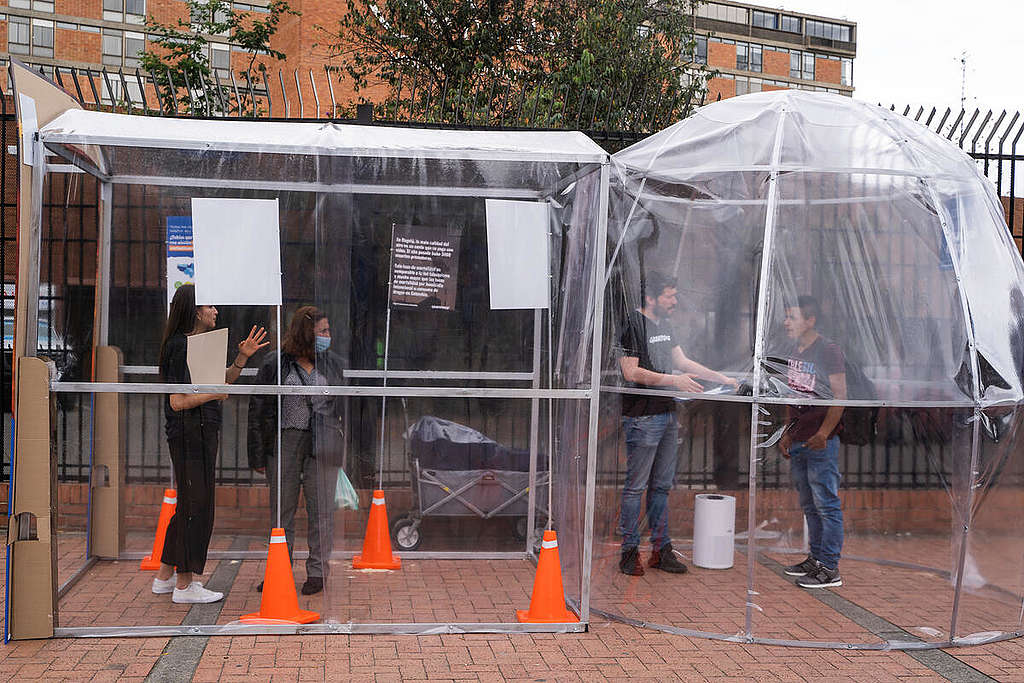 On World Clean Air Day on 7 September, Greenpeace Colombia installed a clean air capsule in Bogota to highlight the importance and urgent need to improve air quality in the city. Made up of a tunnel and dome, pedestrians were invited to enter to experience the difference of breathing in the clean, filtered air in the dome from the air on the street outside. Staff and volunteers were at hand to provide more information on air pollution.
Greenpeace Colombia calls for the district government to implement policies to reduce polluting emissions. Air quality data should also be easily available so as to help comply with the Bogotá air quality management plan.
Saying no to air pollution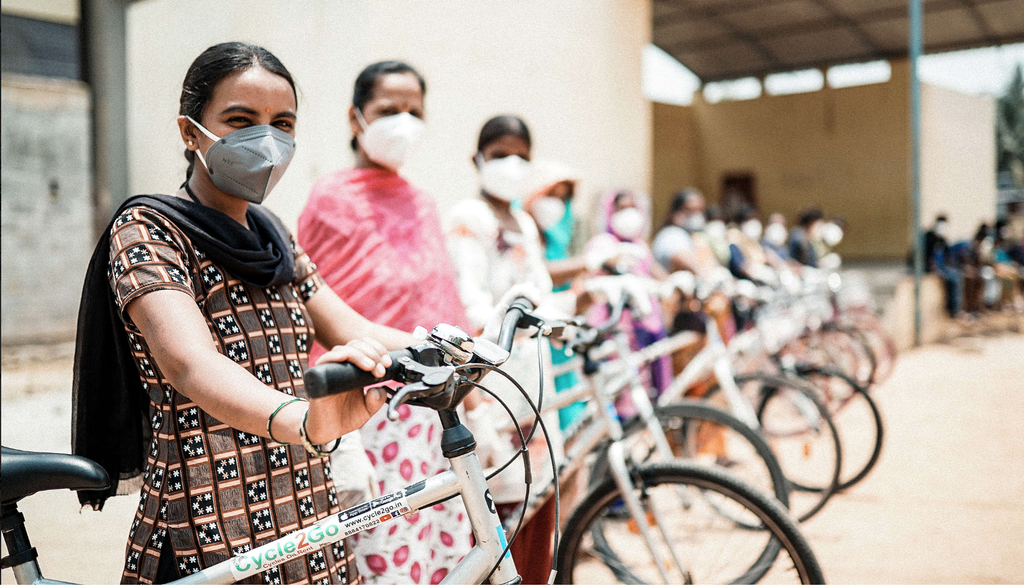 More than 90% of India's population lives in areas where air quality is below World Health Organization standards, with average pollution levels in many cities far exceeding the latest WHO guidelines.
As part of their campaign to reduce pollution on the roads, Greenpeace India initiated the "Power The Pedal" campaign, working with low-wage women labourers in Delhi and Bengaluru to build cycling communities that will act as agents of change. The women are given bicycles and cycling lessons to help them on their daily commutes, empowering their independence, and creating climate justice in the transportation sector.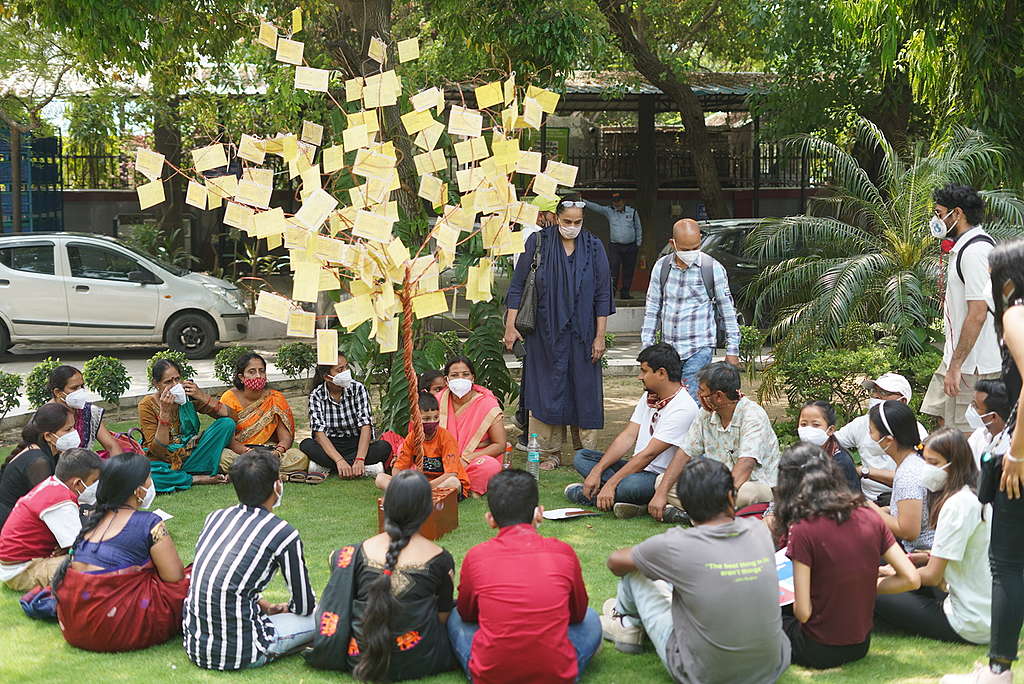 In April, Greenpeace India delivered a petition, signed by over 10,000 citizens to the Central Pollution Control Board (CPCB) to demand a speedy revision of the National Ambient Air Quality Standards(NAAQS). To support the delivery of the petition, they installed an eight-foot high art installation of a wire tree, created by Satish Kumar and painted by Greenpeace India volunteers, outside the board's office.
Citizens win air pollution lawsuit again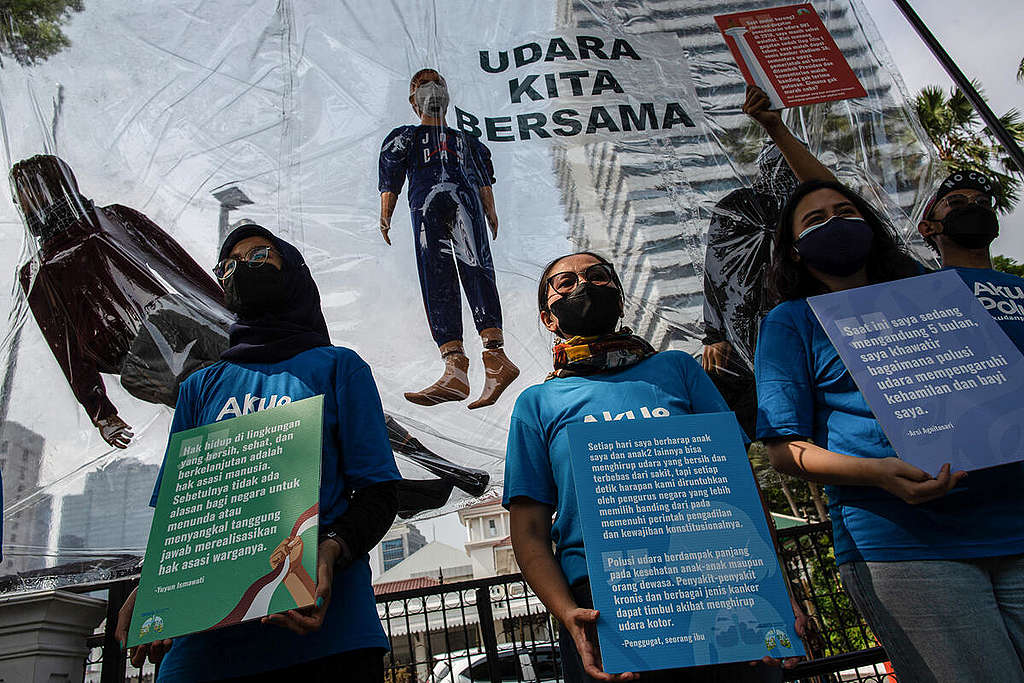 Greenpeace Indonesia has long been working with other local environmental groups in taking action for clean air and demanding that the authorities uphold the citizens right to breathe healthy air in Jakarta, Indonesia.
In 2022, their focus was on ensuring that the citizens' air pollution lawsuit that they had won in 2021 is upheld and that the Indonesian government is held accountable for the persistent pollution problem. In 2019, a group of Jakarta residents filed an air pollution lawsuit against President Joko Widodo, the Jakarta governor, and other senior government officials to improve the air quality of Jakarta. In 2021, the Central Jakarta District Court ruled that the Indonesian government was guilty of failing to uphold the citizens' right to clean air.
The President and the other defendants had submitted an appeal but in October this year, the high judicial council upheld the initial decision, scoring a second win for the citizens and their right to clean air.
Art intervention for clean air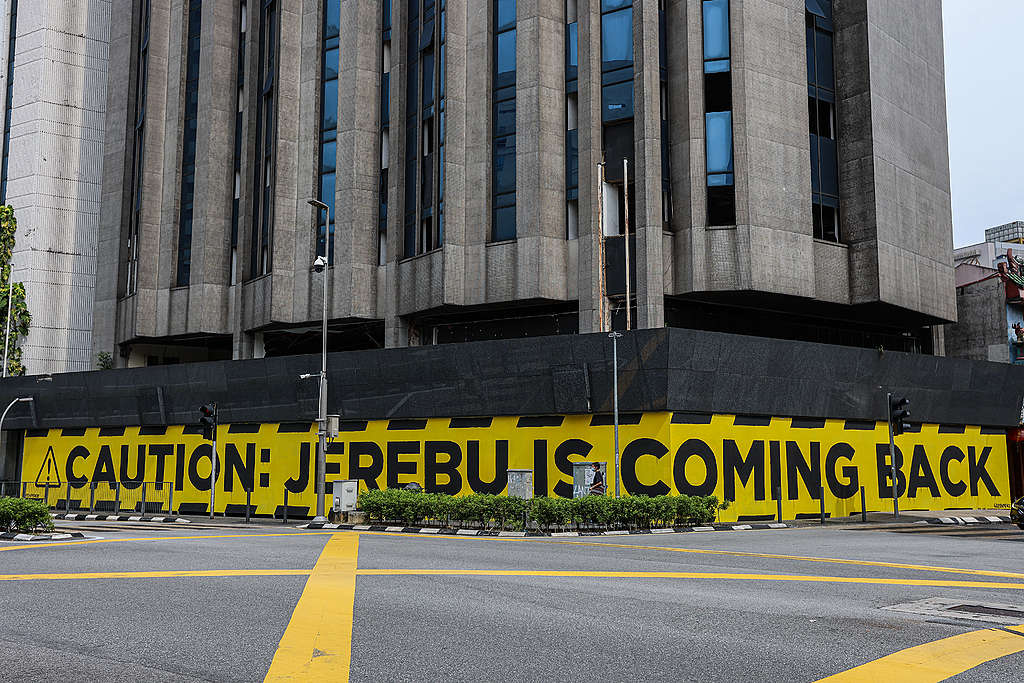 In December 2021, Greenpeace Malaysia and civil society movement organization, CERAH, filed a landmark complaint to the Human Rights Commission of Malaysia for the recognition of basic human rights to clean, haze-free air. This prompted a roundtable discussion on the issue earlier this year.
To help promote the message of clean air to the people, GP Malaysia worked with artists to create a variety of works. Ernest Zacharevic and Fahmi Reza created murals in capital Kuala Lumpur to highlight clean air as a basic human right.
On World Clean Air Day, artist duo, co2_karbondioksida, erected a 2.7-metre tall art piece using 2,000 photos of blue skies submitted by citizens from around the world joining Greenpeace's The Air We Share movement.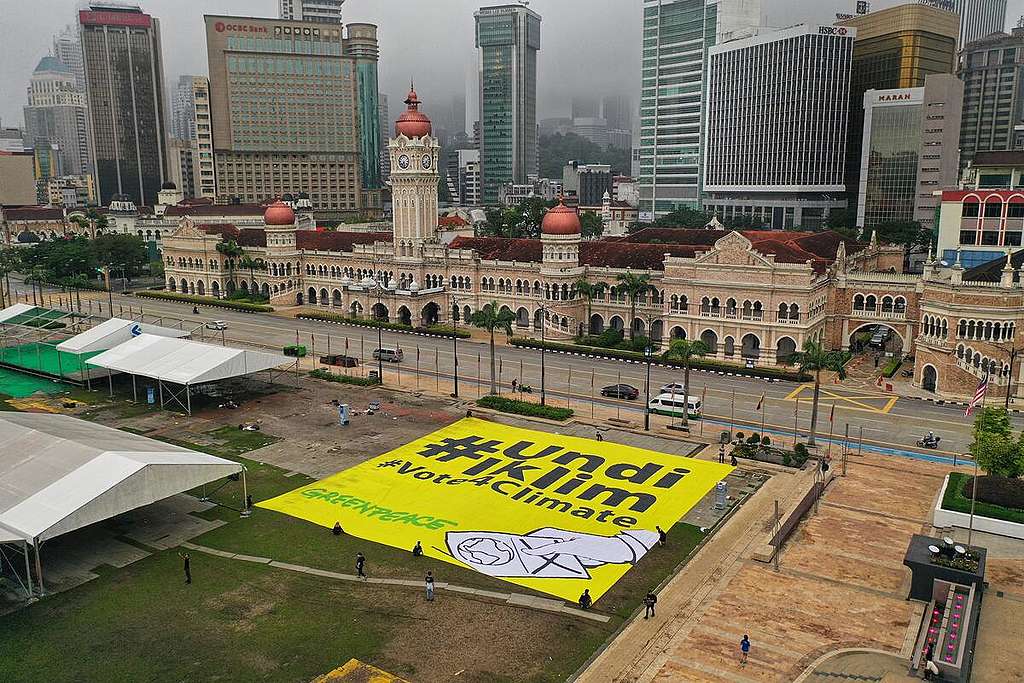 In the run-up to Malaysia's 15th General Elections in November, Greenpeace Malaysia unfolded a giant banner that read 'Vote4Climate' at its historic independence square, Dataran Merdeka, to demand for the inclusion of a Transboundary Haze Pollution or Clean Air Act by the incoming government.