Fossil fuel companies like TotalEnergies sponsor popular sports events like the Rugby World Cup to distract everyone from their climate destruction. Watch Greenpeace France's new film to discover the shocking truth.
3 hours 37 minutes. That's how long it takes the global fossil fuel industry to fill a huge rugby stadium the size of the Stade de France with oil. That's almost seven stadiums every single day.
It's hard to get your head around the true quantity of oil TotalEnergies and the rest of the fossil fuel industry churns out, jeopardising a liveable future for us all in the process. That's why Greenpeace France commissioned Studio Birthplace, the makers of 'Wasteminster': A Downing Street Disaster', to show you what it would look like if it was poured into the Stade de France, the stadium where the first game of the Rugby World Cup 2023 is due to kick off on 8th September.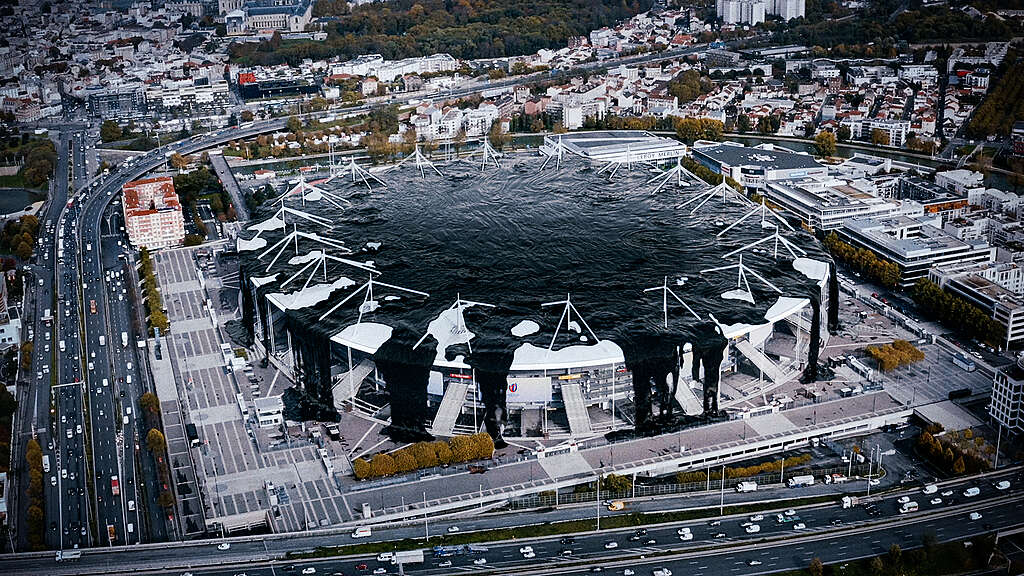 #BanFossilAds: TotalEnergies greenwashing at the Rugby World Cup 
While extracting massive quantities of climate-wrecking oil, fossil fuel companies work hard, and work strategically, to make themselves look better and try to protect their social licence. They sponsor sports like rugby to try to mask themselves behind rugby's values: Integrity. Passion. Solidarity. Discipline. Respect. Associating themselves with values like these help companies like TotalEnergies distract the public from their criminal climate destruction.
Meanwhile, fossil fuel companies won't stop extracting fossil fuels – even though they know this extraction is starting to make parts of Earth unliveable – because they like the record-breaking profits they're making.
The Rugby World Cup even tried to stop us from releasing this video with a cease and desist letter sent to Greenpeace International. But we can't – and won't – be silenced.
The science is clear; burning fossil fuels is the primary source of emissions which dangerously heat up Earth, and these companies have no intention to stop their climate-wrecking business, or their resulting crimes against people and nature.
Some of France's host cities have decided to keep TotalEnergies out of their fan zones. Everyone is waking up to the fact that there is no place for fossil fuels, not in rugby, or anywhere else. We will not be stopped from calling out the truth and have released the video today.
We need to expose what a dirty player the fossil fuel industry is
We want a complete ban on fossil fuel advertising and sponsorship of major sporting events. It benefits no one but fossil fuel companies, and deliberately distracts everyone from the environmental destruction they cause and the communities they harm.
And, for a safer and fairer world, we must end the fossil fuel era. The fossil fuel industry must stop their climate-wrecking crimes, especially new fossil fuel projects, before it's too late.
Edina Ifticene is a campaigner at Greenpeace France.