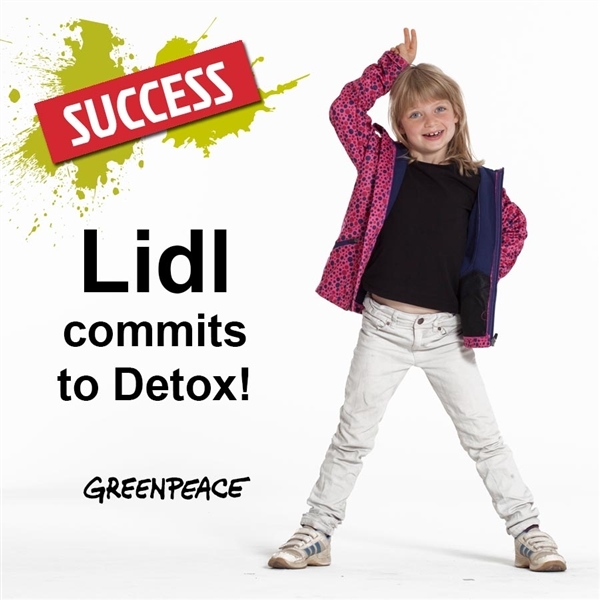 Yesterday we received some more fantastic news for the Detox movement. Lidl, the world's second largest discount supermarket, made a commitment to eliminate all hazardous chemicals from its textile production by 1 January, 2020!
To give you an idea of the scale of this news, Lidl alone sells over one billion euros worth of textiles every year and is now amongst the top ten biggest fashion retailers in Germany.
This is a huge step forward not only for the local communities affected by toxic water pollution but for people everywhere. By taking action today these companies are helping us ensure our future generations will inherit a world free from dangerous chemicals.
Last month fellow German retailer Tchibo made a similar announcement, setting off a toxic-free trend amongst the big discount stores and showing the increasing momentum across the industry towards a different model of production.
In a sector where the sale of clothing, footwear and home textiles business is booming with new models being introduced each week, Lidl has made a significant sign that it is moving away from focussing on quantity and towards quality.
By committing to Detox, high street fashion chains, luxury labels, sports brands, suppliers and now ever big retailers are showing the potential of the industry to change the way our clothes are made. This would of course not have been possible without the pressure and demand from their customers globally for cleaner production and products we can be proud of.
This is another victory for shoppers, for parents and for all those that have been part of the Detox campaign since we began four years ago. Looking back, it is quite incredible to see the progress that we have made together and this gives us inspiration for us to go even further!
The question remains though, who will be next?
Manfred Santen is a Detox Campaigner at Greenpeace Germany.