QUEZON CITY, Philippines, November 12, 2020 — At the ASEAN summit on Thursday, President Rodrigo Duterte called on developed nations to cut their emissions. Reacting to the President's statement, Greenpeace Country Director Lea Guerrero said:
"We support the president in amplifying the call for justice from those most responsible for the climate emergency. This is the country's strongest demand for climate justice yet. We call on President Duterte to hold not just industrialized nations, but also fossil fuel corporations, responsible for their significant share in fueling the climate crisis [1], and its unacceptable impacts on Filipino communities."
"The Philippine government must extend the call for accountability and justice to corporations, such as Shell, Exxon, Chevron, Total, and BP, whose climate change causing businesses are harming Filipinos. The fossil fuel industry is composed of the world's largest and richest companies that rake in profits by the trillions of dollars while the poorest and most vulnerable communities reel from calamities caused by increasingly stronger typhoons. These corporations must be also held responsible for their past and present actions.[2]"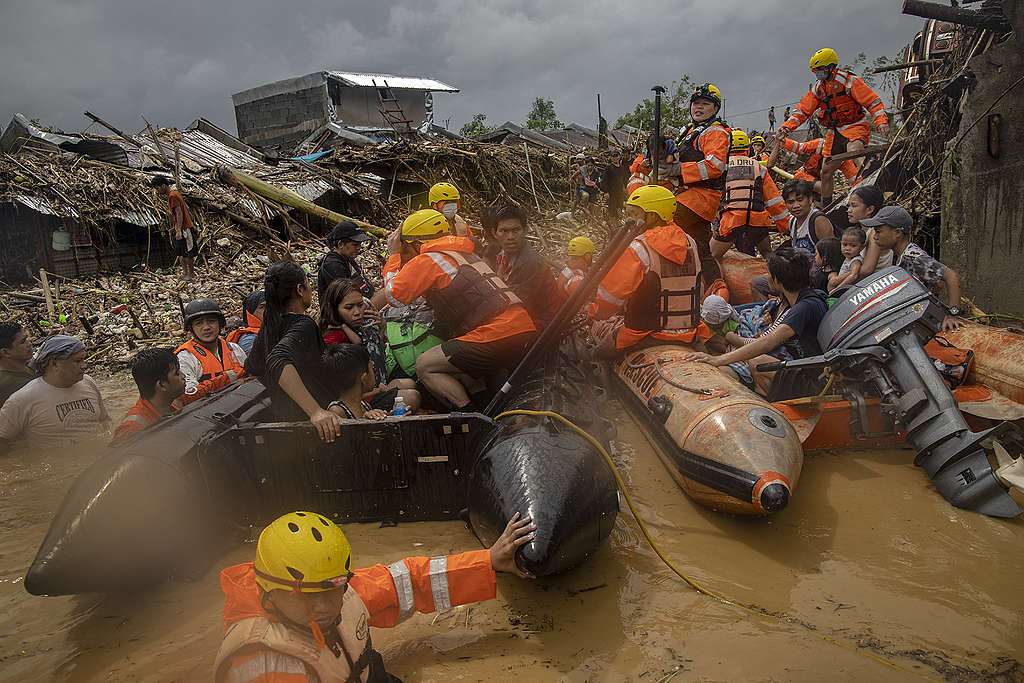 Greenpeace is also urging President Rodrigo Duterte to issue a Climate Emergency Declaration to strengthen an urgent whole-of-government and whole-of-society mobilization to respond to the climate crisis at the scale and speed needed to address it and protect the Filipino people. [3] The group believes that the declaration must also call on the international community to act with the same urgency and scale, and demand equity from governments and accountability from corporations for the sake of countries that are least responsible but face the most vulnerabilities.
---
Notes:
[1] Scientific studies show that only a handful of companies are responsible for most of the historical greenhouse gas emissions since the 18th century. Meanwhile, 47 investor-owned companies now the subject of a Climate Change Inquiry by the Commission on Human Rights contributed to an equivalent to 21.6% of estimated global industrial emissions.
[2] Currently, the CHR is set to issue the resolution to its Climate Change and Human Rights Inquiry that looks into the responsibility of 47 investor-owned fossil fuel and cement crisis for human rights harms to Filipinos caused by climate impacts. An early announcement of what the resolution will contain was revealed in December 2019 by Commissioner Roberto Cadiz, when he announced that the 47 investor-owned corporations named in the Inquiry, including Shell, ExxonMobil, Chevron, BP, Repsol, Sasol, and Total, could be found morally liable for human rights harms to Filipinos resulting from climate change. In its groundbreaking investigation, the CHR also found the relevant criminal intent may exist to hold companies accountable under civil and criminal laws, in light of certain circumstances involving obstruction, wilful obfuscation and climate denial.
[3] https://www.greenpeace.org/philippines/press/10094/greenpeace-reactive-on-duterte-call-for-stronger-climate-commitments-united-nations/
Media contact:
Angeli Cantillana
Communications Campaigner, Greenpeace Southeast Asia – Philippines
[email protected] | +63 998 595 9733 or +63 995 419 1496