Talisay City, Cebu – Following the Intergovernmental Panel on Climate Change (IPCC) report released on 8 August 2019, a group of young leaders gathered in a forum, committing to put forward the issue of changing dietary choices among Filipinos in their Climate Justice campaign.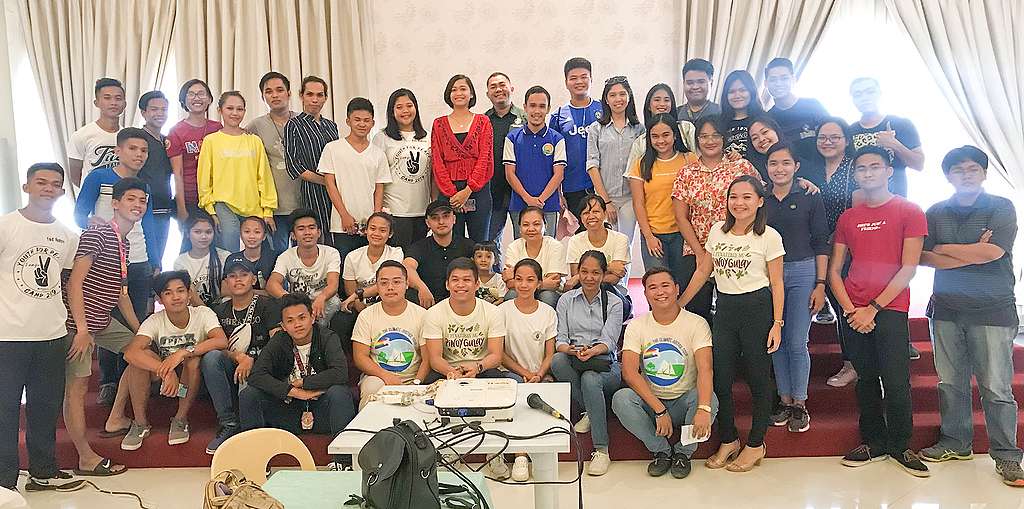 The IPCC [1] reports that we have a limited amount of land available, and in order to combat climate change and ensure food security, we urgently need to protect and restore forests and change our diets, including addressing food loss. Adopting balanced diets centered on plant-based foods, such as coarse grains, legumes, fruits and vegetables, and animal-sourced food produced sustainably in low greenhouse gas emission systems, present major opportunities for climate change mitigation and adaptation.
Greenpeace, a global environmental campaigning organization is pushing for a 50% cut of industrial meat in our diets (16kg per capita per year by 2050) and higher cuts of 70-90% in some countries in Western Europe and North America. Based on the 2013 data from the Food and Agriculture Organization Corporate Statistical Data Base (FAOStat) the average meat consumption in the Philippines per capita per year is 35kg.
#IAmHampasLupa Cebu Youth Campaigner Judy-Ann Nulla, organizer of the "Diet for Climate Justice Forum [2]", observes that few actions on climate change have included the component of food production and consumption. "I have yet to see policies and actions to directly address issues of food production and consumption,  as well as the dietary pattern of Filipinos," Nulla said.
The 2017 Social Weather Stations Survey on Eating Meat says that 54% of Filipinos disbelieve that eating meat is harming the environment [3].  Reports also predict a double figure in Philippine meat importation by 2027 [4], while the Food and Nutrition Research Institute notes a declining trend in fruits and vegetables consumption among Filipinos.
Talisay Sanggunian Kabataan Federation President Madeleine dela Torre notes a growing number of youth already open to eating more vegetables and fruits. "This gathering today is a good opportunity to promote to our youth, especially in my city, to eat more veggies and less meat.  In this way, we promote mindful consumption of food and ecological agriculture for the sake of our planet and the farmers.
Virginia Benosa-Llorin, Campaigner of Greenpeace Philippines said, "making people change their current behaviour is not easy. Consumers take their cues on what issues matter and what changes need to be made, from their local leaders. This is where the local government units play a large role."
Llorin emphasised that local leaders must highlight the need to change our food system, by reducing food loss and waste and by influencing dietary choices towards eating more plant-based food and less industrial meat, to battle the climate emergency, protect biodiversity, and build resilient communities. If they fail to respond to the urgency, then they send a message that nothing is wrong with the system.
"LGUs must create policies to enable the shift in the dietary habits of their constituents. And the good examples must start with their plates.  LGUs can designate a day in a week where only ecologically plant-based food sourced from their smallholding farmers are served in their meetings and in the LGU canteens," Llorin added.
A proposed legislation titled "Diet for Climate and Human Health" that seeks to implement environmental and human health education and behavior change campaigns, among others,  was tackled in the forum.
---
Media contacts:
Judy-Ann Nulla
IAmHampasLupa Cebu Youth Campaigner
Mobile : +63 915 118 7469
Email : [email protected]
Virginia Benosa-Llorin
Campaigner
Greenpeace Southeast Asia – Philippines
Mobile : +63 998 582 6617
Email : [email protected]
JP Agcaoili
Communications and Digital Manager
Greenpeace Southeast Asia – Philippines
Mobile: +63 949 889 1334
Email : [email protected]

Notes to Editors:
[1] IPCC report https://www.ipcc.ch/2019/08/08/land-is-a-critical-resource_srccl/
[2] Attended by SK Federation Presidents and Youth Focal Persons in the municipalities and cities in Cebu province, the Diet for Climate Justice Forum was organized by the groups #IAmHampasLupa, Sangguniang Kabataan Federation, 12th National Youth Parliament, National Youth Volunteers Coalition, and Greenpeace Philippines.
[3] SWS survey on eating meat
https://www.greenpeace.org/philippines/publication/1282/sws-survey-on-eating-meat/
[4] https://businessmirror.com.ph/2018/07/05/phl-meat-imports-to-double-by-2027/