The Arctic Sunrise was sailing for Amsterdam from Bilbao, Spain, when they got the call to divert their route to the North Sea.
In case you missed the news last week, our activists had climbed an oil rig that BP was shipping out to its Vorlich field to drill for up to 30 million barrels of oil. They had occupied the rig and had been removed by police twice. But they were determined to stop it for the third time, with some help from the Arctic Sunrise.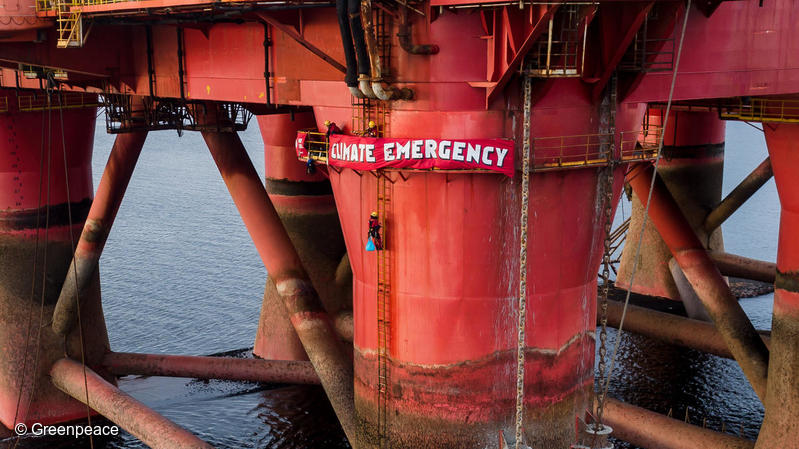 Imagine the ship crew's surprise, when they were looking forward to getting a bit of rest on land after busy open boat days, then found out they had to stretch their energy further (and for an indefinite period at that)!
But Elmer, a Filipino crew on the Sunrise, barely needed self-convincing. "Being the only Filipino onboard, I felt that sense of responsibility of helping and raising a call for BP to stop wrecking the climate," he said.
Elmer is miles from newbie status, as far as activism experience goes. He first took an interest in environmental activism way back in 1992, when Irish rock band U2 made an action to protest with Greenpeace against the THORP nuclear power plant in the UK. After more than a decade of working as a  volunteer, doing tasks ranging from encoding and production work to big actions and ship logistics, he became a Deckhand at the Greenpeace ship Esperanza in 2014. Now, he's the Bosun on the Sunrise.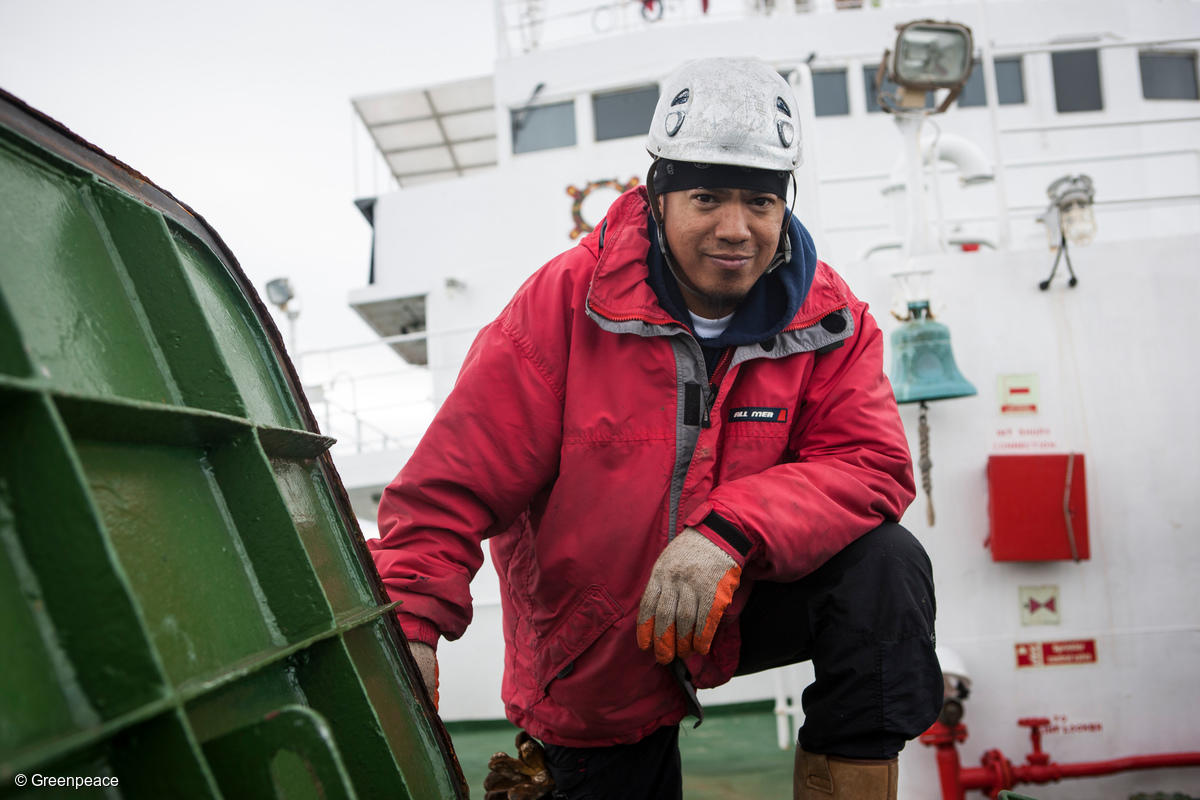 But it was the dozens of typhoons that hit the Philippines over the years, some of which while he was working at sea, that have made a mark on him as an activist. When Haiyan–the strongest typhoon that ever made landfall–barreled the country, he was in Manila, worrying about his relatives in Capiz. He recounts:
"Much of the help flowing in was going to Tacloban City, as it was the most accessible, but inland provinces received help much later. I volunteered with the Red Cross at that time.  Though I was helping out as much as I could, it was unsettling that I couldn't reach my own relatives. We were only able to send help to them after a week."
When the Sunrise caught up to the BP oil rig, they found out it was moving too fast for the fresh batch of activists to safely climb onto it, also considering the harsh conditions at sea. So they proceeded with Plan B: chase the rig for as long as it takes. The rig was forced to U-turn thrice.
Any spectator would ask, why go through all that just to momentarily stop one oil rig? Not to mention, there are about 180 offshore oil rigs in the North Sea alone. Elmer answered, "coming here reminds me how important life is. We don't want more family, more friends to be displaced, or lose loved ones. We are facing the worst of this climate emergency, and we need to act fast and stop big oil companies from digging for more."
More than just making noise, every act of defiance is about valuing life, and taking back our rights from corporations that have put all of humanity at risk. It's saying no to the same system that has only served a few, and forced the rest of the people to endure anxiety-ridden, substandard living conditions without complaint.
The same can be said of the youth-led climate strikes, local community efforts to stop proposed and existing fossil fuel projects, policy lobbying initiatives, and litigation cases filed against governments and corporations around the world. Every single effort is about valuing life over business, because corporations' business-as-usual means more frequent and stronger typhoons, droughts, heat waves and wildfires, for years to come.
It wasn't that long ago when Joanna Sustento, a survivor who lost family members to Typhoon Haiyan, boarded the Sunrise and held up a banner in the middle of the Barents Sea, saying the tactile words, "four years ago, I was immersed in storm waters out of circumstance. Now, I return to the waters out of choice."
Elmer and the rest of the crew were already set for the long haul when the team called it off (they couldn't chase this rig forever). Ending the protest, activists in the UK served "people's climate injunctions" at the BP headquarters.
But though the ship has stopped its pursuit, Elmer felt the #BPShutdown protest hasn't really ended. He said, "what we did was for the people around the world whose lives are at stake. Now we stand down and let other voices be heard."
It's true: it doesn't end with temporarily stopping an oil rig. In the Philippines, petitioners from different parts of the country await the resolution following the first ever investigation to determine whether BP, Shell, ExxonMobil, Chevron, and over 40 more companies have violated Filipinos' human rights by fueling the climate crisis. This is just one of many ongoing litigation cases in the world against these corporations.
There's more of us, and we're everywhere, building on each other's courage and pressuring them from all fronts. And this is how we will win: all of us taking a stand together.