Greenpeace Philippines is looking for a striking logo that will symbolize our work on pollution monitoring and reporting to help keep our rivers and waterways clean and toxic-free.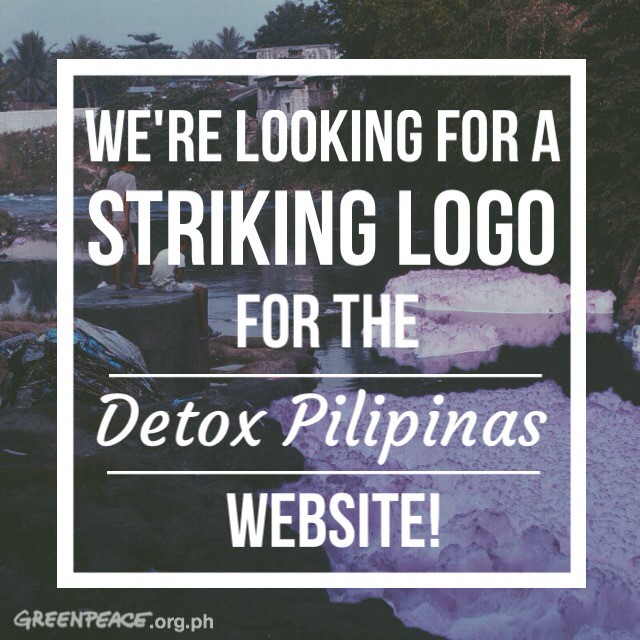 Aptly called Detox Pilipinas, the logo will be used in a Greenpeace sub-website and will feature maps and useful information about chemical spills, leak and incidents, industrial waste pollution, as well as the various chemical pollution exposés and reports researched by Greenpeace and other citizen journalists nationwide on the look out for industrial pollution and chemical-related incidents.
More importantly, the site will also showcase good news and inspiring stories – of empowered communities that have successfully mounted efforts to ensure the protection of our bodies of water.
The winning logo will be featured on the Greenpeace website, in our newsletters and in all collaterals that will be produced for Detox Pilipinas.
What are we looking for?
1. We are looking for one (1) logo that communicates pollution monitoring and reporting, citizen journalism, and communities taking action on water pollution..
2. Each entry must include a tagline and brief explanation/description no longer than 140 characters (with spaces).
Who can participate?
3. This activity is open to all ages and nationalities. You do not have to be a Greenpeace volunteer or donor to join. There is no limit to the number of entries per person – you can submit as many logo designs as you want.
What can be submitted?
4. Digital artworks or freehand illustrations that meet the following specifications:
Polished design in .png or .pdf format
Raw file in .psd format must be included for digital artworks
Minimum resolution of 300dpi / 2000 x 2000 pixels
Please do not include watermarks
6. Greenpeace Philippines will only accept digital submissions. Designs must be submitted as attachments via email to cyberaction@greenpeace.net.ph, with the subject, "DETOX PILIPINAS LOGO – [Full Name]." The content section must include a tagline or brief explanation/description of your logo no longer than 140 characters.
7. Submissions must be original works that have not been published or shown publicly prior to entry in the competition.
8. Submissions must not be contrary to, infringe or breach any law or any person's right under any law (including copyright, trademark, nor qualify as, passing off, defamation, contempt of court, privacy or confidence; or be subject to a legal dispute.)
9. Submissions should use only original or royalty-free images; the entrant should not use any commercial material; if the entrant does use commercial material they must supply documentation to show the use for all purposes related to the image has been consented to by the copyright owner. Please note not all material found online is free.
10. By submitting an entry you are confirming that you have read and agreed to the terms and conditions in this webpage.
11. All entries submitted shall be considered as property of Greenpeace Philippines. Likewise, submitted entries will be featured in publications, project materials, exhibits, and other printed or digital media.
12. Greenpeace Philippines shall also have exclusive rights to the winning logo design. Greenpeace Philippines reserves the right to refine or make improvements on the final artwork of the winning entry.
When should it be submitted?
13. The submission period begins on July 15, 2015. All entries must be in by August 7, 2015. The winning design will be announced on August 11, 2015.
What are the criteria for judging?
• Communication of the project theme in both the artwork and the tagline
• Artistic merit – drawing skills and use of color
• Creativity and originality – considering the representation of the Detox Pilipinas or pollution disclosure
• Adherence to these contest mechanics
What are the prizes?
• Bragging rights!
• Greenpeace goodies
• Restaurant Gift Certificate
Know someone who would be interested to join? Share this page with them!