Only 2% of the Romanian Carpathian forests are protected! The rest is exploited and destroyed right now. That's the real horror!
Bran, Romania, October 31, 2022: Greenpeace activists protested on Hallow's Eve by projecting messages on Dracula's Castle, which hosted more than 300 of the world's super rich and famous people. The press mentioned Elon Musk, Angelina Jolie, Peter Thiel, the founders of Google, Hotmail, Neuralink, among others. Greenpeace used the opportunity to engage them in a discussion about the destruction of the Carpathian forests, which became their playground for Halloween.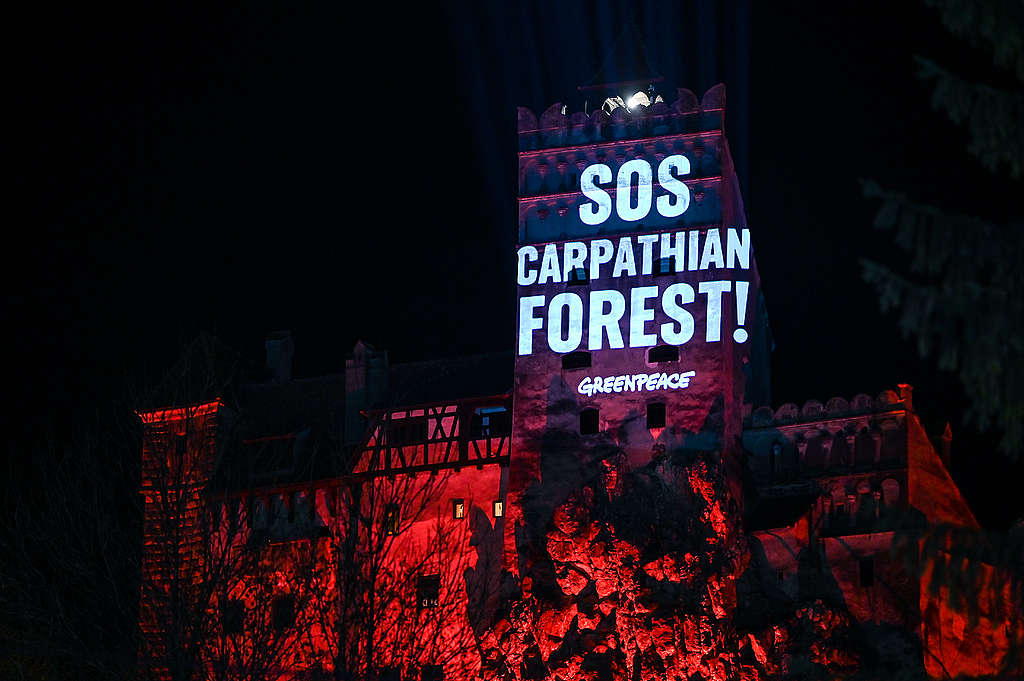 Ciprian Gălușcă, Greenpeace Romania Forests & Biodiversity Campaigner, said: "We took the Halloween opportunity to share a real horror story from Dracula's forests. It's about chainsaws, murders, greed and death. Although Europe is talking about helping biodiversity on a path to recovery by 2030, the urgently needed reform is nowhere. As we speak, old-growth Carpathian forests are still being destroyed by industrial logging, complex habitats are vanishing faster than ever, with historically low chances for biodiversity to adapt. Unfortunately, these forest crimes are happening all year round, not just on the 31st of October. 10% strict protection of EU's ecosystems are just words on a piece of paper [EU Biodiversity Strategy] – we need to push to make it happen!"
The Carpathian forests are more than just a Dracula-themed park. Greenpeace activists asked global billionaires and influencers to enjoy their stay in these remaining sanctuaries of biodiversity by recognizing their importance, beauty and value. By a "photon protest", they urged them to take a stance and act now for their protection.
Across Europe, people are waking up to the true threat posed by the human-induced climate crisis and the collapse of our natural world. But as we do our part to make a difference, these efforts are being undermined. The forests of the Carpathian mountains – one of our allies against the planetary crisis – are being destroyed on a massive scale right now.
An irreplaceable ally in the face of the climate and biodiversity crises, the Carpathians should be among the best-protected regions in Europe. And they are, at least on paper. Half of the forest area is included in the EU's Natura 2000 network and most of the Carpathian region has been under some form of protection since the '90s. But reality reveals the shocking truth. Research by Greenpeace CEE, to be released in the coming weeks, uncovers that these crucial forests are being lost at an alarming rate. Current protection measures are simply not enough. One of Europe's last remaining wildlife havens is disappearing before our eyes.
Photos by Flavius Croitoriu