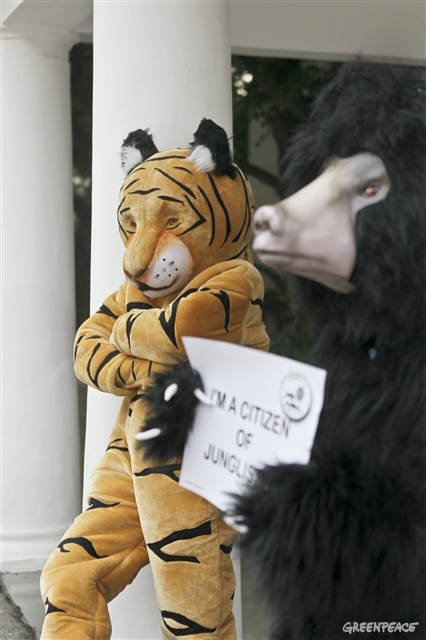 Bear necessities
Life can be difficult for a bear, especially when you are in the city. You might be wondering what am I doing here and before you jump to any conclusions, let me tell you my story.  Firstly and most importantly I am not one of the dancing bears that you probably saw as a kid.
My name is Bhaloo and I have come from the Republic of Junglistan. I come from a Republic which is home to many other species including humans. Everything was fine. Humans and animals were co-existing harmoniously, I had enough honey to eat in the forest and for generations my fellow humans have been collecting and selling Tendu leaves and Mahua  to feed their families.
The Republic where I come from does not discriminate against rich or poor, animals or humans. For hundreds of years the Republic of Junglistan has provided for rain, water, fruits, shelter, greenery, herbs, medicines and even livelihood for humans without asking for anything but some respect in return. But all we got was deceit.
From forests to the City for a reason
I was living a very happy life in Junglistan and had no intention of coming to the city. But then my friend Monkey told me that humans are coming to destroy our home because they want to extract something called 'Coal'. I have heard there is tonnes of coal lying under our forest and it's of some use to you humans. So you want to dig it all out, without even thinking about what that would do to all of who have been  living here for years.
If coal is underground then I am sure Mother Nature has some reason for keeping it that way. Maybe it's  underground because if it does come out it will harm Mother Nature. Why do you have to play with nature and spoil the party for so many of us? We might not have the right to vote in your Parliament but does not mean you have the right to kill us.
I thought, 'Enough is enough,' and convinced my friend Sheroo to pack his bags and come to the city with me. We are here to save our home, the Republic of Junglistan.
Welcome to Junglistan!
Sheroo and I are offering all humans free citizenship to the great Republic of Junglistan. You don't have to fill forms, get a police verification, or wait for weeks. You'll get an instant passport. All you have to do is give a missed call to pledge your support to save our home -the forests. On behalf of all the citizens of the Republic of Junglistan, Sheroo and I invite you to come and visit Junglistan.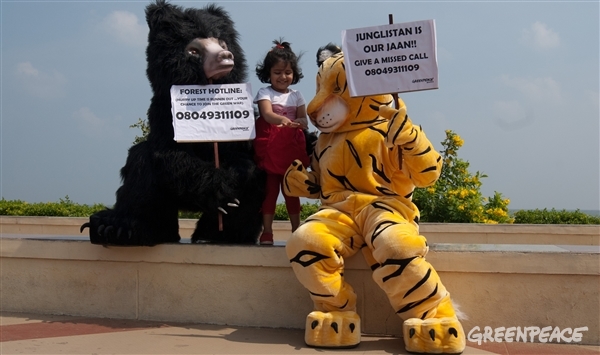 We will welcome you with open arms. Anyone with a smile on their face, love in their heart and respect for us is eligible to become a citizen of Junglistan. People with greed are not welcome. We fear those who, inspite of all the hospitality and love we offered, have always given us deciet and destruction.
Life in the city so far
It's our seventh day in the city and we have gone to schools, market places, travelled in autos, met hundreds of people who have already joined the Republic of Junglistan and promised to stand by us for saving the forests. This morning I tried to enter the Wankhede stadium in Mumbai to cheer Sachin's hundred and gather more support but they didn't let me in. They said, "Animals not allowed." I came out disappointed and stood outside the stadium only to get further disappointed when Sachin missed his hundred.
Sachin's 100 will come soon but we will never come back if our home is destroyed. We will be in your city for a while. All we ask for is love and peace. So please give a missed call to 080-49311109 to or just click here to become a citizen of Junglistan.
Come one, come all, just give us a missed call!