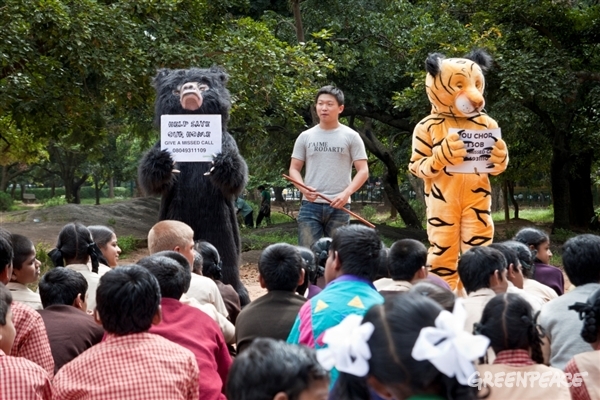 After meeting people in Mumbai, Delhi and Chennai, Bhaloo and Sheroo finally reached Bangalore, the Garden City. The embassy of Junglistan was set up at Cubbon park, a place known for its preserved green cover.
Soon, Bhaloo and Sheroo were surrounded by a lot of their young friends. Almost 70 school children from 3 different schools came to meet their friends. We were also joined by enthusiastic differently-abled children. Together they painted, played with Bhaloo and Sheroo and proudly called themselves citizens of Junglistan.
 It is always invigorating to work with students, because the hope and the abundant radiance of positivity that they bring are contagious.  It makes you believe that even the most daunting task is possible to accomplish.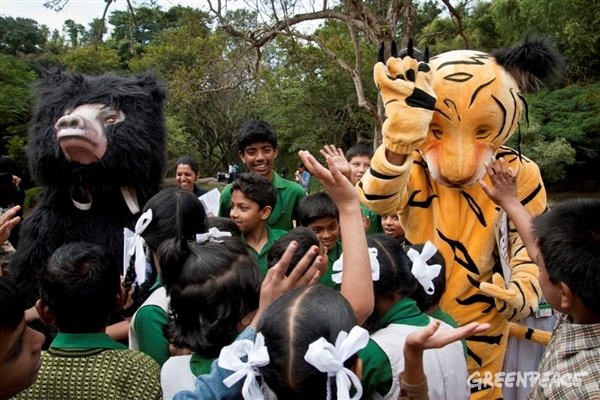 It was beautiful to see the young green warriors take charge and interest in the forests of our country. But what are we leaving for them? A planet without forests, without real Sheroos or Bhaloos? We can't let coal mining in Central India destroy the future of these bright and happy faces. It's our responsibility to ensure that we give them a green, beautiful and sustainable planet, like it's meant to be.
Bhaloo and Sheroo are here to save their beautiful Republic of Junglistan, the land of the forests, from destruction. They are offering citizenship to their country hoping that the new citizens will help them save their home, their forests, their Junglistan.  
They will be in Bangalore for some more time. So don't be surprised if you spot them somewhere in the city soon! Even if you don't, help them out by giving a missed call to 080-49311109 or just click here to become a citizen of Junglistan.
Images: © Greenpeace / Vivek M