Manaus – Greenpeace Brazil captured images of illegal fires causing widespread destruction in the Amazon during a flyover carried out between 29 to 31 July. The images come as the Brazilian Space Research Institute (INPE) registered 8.712 km² of deforestation over the period of August 2020 to July 2021, the second largest year-round deforestation rate recorded by the DETER-B alert system.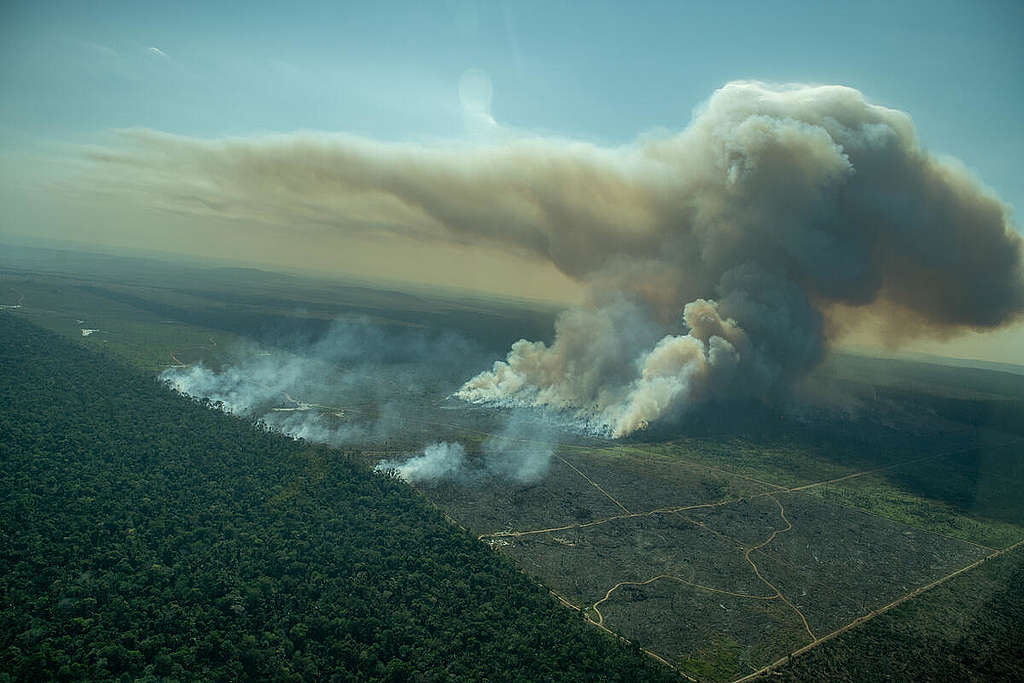 Photos and videos available on Greenpeace's Media Library.
"Having dismantled environmental enforcement, Bolsonaro and the Brazilian congress are now proactively trying to reward illegal deforestation and land theft. Using emergency legislative rules inappropriately, they are sneaking through new radical bills that will bring more destruction and worsen the climate emergency," says Cristiane Mazzetti, Senior Forest Campaigner, Greenpeace Brazil.
Despite recent promises by Brazilian President Jair Bolsonaro to address illegal deforestation, he and his allies are advancing a suite of radical bills that would allow for more deforestation and undermine Indigenous Peoples' land rights. On 3 August, the Brazilian Chamber of Deputies passed a radical law, PL2633 that would legitimize land grabbing within public lands. Land grabbing on public lands is linked to one-third of all Amazon deforestation in Brazil. Experts predict that these proposals could 'break' the Amazon because the rainforest can only sustain so much forest loss before it fails as an ecosystem.
"Few expected this government to fulfill its disingenuous promise to reduce deforestation by 10%. Officials continue to weaken environmental agencies and, for the third year in a row, are using the military to investigate environmental crimes, a strategy proven to be ineffective," continued Mazzetti, "If the Brazilian Senate approves the land-grabbing bill, however, they will accelerate the collapse of the Amazon and destroy parts of the rainforest that are key to preventing the worst scenarios of the climate and biodiversity emergencies."
ENDS
Photos and videos available on Greenpeace's Media Library.
Contact:
Karen Mota, press officer, Greenpeace Brazil, +55 11 95640 0443, [email protected]
Greenpeace International Press Desk, +31 (0)20 718 2470 (available 24 hours), [email protected]