My name is Nasrullah, a member of Tanjung Taruna Village in Central Kalimantan, Indonesia. I am also the chairperson of the Forest Fire Community in my village, a community group whose main task is to put out fires during the fire season.
When my hometown was hit by forest fire disaster in 2015, everyone grieved. Forest and land fires were everywhere, and homes were surrounded by smoke. In order for me and my family to survive, our only option was to evacuate.
That was four years ago. In the following years, we survived by better equipping ourselves with knowledge on fire prevention and protection while continuously putting out fires during the dry season. But each year we hope; we hope that the fire will not return, and the haze will not stifle us.
This year, the fires started in July. What was initially only a few hotspots soon expanded into hundreds. The government declared a state of emergency on Central Kalimantan as well as five other provinces due to forest and land fires. Unfortunately, the systems in place – such as water bombs and fire suppressions – were still not enough to put out all the fires.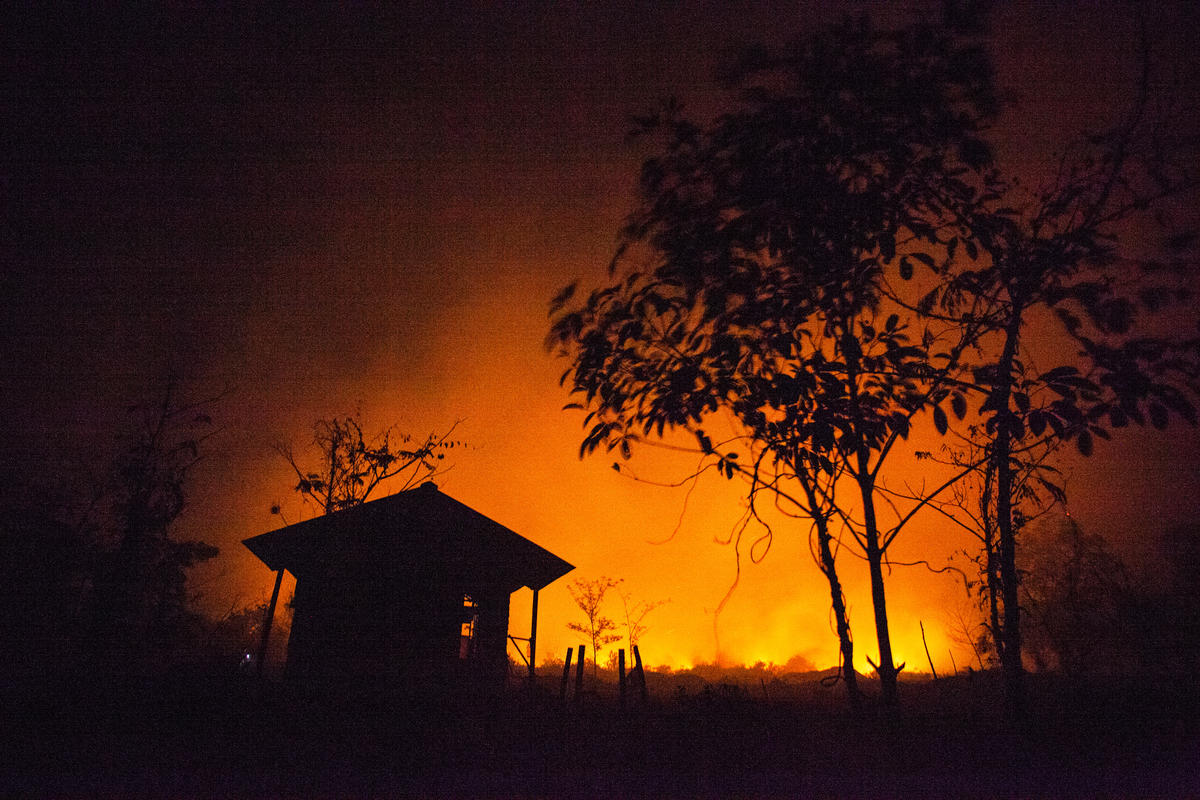 The Greenpeace Indonesia's Fire Prevention Team, together with the local firefighters and communities, have been tirelessly working on the ground to extinguish the fires, day in and day out. Our greatest wish is for our collective efforts to bear fruit: We want the central government authorities to acknowledge our efforts and proactively participate to make progress on the ground.
However, when August passed with limited action from the government, my hopes waned. The fire was becoming even more rampant, and the thick haze of smoke relentlessly invaded our sky and air. I was stunned. How could the 2015 smoke disaster happen again?
Our air quality is taking a turn for the worse. Every day we have to breathe air full of poisonous fumes from the forest and land fires. For the past few months, the air quality index (AQI) has risen above the safety threshold of 300, the the worst record reaching 2000! Knowing this fact, just take a moment to imagine the quality of our lives here, day in and day out.
Even worse, this smoke disaster have reached beyond Indonesia to neighbouring countries: Malaysia, Singapore, Philippines, and Thailand. We are continuously at the forefront dealing with this disaster, but we really need the help of the government to immediately enforce the laws – especially on the perpetrators of forest and land burning – and create a strong peat protection policy. We cannot do this alone.
I know that my brothers and sisters are devoted to our country, and people around the world are concerned about the disaster that has befallen on us. May I ask, will you help us urge our government to immediately address the issue of forest and land burning to ensure this disaster will not happen again? We are still hanging onto our hope; we hope for the day when we will never have to breathe air full of toxic smoke.
Nasrullah is head of local firefighters in Central Kalimantan, Indonesia.