Clear links between a Taiwanese seafood trading company and appalling cases of forced labour involving vulnerable migrant workers from Southeast Asia, as well as illegal fishing practices have been highlighted in a new report by Greenpeace East Asia.
The Fong Chun Formosa company is one of the world's top three tuna traders, with an estimated revenue of around 45 BILLION USD per annum. It sells to and trades with multiple seafood companies, and works with a fleet of over 500 vessels.
Despite its success, and proud declarations of sustainability and traceability by the company, a rising tide of evidence highlights some major concerns about FCF's dealings with shady fishing vessels suspected of modern day slavery, shark finning, and illegal fishing.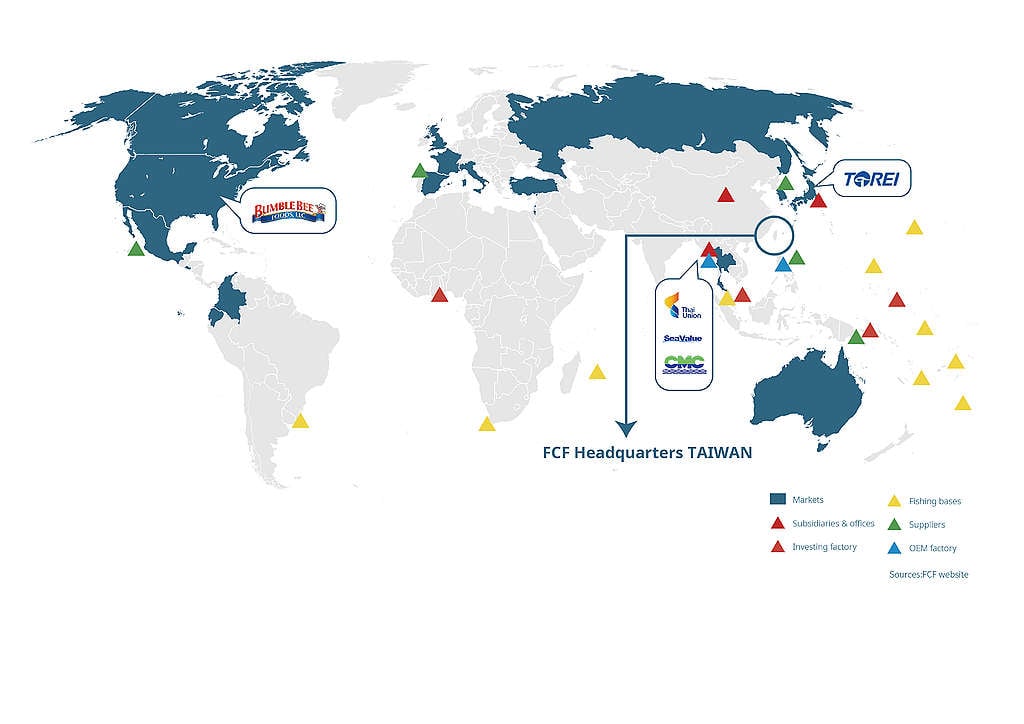 Illegal, unreported and unregulated (IUU) fishing practices were described by the migrant fishers interviewed on at least two vessels confirmed to be supplying FCF. This suggests that fish tainted with IUU fishing and forced labour could be ending up in people's tuna sandwiches all over the world.
Shark finning was yet another shocking practice witnessed by the interviewed migrant fishers, as well as the illegal transfer of crew and shark fins between vessels. According to one fisher:
"We only kept the fins of the sharks and discarded the rest of their meat. Last month, I placed the fins out under the sun to dry, but a few days later, we spotted an American patrol boat. The captain got really scared and told me to hide all the fins so that the Americans wouldn't find them."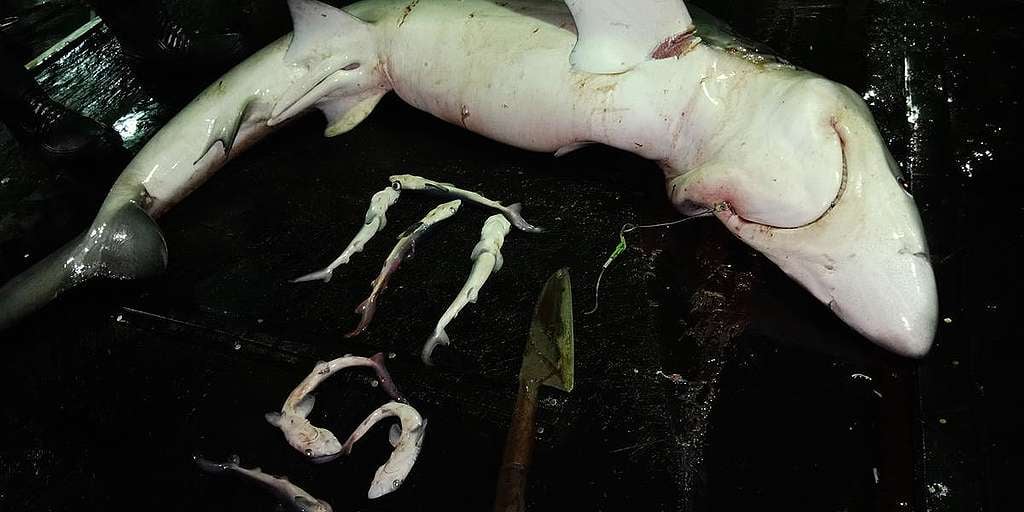 Greenpeace East Asia's research also revealed potential transshipment at sea behaviour from some of the company's source vessels. On its website, FCF boasts a network of more than 30 carriers undertaking transshipment at sea ⁠— a practice infamous for heavy links to ocean devastation, human trafficking and multiple other fisheries crimes.
Transshipment is when massive ships with huge freezing compartments anchor next to fishing vessels out at sea and the catch is transferred to be taken back to land. They also bring supplies, fuel, exchange of crew (and sometimes transport completely illegal cargos), allowing fishing vessels to remain at sea for extended periods of time.
By now, you might be wondering how on earth all of these appalling activities go on, apparently unnoticed by anyone 'in charge'. Well, the high seas are a bit like the wild west: vast, elemental and dangerous. Responsibilities are unclear, patrols are scarce, and observers, who monitor fishing activities on board fishing vessels are, unsurprisingly, lacking.
Then there's the fact that Taiwan has problematic policies when it comes to workers at sea. In fact, labour abuse has been well documented in its distant water fisheries (DWF) over the last few years. Taiwanese DWF vessels carry over 20,000 migrant fishers onboard, and they are all at risk because Taiwan has a discriminating two-tiered system. The system is used to exclude the most vulnerable workers in the DWF fleet from the scope of protection of Taiwanese national labour or employment laws, making it a de facto labour subsidy; widely considered as a modern slavery risk factor. The two-tiered system basically makes exploitation of migrant fishers legal.
It is high time the Taiwanese government steps up to protect the human and labour rights of migrant fishers working on its fleet. It can start by abolishing the discriminative two-tiered system while implementing the International Labor Organisation (ILO) conventions on labour rights, increasing the frequency and reliability of labour inspections, and establishing a timely and effective grievance mechanism for migrant fishers. All these actions are urgently needed, especially if Taiwan wants to live up to its claim of being a beacon of human rights in Asia Pacific.
So what can one company do to help change the fishing industry for the better? FCF holds great influence and power within the market. The recent acquisition of Bumblebee, a popular US canned tuna brand, valued at $930 million, further cements the position of this seafood giant as highly influential, from sea to shelf.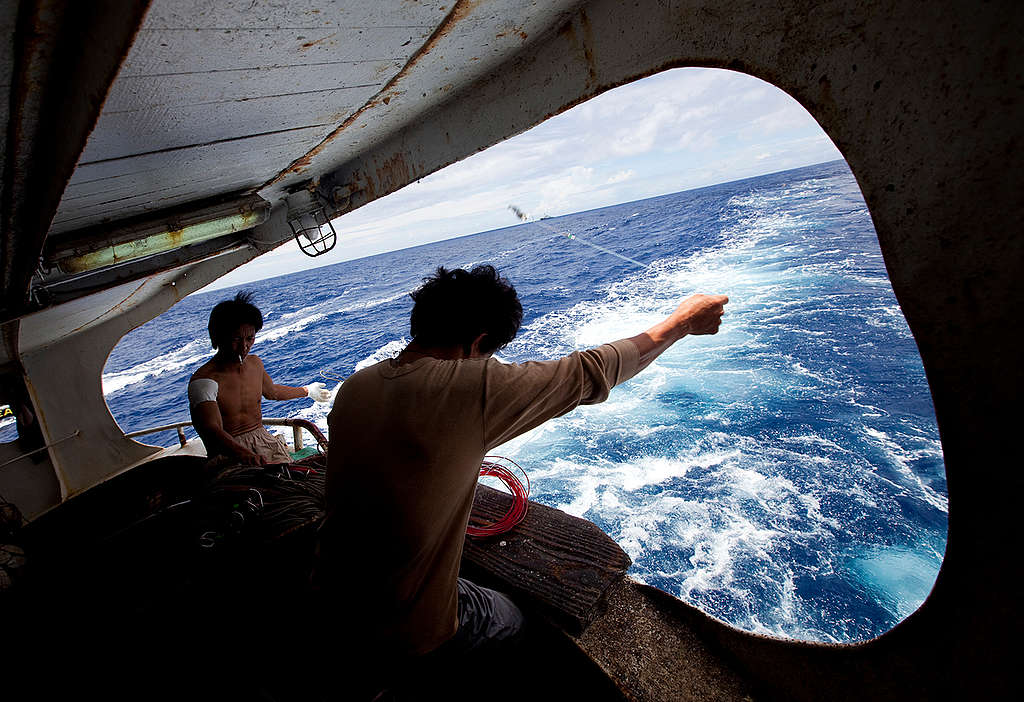 Here are 4 things FCF can do to stop tainted seafood from entering the market:
Publicly disclose its full vessel supplier list with key details as part of its human rights due diligence plan.
Announce a public, measurable, time-bound plan to phase out transshipment at sea while only sourcing from vessels that do not take part in transshipment at sea.
Only source from vessels where 100% independent human or effective electronic catch monitoring is taking place.
Upgrade its human rights policy for tuna vessels to reflect international standards and best practice on human and labour rights, including establishing a policy on maximum time at sea and preferential sourcing from vessels subject to port State labour inspections.
So, that ought to keep them busy. In the meantime, we can hasten this industry shift by demonstrating that business as usual will not profit. We can try to reduce how much seafood we eat and choose local seafood where possible. Small scale fisheries and fisherfolk all around the world are also suffering at the hands of this greedy system – they need our support now more than ever. And let's face it…nobody wants to eat seafood tainted with modern slavery as long as there are better options around.
It's time for the fishing industry to decide – will it continue to ravage our oceans to the point of collapse using forced labour? Or will it listen to its customers and sail towards a just and sustainable future for fisheries?
Elizabeth Monaghan is a digital campaigner for the fisheries campaign at Greenpeace Southeast Asia