On the 29th of May, a tank containing diesel oil at the Nadezhda plant on the Taymyr peninsula in the Russian Arctic burst, spilling in excess of 20 thousand tonnes of oil products into the local environment, contaminating more than 20km of local water courses and turning the Ambarnaya River red as it carries the petrochemical plume – up to 20cm thick – slowly towards the sea.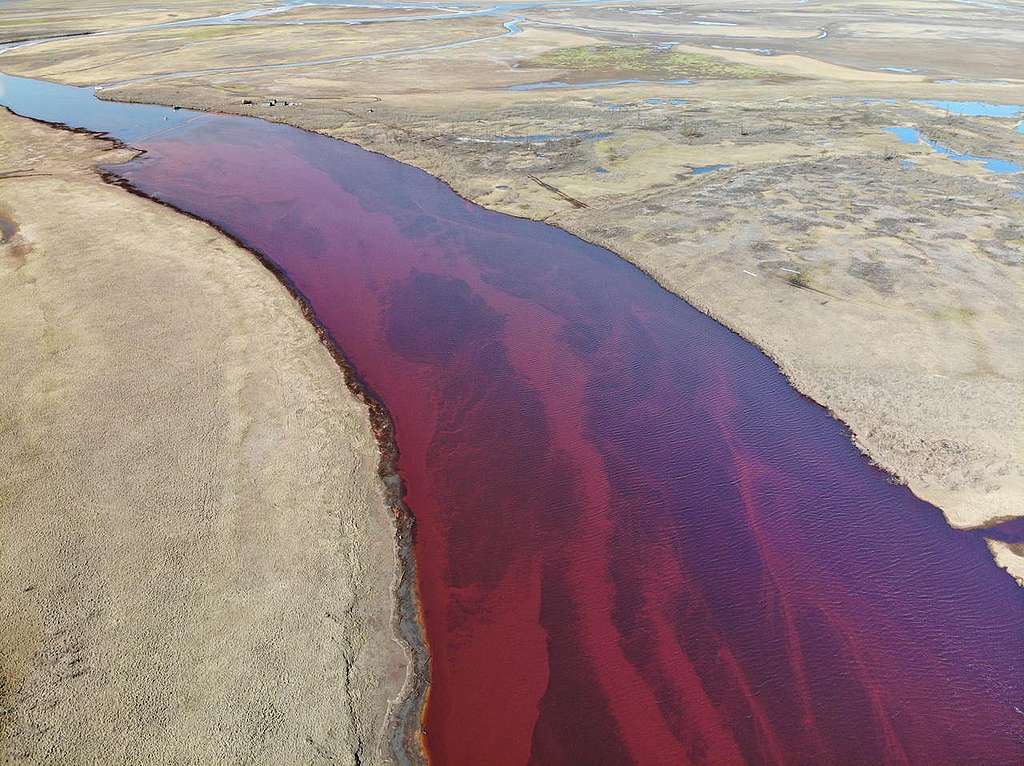 This is one of the biggest oil product accidents ever to have occurred in the Russian Arctic, and proves what everyone knew all along – that there is no guaranteed safe way to extract or store fossil fuel products, especially in this remote and inhospitable Arctic region.
The plant is operated by a division of Nornickel, whose factories in the area have made the city of Norilsk one of the most heavily polluted places on Earth. After the spill, reports emerged that local officials had only discovered that the catastrophe had occurred two days later, via media reports. President Vladimir Putin himself was furious, asking the head of Nornickel 'Are we going to learn about emergency situations from social media?' in a televised conference call. A state of emergency immediately was declared in Norilsk and the Taymyr peninsula.
Greenpeace Russia experts estimate the costs of damage to the water bodies may amount to more than RUB 10 billion (EUR 130 million). Soil recultivation costs and air pollution may add to the damage. However, there is a long tradition of Russian companies evading full financial liability for environmental damage caused. Moreover, some of them have used the Covid crisis to initiate further weakening of Russian environmental legislation.
Oil drilling always comes with the risk of accidents, and in vulnerable ecosystems such as the Arctic, they can be particularly devastating. And we've seen time after time that companies involved in the extractive industries cannot be trusted to behave responsibly. To protect the Arctic and the climate, the Russian government needs to reconsider the economic model of the country based on fossil fuels and environmental abuse, and put in place a green recovery package based on climate-friendly solutions.
Greenpeace Russia has appealed to the government to conduct an extraordinary audit at all facilities in the Arctic containing significant amounts of oil or petroleum products, and amend legislation to allow more frequent inspections in order to prevent environmental disasters like the one in the Taymyr peninsula. Together with 14 ally organisations, we're calling for a green recovery package for Russia, that will be based on climate-friendly solutions and technologies. The Russian government must take serious measures to combat climate change and move forward with a just transition to end the oil age, to prevent catastrophes such as this spill and the multiplying threats of climate change in the future.
Olesya Vikulova is the Media Coordinator at Greenpeace Russia