There can be no environmental justice without social justice.
A very short sentence, with millions of lives and stories behind it. The story of Fatou Samba and hundreds of courageous women fish processors, fighting against the plundering of the oceans by international industrial vessels sent to suck up the fish populations they rely on to survive. The story of Tin Nyo Win, who survived slavery in one of the complex food supply chains that are at the heart of ecosystems collapse. The stories of generations of racialised and marginalised communities impacted by toxic facilities multiplying disease, learning disorders and further exclusion. The stories of workers organising for better lives for themselves and their families and looking for a better future for the planet.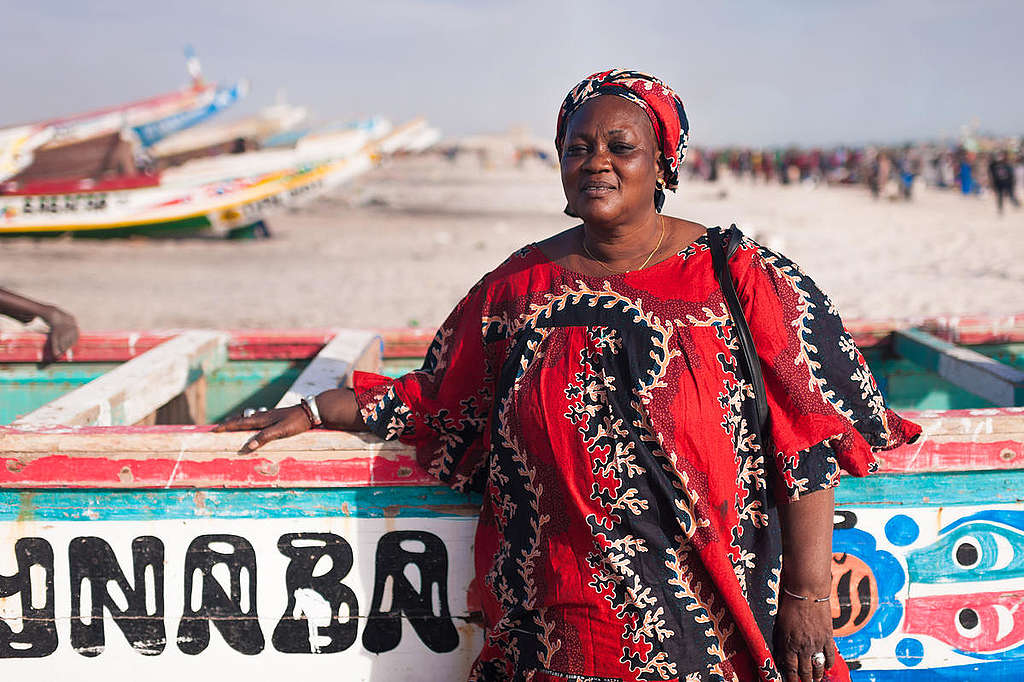 Those stories are often erased. And for a long time we, in the environmental movement, contributed to that erasure: showing "pristine" nature but not the people defending, protecting, depending on it; putting the onus of agency in the powerful, instead of providing a platform for the ones on the frontlines to tell their truths; asking for actions which would put a plaster on the environmental harm but remain silent to an economic system that relies on the destruction of nature and oppression of human beings based on the color of their skin, their gender and their income.
Greenpeace campaigns for environmental justice, convinced that if we win, we will improve the lives of millions on this planet, often the poorest and most marginalised. Ensuring emissions go down will prevent millions of deaths; ensuring our oceans are not the new wild west for greedy multinationals will secure the livelihoods and food security of millions of people.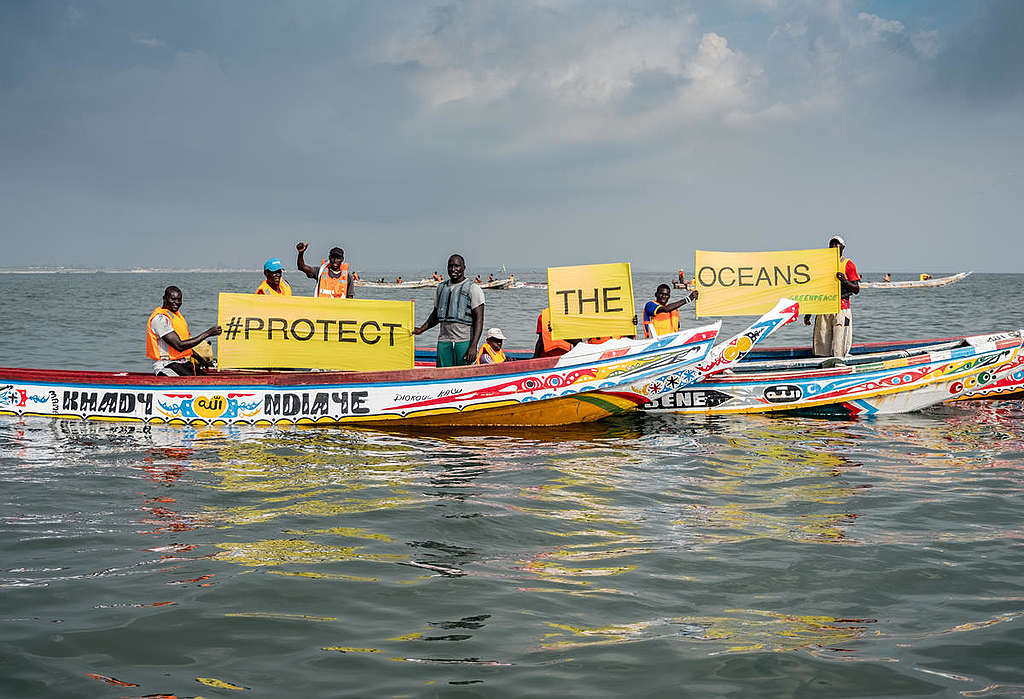 But we still have a lot to learn, because our mission will not succeed if we don't tackle the root causes of all these forms of violence raging against many human beings and nature.
Today is World Oceans day. One more day in the calendar to think together how our fight for nature and every living being in it matters, and how our success depends more than ever on us supporting the struggles of those on the frontlines.
Today, for example, women fish processors in Senegal are protesting in fishing ports like Cayar, Joal, Rufisque, Saint-Louis and Kafountine wearing red masks as a symbol of their protest against the plunder of ocean resources and threat to their food security. It is a fight for social, economic and environmental justice against the international industrial vessels being granted new licenses to suck up the fish they rely on to survive. And the fight continues against transhipment, a process that allows vessels to stay out at sea emptying the ocean for months or even years at a time and is linked to some of the most severe human rights abuses, including forced labour, bonded labour and even murder of migrant workers.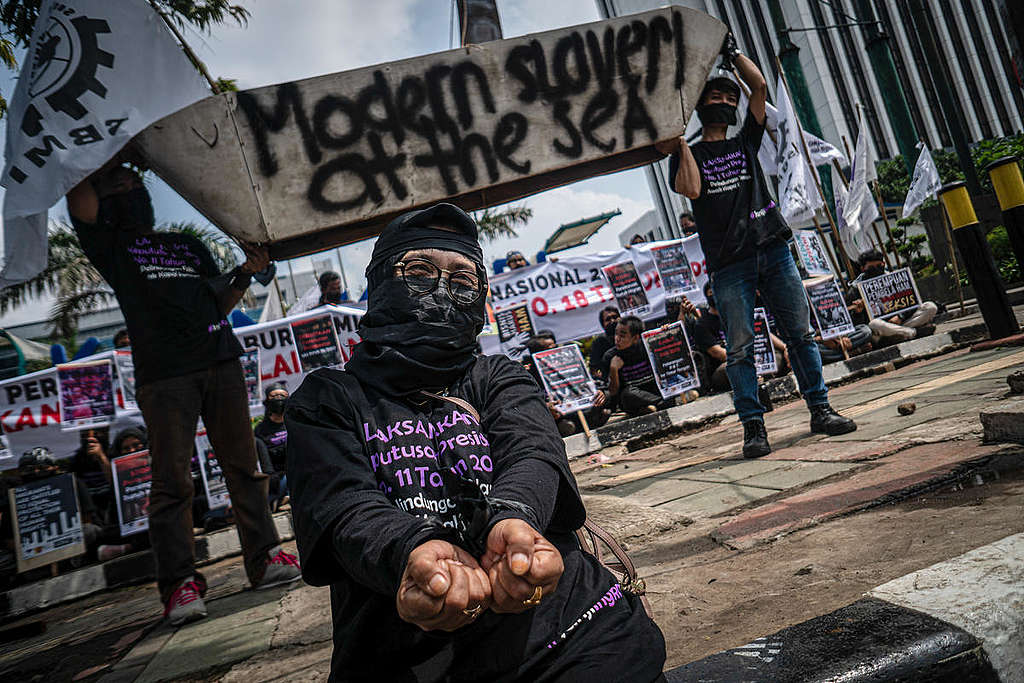 But this year, World Oceans Day falls at a time when many of us around the world are living through a period of total upheaval. The coronavirus pandemic has impacted our lives in ways we could never have imagined, while the outpouring of grief and demand for racial justice following the murder of George Floyd, Breonna Taylor, Ahmaud Arbery and the overwhelming number of others, has reached far beyond the United States.
There is so much we need to learn from this moment. We need to learn from those on the frontlines of oppression and figure out what being a good ally means. We need to get better at amplifying the voices of those most impacted by the destruction of our oceans, our forests, our climate. Voices such as Fatou Samba, president of female fish processors in Khelcom, Dakar, Senegal who says, "Over the years, we have had to compensate for the overexploitation of our resources due to overfishing. Now we are competing with fish factories. This is a disaster because we need fish, we need to work, and so do all the others who are relying on the activities in the ports, processing sites and local market. This fish is needed in Senegal and the West African region, as a source of food and livelihoods."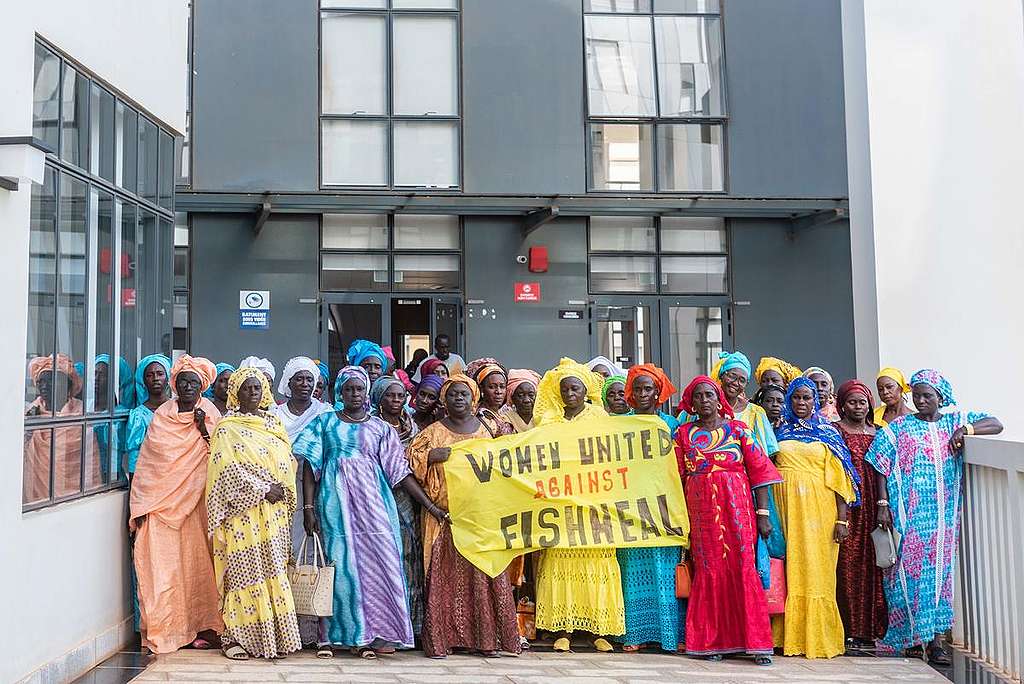 And we need to figure out a way to build together a journey where ocean and nature lovers understand these complex interrelations and act with us in tackling the root causes of destruction.
Our campaigns have shown over the years our commitment for the protection of our oceans and our environment, and we have slowly progressed in trying to include and amplify the human voices of this struggle. But in the same way that we are asking governments and people not to go back to the previous normal, there should not be a return to normal for us. Our new normal needs to be one where we are not blind anymore to racism, patriarchy and inequalities. Our new normal needs to be one where we build new futures, where thriving and enjoying life is not a privilege for a small group, but a right we've won for all.
Arifsyah Nasution is Oceans Campaign Lead at Greenpeace Southeast Asia
Anabella Rosemberg is International Programme Director for Greenpeace International
Awa Traore is Oceans Campaigner for West Africa at Greenpeace Africa.