"The police came to my school. My classmates and teachers were frightened. We were being threatened and my father was being followed everywhere. Recently, a surveillance camera was installed at the intersection of my village for the first time."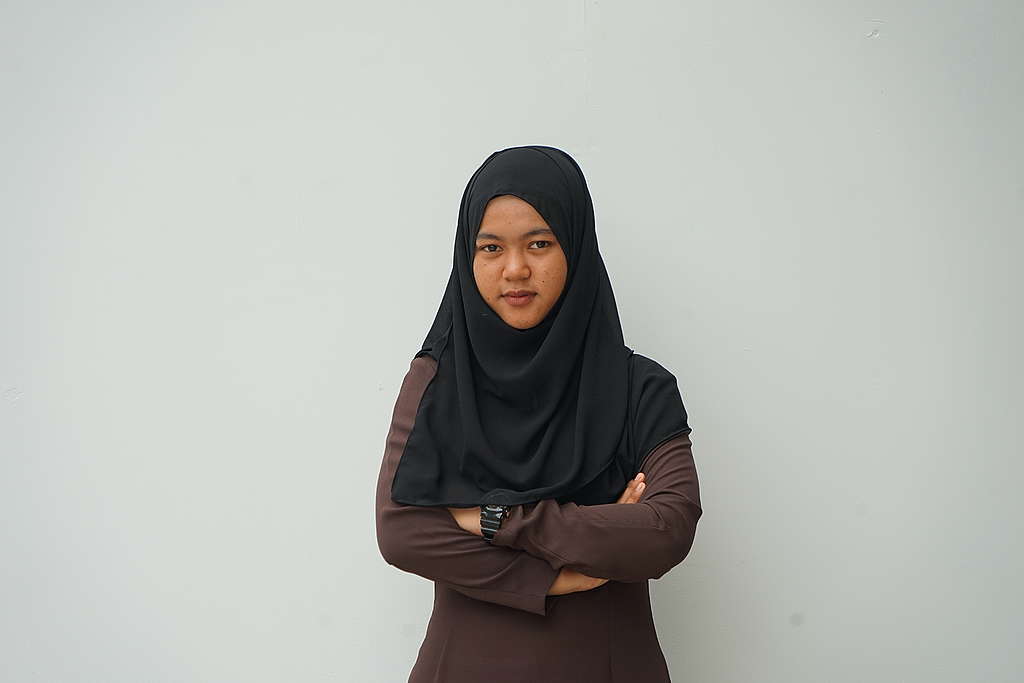 Khairiyah Rahmanyah's life has changed since protesting against a mega-project that would transform her seaside hometown into an industrial zone. A fisherman's daughter from a small village in Chana district, Songkhla province in southern Thailand, Khairiyah is against a cabinet decision that plans to convert 26.8 square kilometers (2,680 hectares) of seaside into an industrial zone built for light and heavy industries such as biomass power plants, petrochemical production, biochemical plants, as well as deep seaports.
As a key representative against this plan, Khairiyah says police and military would often visit her home and people were afraid that something worse would happen to her. But she wasn't scared.
"The only thing I fear the most is that the industrial zone will be successfully constructed," says Khairiyah.
The making of an activist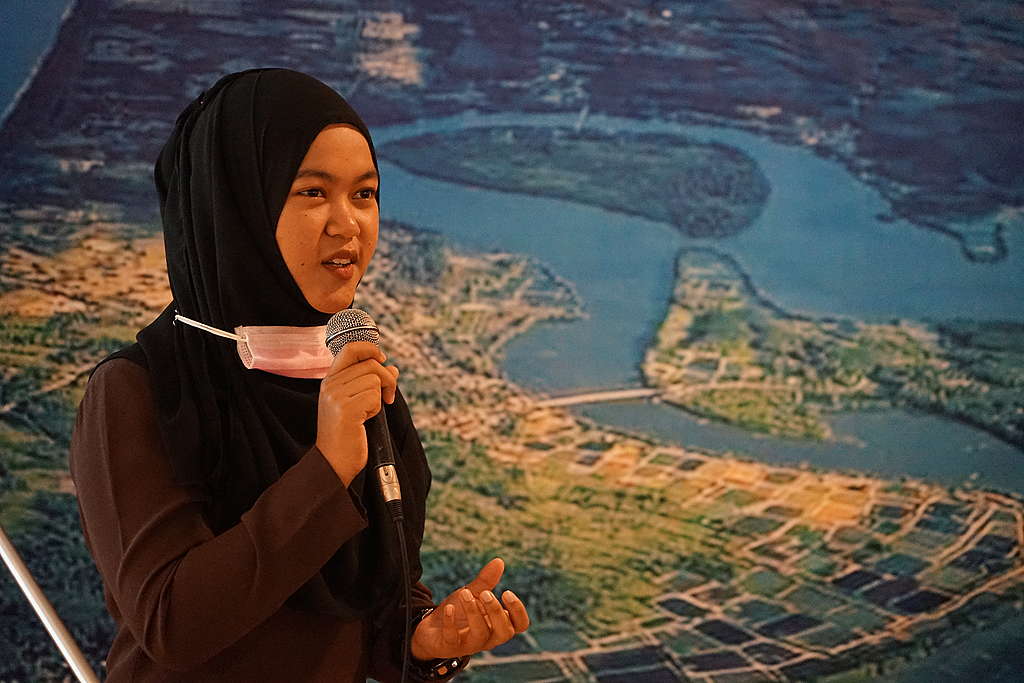 Khairiyah is just 18 years old, yet her life is different from ordinary high school students. Her rise to becoming a young human rights defender began in May 2020 when she submitted a letter to Thailand's Prime Minister, Prayut Chan-o-cha asking to call off a public hearings forum about the Chana development due to lack of participation of all stakeholders, and also as it would be held during the month of Ramadan and in the height of the COVID19 pandemic. Eager for an answer, Khairiyah and her mother stayed overnight in front of the city hall for 50 hours to hear from the authorities. Their persistence paid off and the forum was delayed for two months. Local media covered her story and she soon became known as the "Daughter of the Chana Sea".
In July 2020, Khairiyah traveled from Songkhla in southern Thailand to the Government House in Bangkok to deliver a letter addressed to the Prime Minister, asking him to annul his cabinet's resolution approved, in principle, of the massive industrial development in her hometown. The event gained mass media and social media attention and trended on Thai Twitter as #SAVECHANA.
At home, the sea means our lives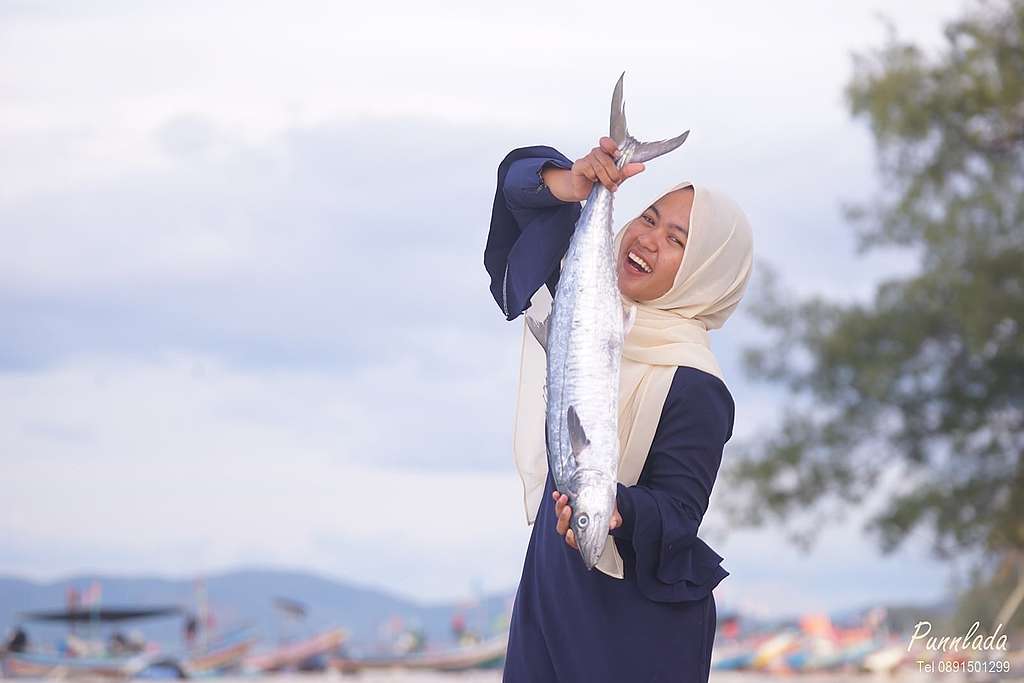 Just a 30 minute drive from Songkhla city, one of the major cities in southern Thailand, lies Chana district's Suan Kong Beach, a pristine area with green fields and trees providing shade for visitors to relax in the surrounding campsites. Look it up on Google maps and the name in Thai translates to "Suan Kong Beach, Paradise for Crab Lovers." Southeast from this point lies Suan Kong village, where Khairiyah was born and raised.
"It only takes 50 steps to walk from my house to the beach. When I was a kid, I had fun building sandcastles, searching for shells to make toys, and just play," Khairiyah recalls. "On a calm day, we can see dolphins swim around in front of my house. The fishermen see them almost every day so they don't think it's special. But visitors always like to take photos."
Almost all of the Suan Kong villagers, including Khairiyah's parents, are fisherfolk. Those who don't own fishing vessels catch fish by using traditional nets or by using flashlights around the coastal area to attract fish at night, then sell their catch at the local market the next day. Khairiyah usually helps her parents with fishing, taking crabs off the fishing net, and selling the seafood at the market.
"The ocean not only provides food to our communities, but also feeds people all over the region and different countries. Fishing vessels sell seafood to markets and restaurants, which later is transported to Bangkok and other provinces. If the catch is at the port in Songkhla, it will be exported to Malaysia, Singapore, Japan, and South Korea," said Khairiyah.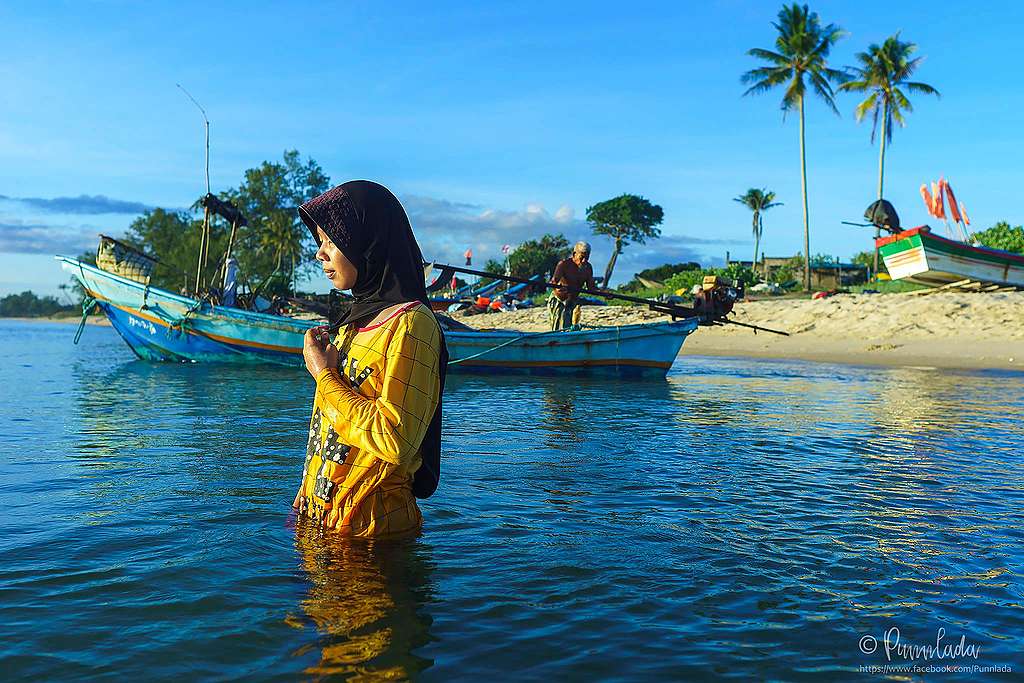 Undeniably, the long history of the Suan Kong and Chana people battling to protect their natural resources have played a part in shaping Khairiyah's attitude towards the environment. Since 1993, villagers have been restoring the ocean after being damaged by destructive fishing methods that depleted many fish and other marine species from the sea around Chana.
The villagers also successfully brought down an investor from a neighboring province who planned to invest in an unsustainable fish farm. When they learned about a deep-sea drilling expedition plan in Chana district, they knew right away that it would lead to a mega industrial zone project, and they quickly submitted a letter to the Prime Minister.
This sense of activism runs in the family – Khairiyah's father is the chairperson of the Thai Sea Watch Association at Chana district, a non-government organisation focused on conserving and restoring marine and coastal resources.
"I always follow my father to meetings. I'm full of curiosity. If there's interesting issues, I will ask my father on the way back home," says Khairiyah.
An unforgettable demonstration
At the end of 2017, Khairiyah participated in a demonstration against a coal-fired power plant project in a nearby district. Their aim was to submit a letter to the Prime Minister who was in Songkhla to join a mobile Cabinet meeting.
"While there were only 50 villagers, there were 500 police officers armed with shields and sticks. We came peacefully to submit the letter to the PM, but our villagers were sentenced, and my father was arrested. I saw 10 police officers gathering to stop my father. A woman tried to help him, but she couldn't fight against those strong officers. At that time, I was small and was hit. I tried to go on Facebook live to help save our villagers, but one of the police officers knocked my phone away," Khairiyah said.
The memory from that demonstration left many questions on her mind about justice and fairness. How could this happen? Afterall, she and other villagers marched peacefully and unarmed.
"When my father was released from the prison, I saw metal chains fastened to his arms with other villagers," Khairiyah painfully recalled. "It looked as if they were being sentenced for killing hundreds of people, but the truth was we just wanted to submit a letter to the PM. Besides, we were accused of assaulting police officers and blocking the roads. They said we were carrying concealed weapons in public. We marched with a green flag as a symbol to protect the environment and to protest against coal-fired power plants. That was the only weapon we had."
Our future belongs to us
The Save Chana movement has been closely monitored by government officials, and many people said that the villagers would gradually surrender. But not Khairiyah. She firmly believes there is still hope.
"I have been raised and surrounded by a healthy environment. I want to pass these fortunes to younger generations. This is what I always hold on to," said Khairiyah.
She also reflected that social media and Facebook Live have played a vital role in supporting her and the movement, especially people who live elsewhere to learn about their struggle. It is like a shield for the protesters – if they're threatened, they can immediately go on Facebook Live to reach out to the media and a broader audience. One of her inspirations has been Greta Thunberg, the environmental activist who is the same age as her. She's even written her a letter via the Embassy of Sweden, to share the problems that she encountered in her community, and gained attention from Swedish media.
"I follow news about Greta, and I admire her. She is at the same age as me, and we share the same interest in protecting the environment. I decided to write a letter to her to share my story as a friend with a similar belief."
Last year, Greta Thunberg condemned world leaders in an emotional speech at the UN Summit for their "betrayal" of young people through their inertia over the climate crisis: 'You have stolen my dreams, my childhood'. Khairiyah is also one of young people who has a dream. She wishes to travel worldwide and study psychology to help in developing her hometown.
However, she decided to voice out and let no one determine her own future and her hometown.
"What I have seen and learned from working with many young people, is that we all have a dream we want to achieve. But we have to leave those dreams behind to fight for something important at present. Otherwise, we won't have a future left to dream of."
Sirichai Leelertyuth is the Oceans Communications Officer at Greenpeace Southeast Asia, Thailand