It's a volatile time for Europe. War. Historically high gas, oil, and electricity prices. High inflation. Looming recession. Climate crisis. Soon, winter will arrive, leaving people at risk of a choice between being able to afford to heat their homes or cook their meals.
The first global energy crisis calls for an unprecedented level of intervention from national governments and the EU, the world's third biggest emitter of climate-wrecking pollution. Europe must reduce its consumption of gas, oil, and electricity fast. And it must be done in a way that ensures sustainability without exacerbating energy poverty. Households need fair reduction and fair redistribution to address the cost-of-living crisis. (HINT: Industry is the biggest user and must be made to save the most!).
And governments must stop the expansion of fossil fuel extraction and infrastructure to tackle the climate crisis that's affecting everyone and disproportionately harming the most vulnerable countries and communities worldwide.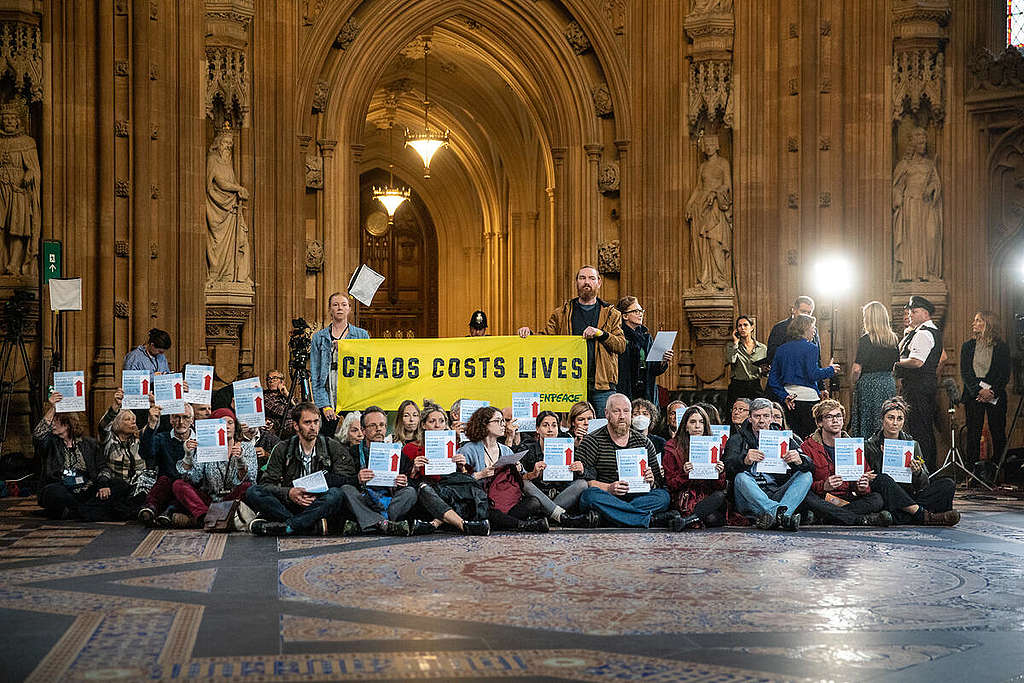 How decision makers handle this crisis will determine whether countries manage to meet commitments under the Paris climate agreement to keep global heating to 1.5°C, and therefore our future on this planet. The International Energy Agency warned of "the fragility and unsustainability of our current energy system" and asked "whether the crisis will be a setback for clean energy transitions or will catalyse faster action."
Europe's response must NOT be to promote new oil and gas extraction and export infrastructure at home or abroad. That won't help anyone anywhere to tackle energy exclusion or cost of living crisis.
Across the African continent a colonial approach of extraction and exploitation continues to plague communities, paralyse economies and push ecosystems to the edge. African activists are demanding better from their governments — to phase out fossil fuels and provide clean, safe decentralised renewable energy to the 600 million Africans dealing with energy poverty.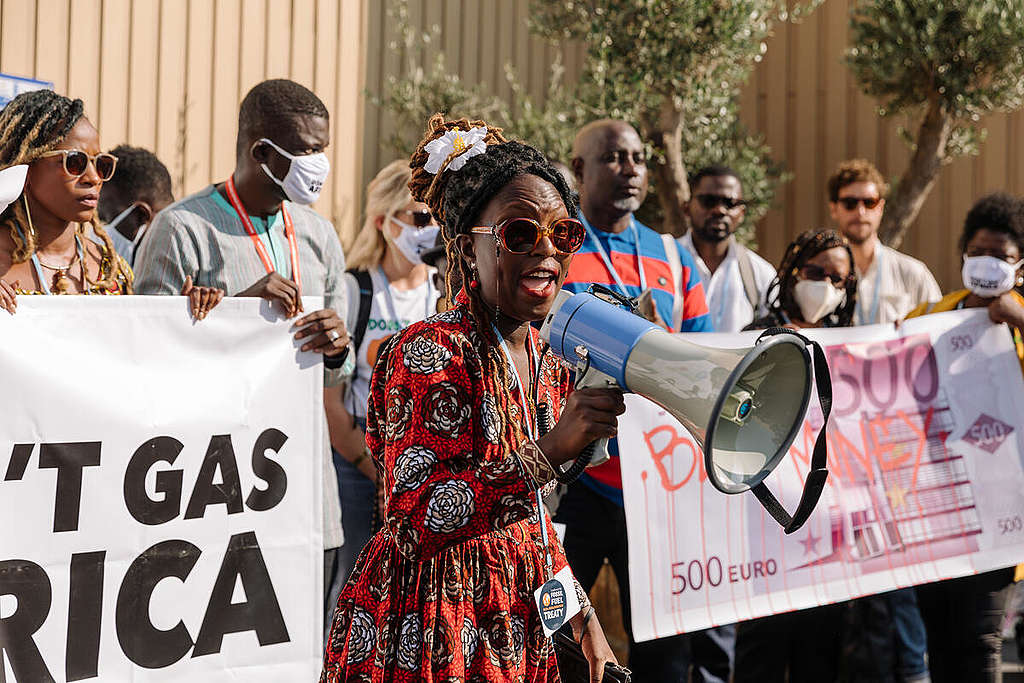 The long-term objective must be energy independence through 100 percent renewable energy for power, heating, industry, and transport. While this can't be achieved quickly there are many things Europe's governments can do fast to help get us there.
1. Save energy in buildings and industry
Adjust indoor temperature – less heating in the winter, cooling in the summer
Turn off ventilation and lights when not needed
Introduce occupancy detectors and energy saving LED lighting
Use less hot water
Shift to energy efficient equipment
Manage demand – distribute energy use over the day and night
Curtail operations of top industrial and non-essential energy users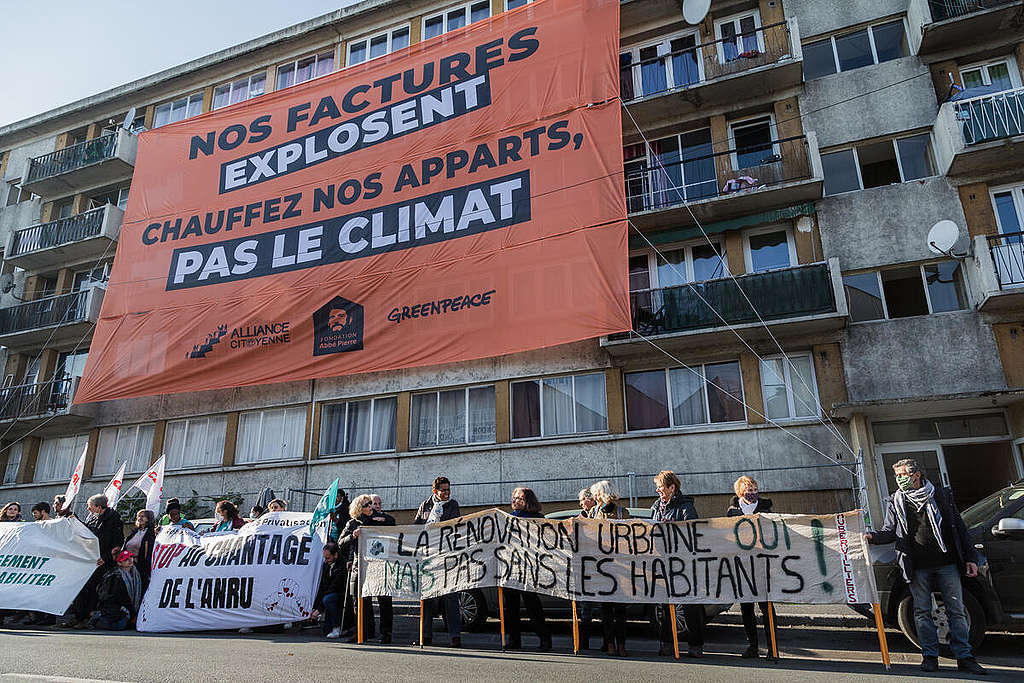 Everybody who can must contribute to reducing the use of gas, electricity, and oil but it is industry – the biggest users – who should be made to save the most. This can be achieved through rationing and mandatory measures that prohibit shifting from gas to oil or coal.
We know it's possible. For example, the Netherlands cut overall gas consumption by 25% in the first half of 2022 compared to 2021, more than 30%in energy intensive industries. The energy crisist requires governments to take extraordinary measures to ensure energy reductions across the board, especially from the biggest users, and shift the burden from individuals.
2. Save energy in transport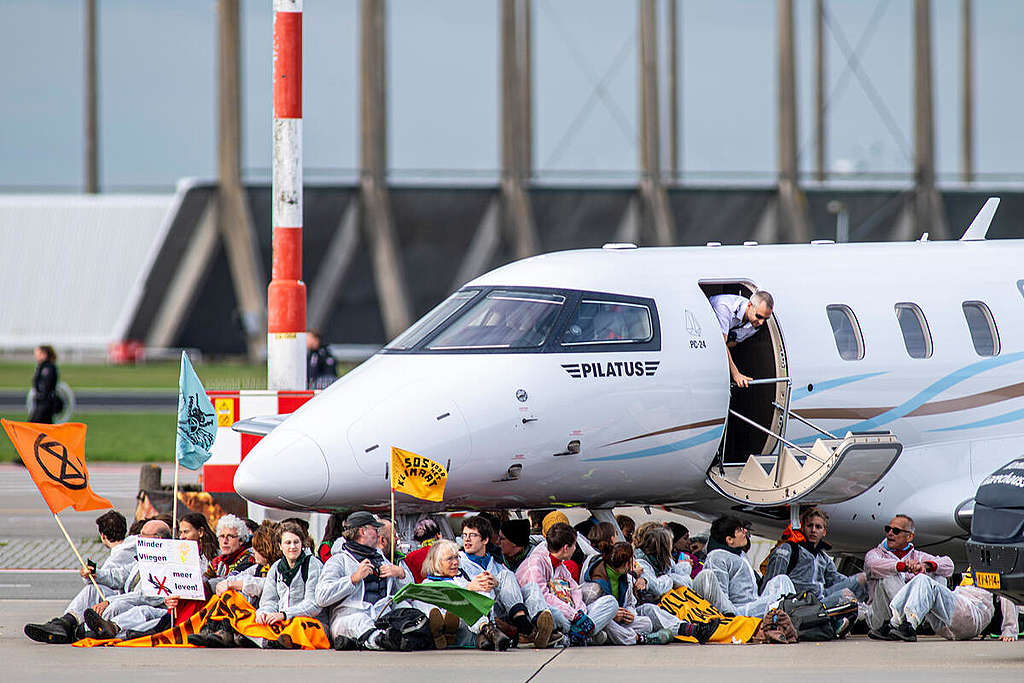 New Greenpeace calculations show that short-term reforms would cut oil demand in the EU´s transport sector by around 50 million tonnes of oil per year, and achieve annual energy savings of around 13%. The most effective measures to reduce energy consumption are affordable climate tickets for public transport across the EU, a reduction of flights, and efficient car usage.
Short-term reforms like more teleworking, affordable public transport, and lower speed limits could save EU consumers €63 billion on fuel.
These transport-related energy saving reforms would also lead to a reduction of greenhouse gas emissions by 180 million tonnes annually, equivalent to the emissions of 120 million fossil fuel-powered cars – almost half of the EU's total car fleet.
3. Help people heat their homes and produce electricity
Ban the sale of new gas boilers
Introduce support schemes for insulation and make home insulation mandatory
Introduce support schemes for heat pumps, solar heating and photovoltaics (PV)
Train more people to install insulation, heat pumps, solar heating and PV
Boost/support industries producing insulation material
People should not have to choose between heating or eating. More heat pumps could make a big difference. In the EU and UK, 2.2 million heat pumps were installed in 2021 which saved 1 billion cubic metres of gas starting from 2022. Most of them replaced gas heating, some oil or electric heating. The growth in 2021 was 34 percent. This is not enough. Doubling EU installation rates of heat pumps from the current trajectory would save 2 billion cubic metres of gas use within the first year. Europe must import and manufacture more heat pumps so they can be readily available.
Governments should do everything they can to speed up the just transition – delivery time for rooftop PV to convert light into electricity could be 4-6 months. To do this Europe will need more than 1 million solar workers in 2030 alone. There should be an end to spending on dead ends like fossil infrastructure and nuclear power, and instead more investment in green jobs and a sustainable future for all.
Stabilising energy systems and safeguarding our environment are not mutually exclusive; renewable energy is the answer to both the energy and climate crises.
4. Tax the polluters and stop funding war
Stop all subsidies that continue fossil fuels consumption
It's time to make the polluters pay, and cut off the money for Putin's war. Energy prices globally have been rising fast since 2021 and it's gotten worse since the start of the war in Ukraine. It doesn't look as if high gas and power prices will come to an end in the foreseeable future. And it's energy producers, like Shell, who are making huge profits from this instability via windfall profits.
Companies that produce or base their business on the use of fossil fuels (i.e. oil and gas majors, refineries and fossil based utilities) should have their windfall profits taxed to support households with lowest incomes and struggling small, and medium companies in exchange for energy efficiency measures.
Direct subsidies, fuel tax rebates, or lowering of taxes for fossil fuels must be avoided as they will not only serve those individuals, companies, and institutions who use the most energy, but also help to fund the war.
With a recession rolling across Europe, governments are introducing subsidies and public support schemes to counteract the increased cost of living. Measures include increasing minimum wage, sick-pay, unemployment benefits, rent subsidies, minimum pensions, supplementary benefits, and lower taxes for people with low incomes.
Public money could dwindle fast so the best way to address inequality is to tax the massive profits of the fossil fuel industry to help cover the public spending needed globally to support the most vulnerable and transition to renewable energy for all. People and the planet must come first, and it's the polluters that need to pay.
Check out the full policy brief on how to deal with Europe's energy crisis.
Marie Bout is a communications strategist with the Energy Crisis in Europe team, based in France.