At least 102 climate activists from seventeen countries representing Greenpeace, Stay Grounded, Extinction Rebellion, Scientist Rebellion and other climate justice groups are still being detained in Geneva, Switzerland 20 hours after a peaceful protest against Europe's largest annual private jet fair, the European Business Aviation Convention & Exhibition (EBACE) in Geneva.
"A unique, European coalition of courageous activists from 17 countries severely disrupted the excessive champagne party of a super-rich elite – Europe's largest private jet sales event. Their demand is unequivocal, private aviation should be consigned to the history books. We support the activists and demand their immediate release." – said Klara Maria Schenk, a transport expert for the European Mobility For All campaign.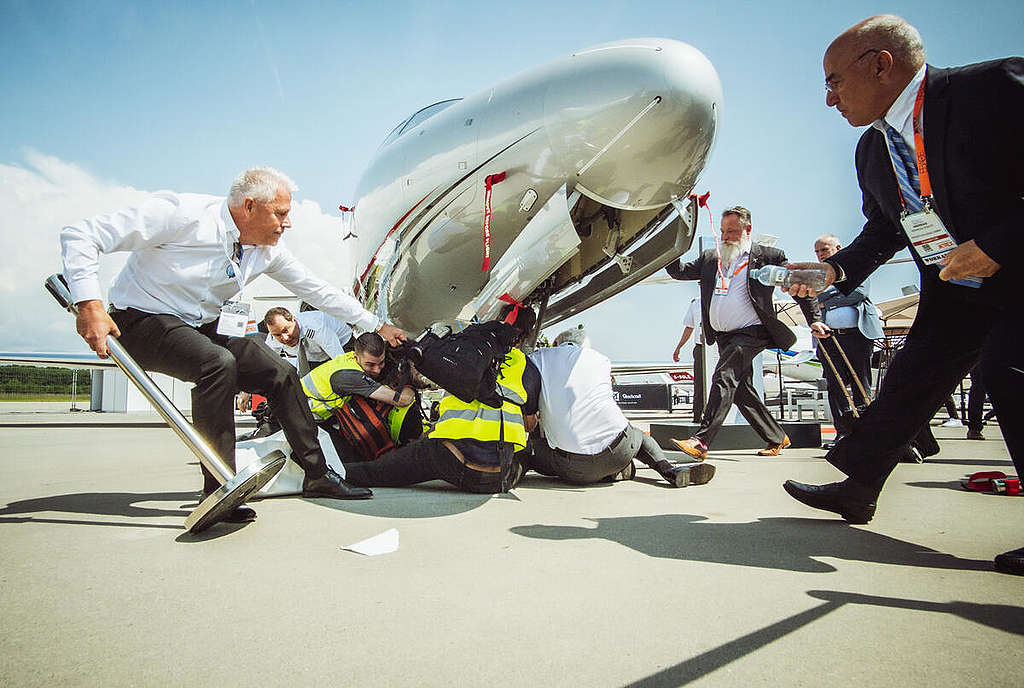 Activists peacefully occupied jets exhibited at the business event by the Geneva airport and chained themselves to aircraft gangways in order to keep prospective buyers from entering. The protestors held giant tobacco-style health warning label hand banners marking the jets as toxic objects and warning that 'Private Jets Burn Our Future', 'Kill Our Planet', and 'Fuel Inequality'. Public service announcements from loudspeakers carried by the activists exposed the devastating consequences of private jets for our planet and revealed the hypocrisy of promoting private jets amidst rising social inequality.
Contrary to several misleading media reports, the activists never entered the taxiways or runways of the airport. The activists make it clear that at no time they intended to disrupt commercial air traffic at Geneva Airport. A spokeswoman for air traffic control agency Skyguide confirmed protestors had not accessed the runway during the incident, according to Aviation International News.
Sales of private jets are expected to reach their highest ever level this year, placing an increasing burden on the planet. According to a recent report, the global fleet of private jets has more than doubled in the last two decades. The total value of private aircraft sold in the past decade is estimated by the industry to be approximately US$241 billion.
According to a study by Transport and Environment, private flights produce about 50 times the CO2 of a train per passenger kilometre and cause disproportionate amounts of micro-particle pollution and noise, which are harmful to our health, wellbeing, environment and climate. CO2 emissions from private jet traffic in Europe have reached record levels in recent years, according to a study commissioned by Greenpeace CEE.
While the rich resort to the world's most polluting mobility lifestyle to save a few hours, according to Boeing 80% of the world's population have never flown, but bear the brunt of the climate crisis. An Oxfam study indicates that 20 million people are displaced by extreme weather every year, forced to flee their homes and dying in droughts and floods caused and exacerbated by the climate crisis.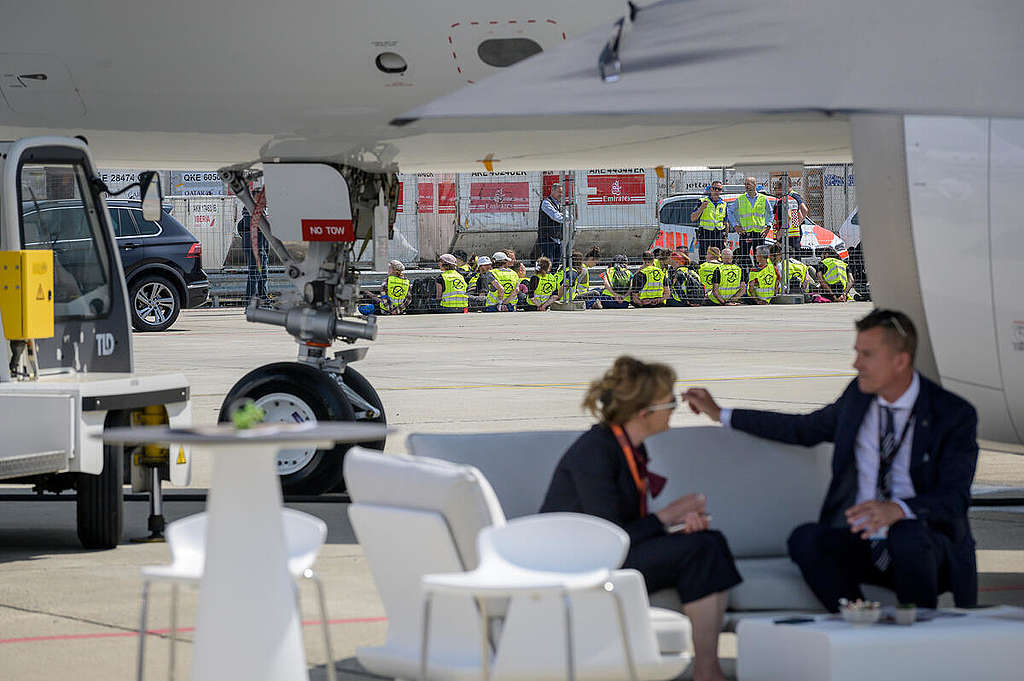 Private jets and other luxury emissions are largely excluded from key EU legislation tackling greenhouse gas emissions. This flies in the face of the fact that private jets are the most polluting, most energy-wasting and inequitable form of transport any individual can possibly choose.
The world needs governments to take a strong stand against private jets and not against peaceful climate activists!
Private jets are the epitome of social and climate injustice: a supremely privileged minority flying like there's no tomorrow without any restriction, while the 80% of the global population that has never even been on a plane is most heavily impacted by the climate crisis.
For taking a stand against that injustice 100 activists are still being held. Stand with them, and sign the petition to #BanPrivateJets today!
Klara Maria Schenk is a transport expert for the European Mobility For All campaign with Greenpeace Central and Eastern Europe based in Austria.