On February 27, 2022 Greenpeace India conducted a projection action on the Kempegowda tower at the busy Corporation Circle junction in Bengaluru. Lakhs of motorists pass by the busy junction on a daily basis, battling traffic and air pollution. One of the more polluted junctions in the city, Corporation Circle is also one of the first spots to get an air purifier as a trial project in 2019. The message through our projection is simple – Cycle is the Solution!
A cycle revolution in our cities is what will make our streets cleaner, safer and more accessible to all.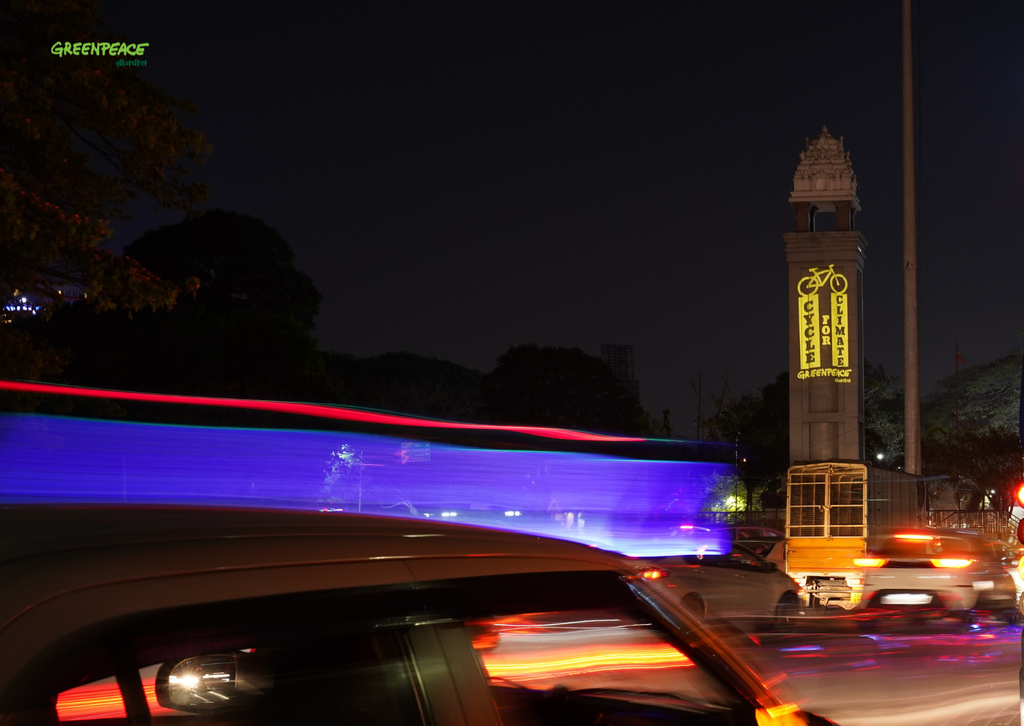 In 2019 Bengaluru had over 80lakh registered vehicles, the second highest in the country. Nearly 90% of these registered vehicles are private bikes and cars. Studies show that cars occupy nearly 76% of the road space in Bengaluru, and most of them are driven with a single occupant. This can largely be blamed on the city infrastructure that encourages private transport, pushing cycles and public transport to the margins.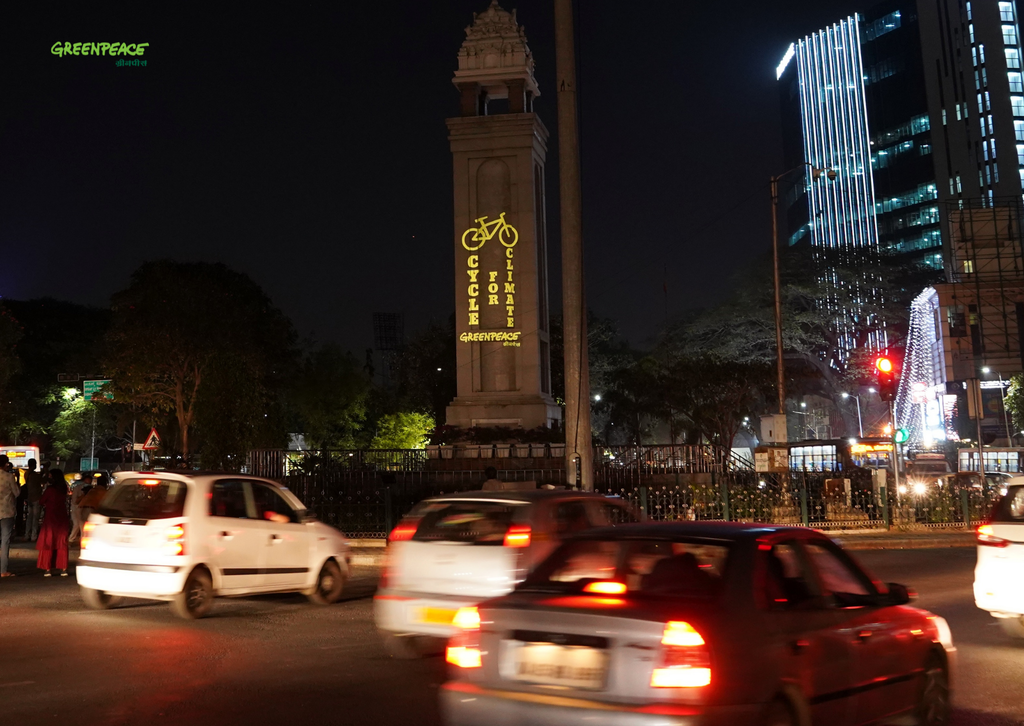 According to the 2011 Census, Karnataka's urban areas had 541876 commuters who used the cycle for work-related travel. This is a substantial number and proves that the lack of infrastructure support over the years is greatly unjustified. This projection image is also a celebration of the cyclist community of India's urban spaces who have been silently fighting air pollution.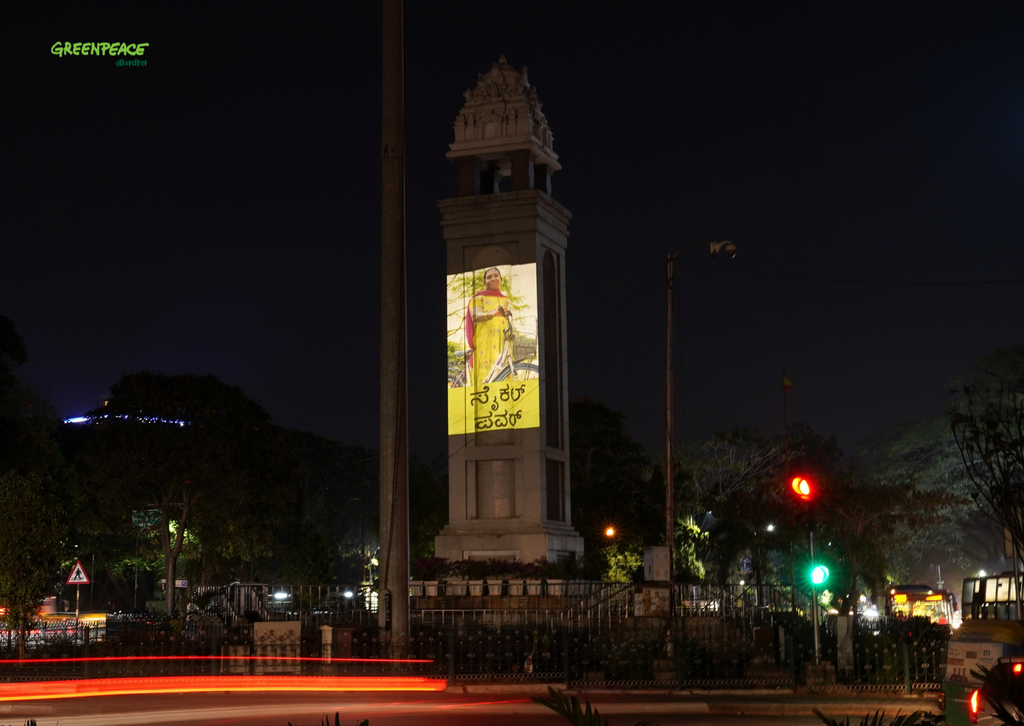 As part of our Power The Pedal campaign, Greenpeace India is delivering the first 500 bicycles to low-wage women labourers in Bengaluru and Delhi. We aim to eventually create a community of 5000 women cyclists. Over the past year, we have worked with the communities in Delhi and Bengaluru who helped us test and design the bicycles to suit their needs.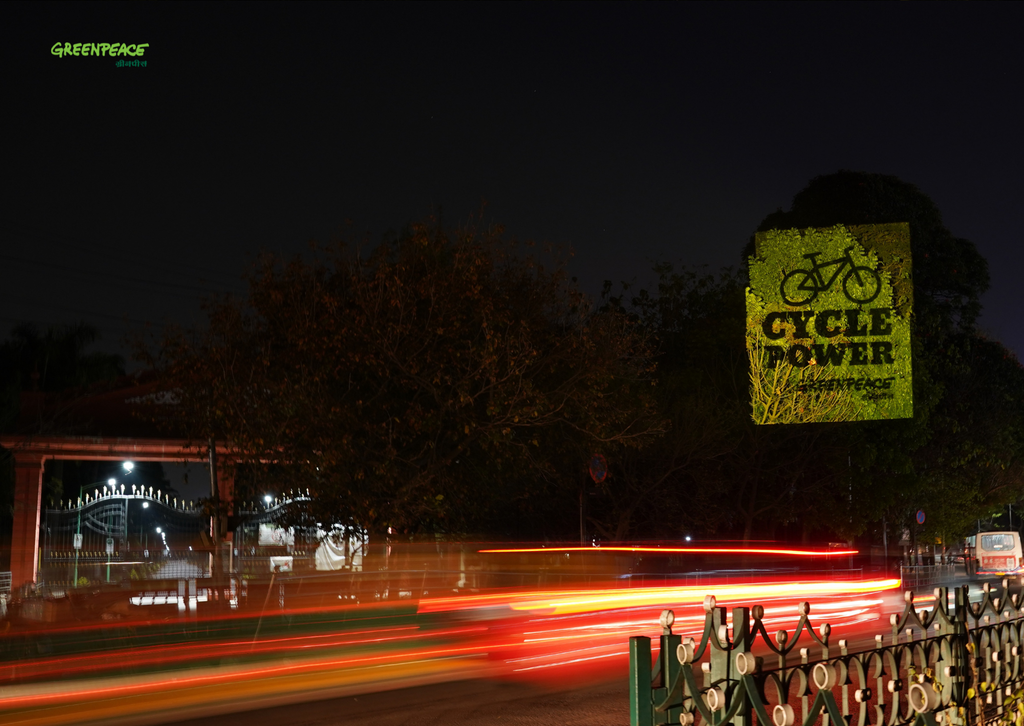 The bicycles are the only geared bicycles in the country which have been designed to suit the attire and needs of the communities. At the end of the first phase, Power the Pedal would have worked on building a community of 500 trained, proud women cyclists who are determined to reclaim urban spaces that have been systemically denied to them.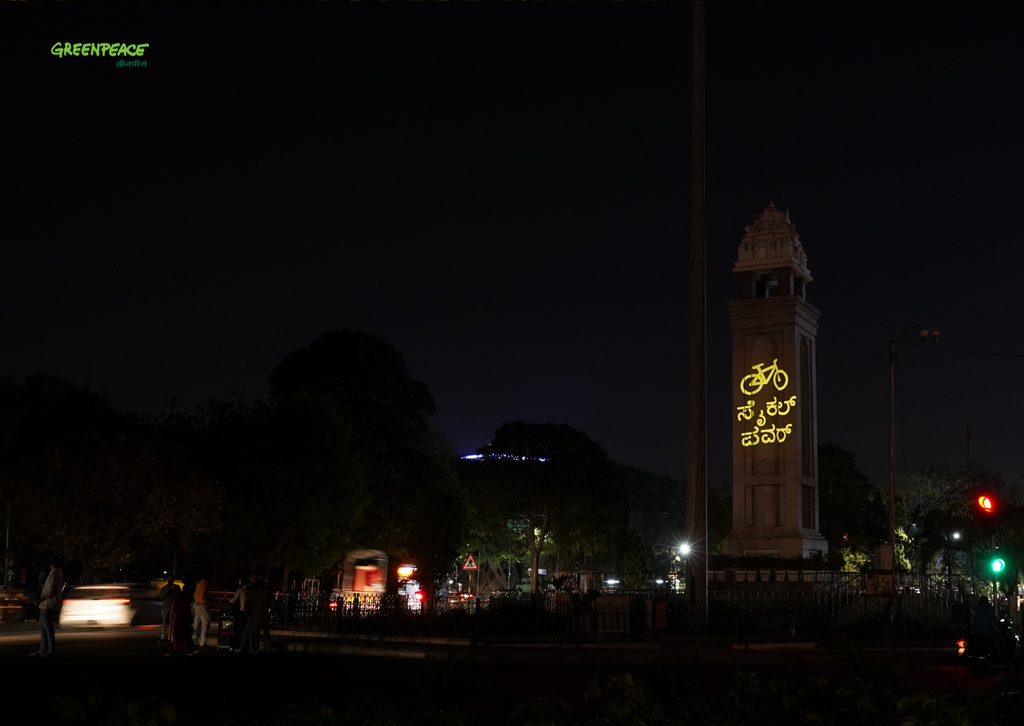 The Kempegowda Tower at Corporation Circle, is a symbol that honours Kempegowda, the founder of Bengaluru. The 60ft structure was built in 2004 as part of the Kempegowda Day celebrations and has since been replicated in many parts of the city. The watchtower at the top of the structure is a replica of the four watchtowers said to have been erected by Kempegowda's son in the 16th century to mark the boundary of Bengaluru. The founder is considered by many as a visionary urban planner who built multiple markets to support artisans and local traders and not to mention the hundreds of man-made lakes and tanks that continue to keep Bengaluru cool.
Such is the long-term vision we need today to rethink our car-centric city infrastructure.

Be a part of this journey. #PowerThePedal