Beat Plastic Pollution was the theme the world collectively celebrated this Environment Day 2018. As Greenpeace India volunteers, we wanted to do something big to commemorate the day. It has been a known fact that plastic is a prime catalyst for air and water pollution, and it indirectly degrades the living condition of masses. We focussed on one of the most polluted rivers in India, Yamuna. River pollution in Yamuna is a crisis so bad it affects more than 58 million lives every day.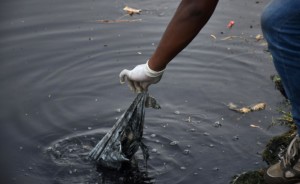 Through multiple field trips to Yamuna banks to check the current condition we were appalled to find the situation being worse than we thought. Years of littering had made the place look like a dumpyard, with plastic bags, cups and spoons could be seen everywhere. We knew that something had to be done, it was time for a change. We planned a cleaning event addressing the over-consumption of single-use plastic with the motto 'If you can't reuse it, then refuse it'. All the volunteers in Delhi were invited to the clean-up drive and they added more force into the event which happened on June 5th 2018 by joining hands.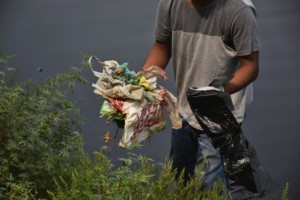 We started the day by giving an orientation to all the people who came for the event about "single-use plastic" and how it plays a major part in polluting the environment. Post orientation, we got down to the job! It took us good three hours to clean the place and remove all the garbage that had been lying and wilting there for so long. Some of the volunteers cleaned the river banks, while the rest decided to clean the river water. Nearly 50 kilograms of plastic waste was collected by us! After spending hours cleaning the banks of Yamuna, we left behind a clean Yamuna bank and took with us pride that we made a noticeable difference. Later on we were honoured by the presence of Mr. R.K Agarwal, Inspector of Delhi municipal corporation and were assisted by Mr. Girish (retd) officer from the Ministry of Horticulture. Alternatives to single-use plastic products were discussed and shared by the green warriors – as we like to call ourselves!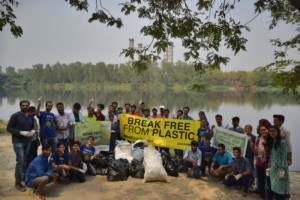 Meanwhile, a petition was launched against the usage of single-use plastic on the Greenpeace Extra platform as a follow-up initiative to stop plastic pollution. The petition also became a forum for people to discuss their thoughts about single-use plastic. One of petition supporter wrote, "Before the advent of polythene bags, people were buying things and eatables from the market. How did they do it then? Reusable bag material is based on its usage – Cloth bags for lighter items, jute bags for heavier goods. These bags are washable and reusable lasting for six months to one year. It's time to bring back those days."
The event successfully concluded when everyone went home with a smile on their faces and joy in their heart. This may seem like a small step towards fighting plastic pollution, but as Lao Tzu once said: "the journey of a thousand miles begins with one step" and with this, we at Greenpeace look forward to making India the cleanest nation by putting our time, energy and efforts in issues that truly matter the world at large. Greenpeace would like to thank all the green warriors who joined us in our cause to #breakfreefromplastic and made the event possible. It was inspiring to see so many determined young people standing up for a cause that affects the environment, and making world a better place for humanity to live and thrive.
Snehdeep Chatterjee volunteered at the Greenpeace event at Delhi