Your voices are vital
Greenpeace International and Greenpeace Canada were especially proud to stand with the Indigenous community of Clyde River in the Canadian Arctic, supporting them as they won their Supreme Court fight to prevent seismic blasting in the waters that are their home and livelihood. One of our fundamental principles is that we take responsibility for our actions and we hold others accountable for theirs. Sometimes that means turning to the courts; in 2017 the law played a big part in our work.
Your actions make a difference
"Never doubt that a small group of thoughtful, committed citizens can change the world; indeed, it's the only thing that ever has." Margaret Mead
You are those committed citizens and we are inspired by you! People power is an unstoppable force and we are proud to have you as partners in our work.
We are amazed by the 1.5million of you who joined a coalition of Greenpeace Brazil and other organisations to stop the government from opening up an area of the Amazon the size of Denmark to commercial mining. We are awed that the fastest European Union petition to reach a million signatures was driven by your determination to support Greenpeace EU stop the long-term use of cancer-causing, bee-killing glyphosate pesticides.
We love that your dedication to stop one of the world's worst fishing companies from emptying our oceans finally paid off in 2017 with the commitment from Thai Union to more sustainable fishing. Your support for the ship expedition mounted by Greenpeace Brazil and International and the fantastic scientific data from Greenpeace submarine dives on the Amazon Reef literally discovered a new underwater world. You stood up for people, animals and lands that house a quarter of the world's trees in the Great Northern Forest and you danced with Greenpeace Africa for the forests in Congo. With us, you led a people's food movement.
Year in pictures
We are witness to the end of an era
We make no secret that we want an end to the fossil fuel age in favour of a world powered by clean, safe renewable energy. There was a time when coal and oil were drivers of progress – but now they are holding back humanity. They were and are also drivers of global climate change. We, like you, believe they should be history and we embrace the new energy revolution is already underway.
Greenpeace International's role in strengthening and supporting powerful campaigns to end the era of coal and oil was instrumental around the world in 2017. The campaigns prompted tens of thousands of people to take to the streets with 200 different groups mounting 170 protests in 60 countries to demand governments, corporations and financiers #breakfree from fossils fuels. And they are. More than 24 countries, cities and states have committed to phase out coal by 2030. Around the world, financial institutions are beginning the move away from oil.
The World Bank announced that it will no longer finance upstream oil and gas projects after 2019, HSBC confirmed that it will no longer finance new tar sands projects including tar sands pipeline construction, and BNP Paribas announced that it would neither  finance new shale or tar sands projects, nor work with companies mainly focused on those resources. It also ruled out involvement in oil and gas exploration and production in the Arctic. In the UK, Norway, France and the Netherlands, investors are moving away from oil companies that damage the local environment, trash the climate, and trample human rights.
We are still seeing shocking levels of air pollution across the globe, but you are responding to demand clean air.  In Asia, the key region for the coal industry, our campaigning on the killer impacts of coal drove air pollution up the political agenda and resulted in significant victories.  In South Korea, the new president committed to phasing out all coal and nuclear, in a major change in energy policy.  In India, campaigning on air pollution supported by over 100,000 Indians, led to the introduction of a draft national clean air programme.   In Indonesia, we exposed the dangerous air pollution levels in Jakarta, putting pressure on the government to revise its weak regulations on air quality.
Together we can shift mindsets
Tales from the Sails
In 2017, around 85,000 people visited Greenpeace ships in nearly 100 port visits from Greenland to India, the Amazon to East Asia.
Our ships sailed more than 70,000 nautical miles – nearly 3.5 times around the circumference of Earth. They took action to demand climate justice, protection of our oceans and forests and healthier food for the people and planet.
Join our ships on land and sea. Follow the Rainbow Warrior, Arctic Sunrise and Esperanza on Facebook, or apply to join as crew.
Who we are
Greenpeace is an independent campaigning network, which uses non-violent, creative confrontation to expose global environmental problems, and to force the solutions that are essential to a green and peaceful future.
Greenpeace's goal is to ensure the ability of the earth to nurture life in all its diversity. We believe in equality and respect in the workplace and strive to create an inclusive working environment where everyone has the opportunity to grow and thrive.
Greenpeace International Role
Greenpeace International has a coordinating and enabling role within the global Greenpeace network of independent national and regional Greenpeace organisations in 26 countries. The Greenpeace International campaign teams provide high-level strategic direction for national and regional organisations' campaigns, as well as managing the operations of Greenpeace ships and the Greenpeace International Laboratories, based at Exeter University in the UK. "Our Work" therefore is the result of the efforts of teams within Greenpeace International and national organisations.
Like any organisation, we are only as strong as our people, so we invested time and energy in creating policies and systems to ensure we are an open, diverse, tolerant and inclusive organisation.
Your financial support helped us achieve a great deal in 2017, and it also enables us to plan into the future.  An important part of our work last year was coordinating the development of longer term campaign strategies for a better planet and generating new ideas that will help us realise the world we want to see in the coming years. We look forward to you reading about the results of some of those plans in next year's report!
Our community
You are part of 72 million people who chose to be a part of the work of Greenpeace globally in 2017 – in country populations that puts us in the top 20 in the world!  You donated, followed, liked, tweeted, took action and volunteered. More than three million of you supported us financially and more than 80% of your donations are long term, enabling us to plan further for the future we want for us all.
We could not do our work without you and we could not do it without our dedicated staff at Greenpeace International and our offices around the world. We are committed to ensuring we have a diverse, inclusive, safe and inspiring workplace. We continue to listen and learn from our staff as we strive to provide the best working environment we can offer.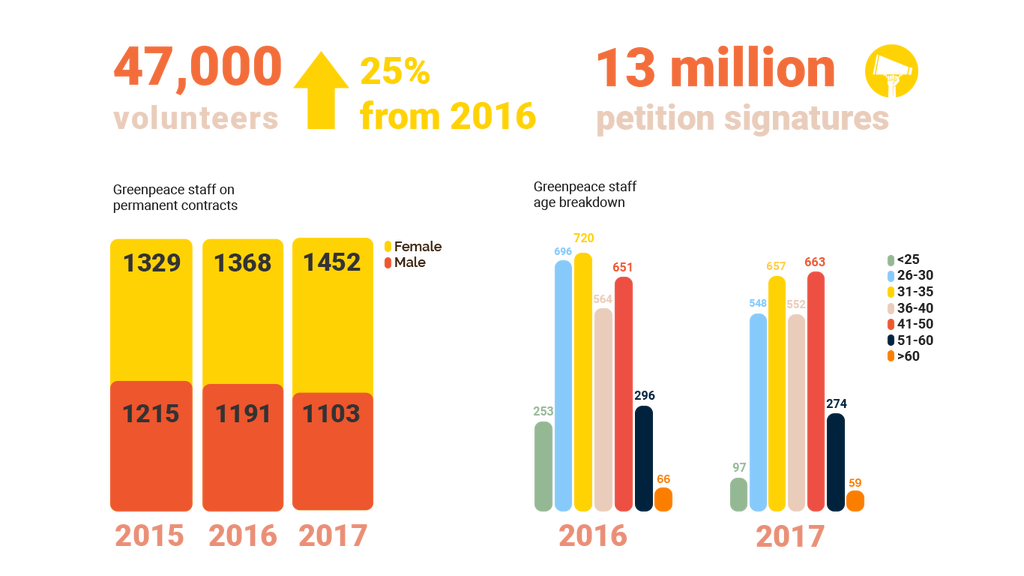 As part of our commitment to the INGO Accountability charter, we report on key human resource statistics. These numbers are unaudited and reflect staff across Greenpeace International and National and Regional Greenpeace Organisations. Greenpeace Netherlands figures reflect numbers reported in 2016.
Financial Statements
Thank you for making it possible….
… because it is the monthly donations from millions of people around the world, and the few grants from like-minded foundations, that make our work possible. We do not take money from government, corporations, political parties or intergovernmental agencies, so we can remain proudly independent.
This version of the 2017 GPI Annual Report does not include the Annual Financial Statements 2017. The Draft Annual Financial Statements 2017 are published here. The adopted Financial Statements will be added to the 2017 Annual Report as soon as possible after which the full Report will be published. The draft Financial Statements will then be removed. Thank you for your patience.
Download the 2017 Annual Report
Download the 2017 Independent Auditors' opinion
Our environmental footprint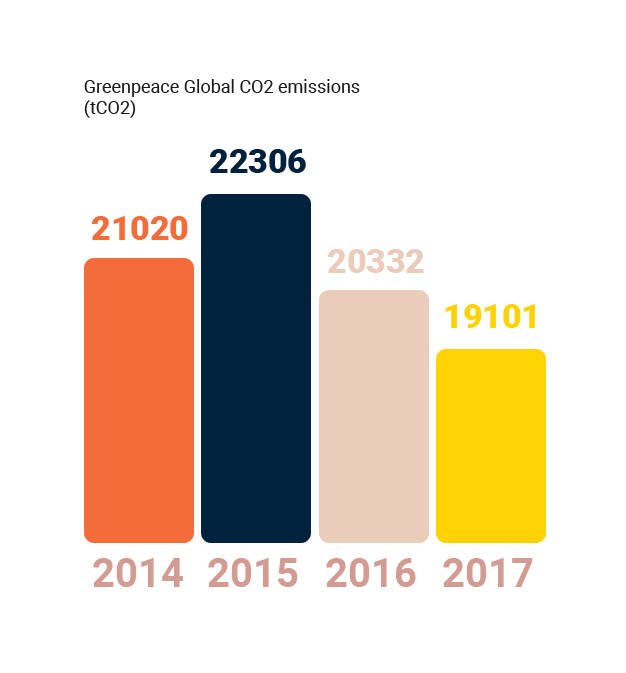 At Greenpeace we strive to step lightly on our world and minimise our environmental footprint. Our global greenhouse gas emissions slightly decreased from 2016 to 2017. We are constantly improving the way we calculate and report our emissions, to be as accurate as possible.
These numbers are unaudited and reflect global emissions figures across Greenpeace International and National and Regional Greenpeace Organisations. Greenpeace Netherlands figures reflect numbers reported in 2016.
Greenpeace, Greenpeace International and the Greenpeace network
For convenience and reading ease, in this annual report 'Greenpeace' is also used to identify Greenpeace International and/or one or more Greenpeace national and regional organisations. Further information about national and regional Greenpeace organisations is available online and/or via pressdesk.int@greenpeace.org.
The words 'we', 'us' and 'our' in this report may refer to Greenpeace International, and/or national and regional offices, and supporters. 'You' may refer to the reader of this report, and to existing and potential Greenpeace supporters across the world.
Past Reports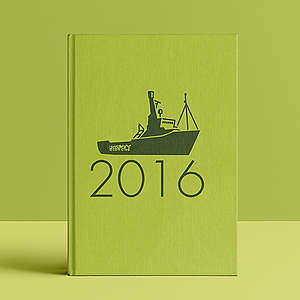 Annual report 2016
June 2017
Our planet and people are more interconnected than any world-wide-web we could create. What impacts one part, affects another and environmental protection is inextricably linked with social justice.