I spent most of my school years in Beijing, the capital city of China. Luckily, green spaces in the city were not completely cleaned up in my neighborhood. Being a curious and reckless girl, I liked to observe living creatures around me. Big or tiny, ugly or cute, I found it attractive to remember their looks and how they might interact with each other. I still remember the early mornings at the beginning of summer, when I and my friends went out looking for "cicada monkeys". Cicada nymphs. Kids in Beijing, name them for their brown color and the posture they have when they cling to tree trunks. We would hold a flashlight, stand there for hours and watch them molting. What a miracle it was! I also heedlessly earned a bit of attention in the neighborhood for chasing my two white hens to some Chinese scholar trees in the public green space, so they could feast on measuring worms.
It was a sunny afternoon when my class was called to our shabby playground. There I saw a foreign lady smiling in front of us, and she told us a story about her and some chimpanzees. It's hard to say whether a foreign lady speaking a different language or a chimpanzee was more alien to me at that time. But I quickly grasped the information: observing and conserving nature can be a job for a living. A seed was planted in my heart. I listed "environmentalist" in the third place of my future job ranking, behind "scientist" (like all Chinese kids) and "animal keeper".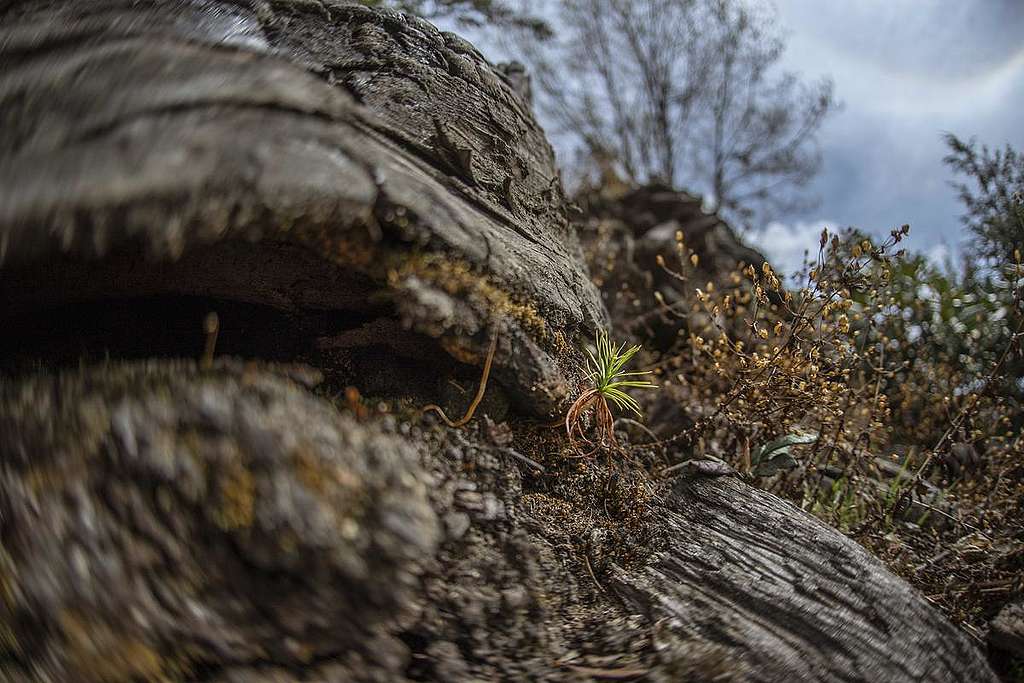 Time flies. By the end of 2017, while waiting for the submission of my dissertation about rural Chinese regions' resilience against flood disasters, I checked for an internship just to keep me occupied. I immediately thought of environmental protection organizations. What was surprising to me was that I found Greenpeace had already launched a campaign in China to reveal climate change impacts back in 2007, when the IPCC AR4 report was released. The IPCC report was groundbreaking as it systematically enumerated climate change impacts. Yet in 2017 China – ten years after this report – mainstream social media opinions about climate change were full of conspiracy theories and misinformation. For instance, quite a few online articles argued that climate change was merely a made-up issue to restrict development.
After some more research, I felt the urge to explore further two issues with Greenpeace. Firstly, climate change was not known by the general public, though it will have impacts on their lives. The public's understanding of climate change urgently needs to be improved. Perception sets the foundation for climate action. Secondly, Greenpeace was way ahead in advocating for environmental protection. Growing up as a curious kid, I'd always liked to touch the edges of new issues, not only in the academic field but also in action. An internship with an environmental organization like Greenpeace was an ideal place to kickstart my career.
It just naturally happened that the internship soon turned out to be formal employment after my graduation. I became a researcher in Greenpeace's Beijing Office, mainly supporting the climate change campaign team. My skills in using GIS and analyzing satellite imagery were needed in the project, which also made me feel helpful as a new member. The team was composed of 7-8 core members, handling diverse work like project management, scientific research, press releases, and multimedia production, which was quite different compared to my previous working experiences.
Together with the campaign team, I witnessed the rapid shrinkage of glaciers in the Tibetan Plateau. As one of the indicators of irreversible, abrupt, and dangerous climate change impacts, the loss of mountain glaciers in the Tibetan Plateau has already been reaching its tipping point since 2008. Two branches of Tianshan No.1 Glacier used to touch each other like hands shaking, but now they had retreated far away from each other. Most probably, in my lifetime, they will never touch again.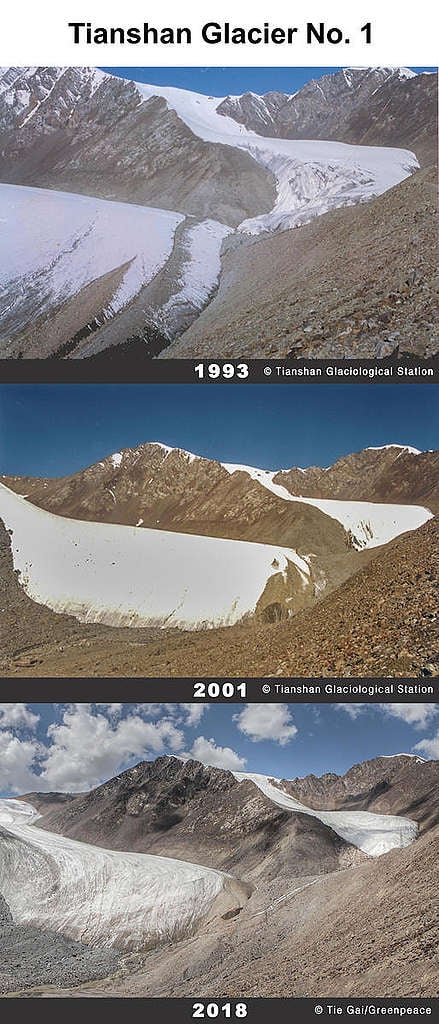 Climate change has long been connected to tedious scientific speeches and incomprehensible data. But climate change impacts are becoming more evident, and in recent years, we are seeing many more of them. For a nature observer, witnessing these drastic changes makes it impossible for me to look away and do nothing about it. I wasn't able to protect more green spaces in the city I lived in when I was young. Now there is an even greater threat to the planet's health induced by climate change. This time I will not be a bystander.
The majority (56%) of the world's population lives in urban areas like I always have. The convenience of city life and advanced technology make it easy to forget how human beings rely on nature. And while we greedily grab resources from nature, we are leaving scratches and burns everywhere on this planet, our only home. The closest planet that can be potentially habitable for humans is 4.2 lightyears away. The Earth cannot speak a language, but it keeps expressing its feelings about human activities in various ways. Significant changes in land cover are taking place. Deforestation, urbanization, the drainage of lakes, and the shrinkage of ice caps. Ecosystems are degrading at a dangerously fast speed. Habitat loss caused by human activities and environmental changes also affects ecosystem stability in many regions. More than one-third of the Amazon rainforest may have been degraded, turning the world's carbon sink into a carbon emitter. The signs are there for us to see, listen to, and act on if we care about nature and the survival of humankind.
With my deep love for nature, I picked up the ability and knowledge here and there to be a practitioner. At work, many times environmentalists and climate change activists, and even myself, feel desperate. It seems that with our top effort, we can only engage a limited number of people, and an even smaller proportion of them could actually make behavioral changes. But then I recall my memory about Jane Goodall. She came to a country in which kids did not even understand her language. She spread the seed of love and care for nature.
The seeds do sprout.
Zhao Li is a researcher at Greenpeace East Asia.