Brussels – The trade deal that could be agreed this weekend between the EU and Mercosur countries is a disaster for the environment on both sides of the Atlantic, said Greenpeace. [1]
The future of the deal hangs in the balance as French president Emmanuel Macron has said he will not sign it if president Jair Bolsanaro pulls Brazil out of the Paris climate agreement.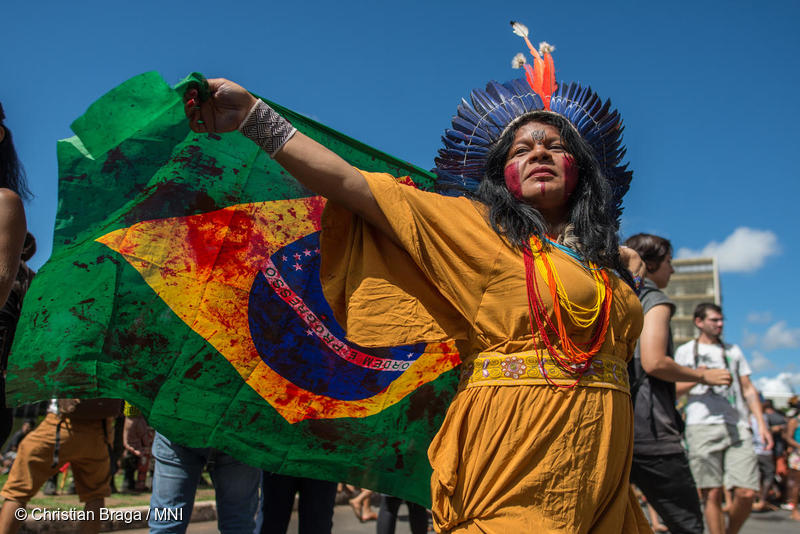 Greenpeace trade expert Naomi Ages said: "Trading more cars for cows is never acceptable when it leads to the destruction of the Amazon, attacks on Indigenous Peoples, and escalating hostility towards civil society. The deal would also increase greenhouse gas emissions and undermine farmers' livelihoods on both sides of the Atlantic. The EU must stop making trade deals that benefit big corporations greedy for export opportunities, turning a blind eye to the social and environmental damage they cause. The EU has a responsibility to address these injustices, not pave the way for them in return for short-term corporate profit."
Under president Jair Bolsanaro's regime, Brazil has seen a spike in human rights violations, including attacks on minorities, Indigenous Peoples, LGBTQ+ people and other vulnerable communities. At the same time, the government has weakened protections for Brazil's most sensitive and important ecological regions, including the Amazon, and has continued to assault them. President Bolsonaro has also threatened to withdraw Brazil from the Paris Agreement.
The EU and Mercosur countries want to maximise access to each other's markets and to increase exports. The European Union's focus is on gaining market access for cars, car parts, energy companies, beverages, and financial services, among others. The EU wants export taxes to be eliminated and it wants access for European companies to bid on procurement contracts at local level, including for contracts with big municipalities or federal states.
In return, the EU is offering Mercosur countries more market access for beef, poultry meat, sugar, and ethanol for biofuels, among other products. Cattle is the biggest driver of deforestation in the Amazon, with 63% of deforested areas occupied by animal pastures. Almost eight thousand square kilometers of the Brazilian Amazon was destroyed in 2018.

The final stage of the negotiations led to a row between countries with a large agricultural sector (led by France, and including Ireland, Poland and Belgium) and more export-oriented countries, like Germany, Spain, Portugal, the Netherlands, Sweden, the Czech Republic and Latvia. The group led by France says European agriculture is threatened by additional imports of agricultural products with lower standards, while the group led by Germany wants the trade agreement completed to open up export opportunities for their car and car parts industries.
Next steps
The trade deal could be wrapped up at the G20 meeting taking place in Osaka on 28-29 June, which will be attended by the presidents of Brazil, Argentina and the EU Commission, who negotiates trade deals on behalf of EU governments. Once there is an agreement, European governments, the European Parliament and national parliaments still have to approve the deal.
Notes:
[1] The Common Market of the South (Mercosur) was founded in 1991 by Argentina, Brazil, Paraguay and Uruguay. Venezuela adhered to the constitutive treaty in 2006, and formally joined Mercosur in 2012. Venezuela's membership was indefinitely suspended on 5 August 2017. Bolivia signed a protocol of accession in 2012, which all Mercosur countries signed in 2015, but still needs the ratification of parliaments.
Contacts:
Naomi Ages, Greenpeace trade expert: [email protected]
Greenpeace EU press desk: +32 (0)2 274 1911, [email protected]
For breaking news and comment on EU affairs: www.twitter.com/GreenpeaceEU 
Greenpeace is an independent global campaigning organisation that acts to change attitudes and behaviour, to protect and conserve the environment and to promote peace. Greenpeace does not accept donations from governments, the EU, businesses or political parties.