A return to growth will lead to disaster, Greenpeace
As the European Commission and many European governments decide on recovery plans worth trillions of euro, Greenpeace warned that 'green growth' – as touted by Commission President Ursula von der Leyen – could in fact prolong a system that exploits people and destroys the environment.
As the European Environment Agency said in its latest report on the state of the environment: "Europe will not achieve its sustainability vision of 'living well within the limits of the planet' by continuing to promote economic growth and seeking to manage the environmental and social impacts."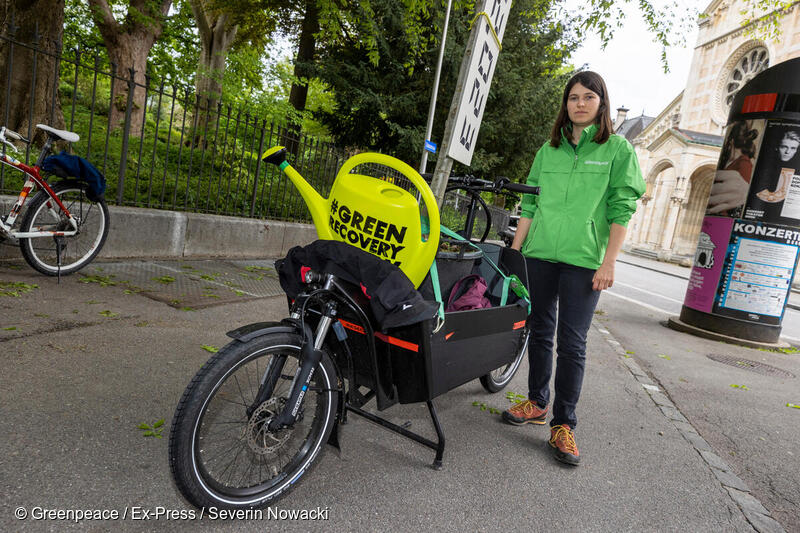 Accordingly, governments need to boost structural changes in the economy, not restore the old system. Europe's recovery plans must not remain tied to crude GDP growth targets, but promote social and environmental welfare. While von der Leyen and other political leaders talk up their green credentials, they continue to pin their hopes – and taxpayers' money – on a broken economic system, which is heating the planet and threatening its ability to sustain life.
"Von der Leyen and many governments are fixated on an outdated growth model – calling it 'green growth' is only
a smokescreen. Most people understand that to live well and within the limits of our planet, some sectors of the economy must grow, while others must shrink or disappear altogether.
But the post-coronavirus economy cannot be a decarbonised version of the pre-coronavirus economy – we must build back better. Rather than handing out money indiscriminately – including to polluting industries – von der Leyen should focus on social and environmental welfare, economic transformation, and investments in sectors with future-proof employment."
Jorgo Riss, Greenpeace EU director
Here are three tests to help measure whether economic recovery plans live up to the rhetoric, or whether they entrench the current fossil-fuel and waste-intensive economic system, hidden under a thin green veneer:
1. Is it future-proof?
No bailouts for gas, oil and coal industries
No bailouts for airlines, carmakers, or other polluters, without strict environmental and social conditions
Align all measures with a 65% cut in EU emissions by 2030
End all subsidies to fossil fuels
Shift public funding away from polluting activities (e.g. factory farming) to solutions that give work to more people (e.g. decentralised renewable energy), reduce Europe's global climate and environmental footprint, and help nature to recover
Tackle overconsumption, waste and pollution, and reduce pesticides, meat, dairy and single use products
While important in themselves, developing 'green' sectors of the economy and restoring nature will not unlock a green and fair recovery if governments and corporations at the same time continue to sustain environmentally destructive and socially exploitative industries. Every euro spent on outdated industries slows down the transformation of our economy and gives vested interests more excuses to delay.
As a recent global survey of fiscal recovery policies by leading economists shows, non-conditional airline bailouts have particularly low economic benefits and particularly high negative climate impacts. Bailouts for airlines must therefore come with strings attached that benefit workers and slash the sector's soaring contribution to climate breakdown. Tax exemptions but also short-haul flights must end immediately, while major investments support a large-scale shift to clean transport alternatives, like trains, and an overall reduction in transport needs.
With air pollution already a major global killer, the response to the impact of coronavirus must not feed another health emergency. The EU should prioritise access to clean mobility for all, not spend public money to help carmakers sell slightly less polluting cars. Governments and the EU must make it easier for people to transition from private cars to cleaner alternatives like bikes, trains, public transport or shared-mobility services powered by renewable energies.
To emerge stronger from this crisis and to respond better to future challenges, any recovery plan must also address the overconsumption, waste and toxic pollution generated by our economies. In the food sector this means tackling the industrial farming business to end the unhealthy, and exploitative industrial overproduction of meat and dairy. Investment for a good food future means focussing on local, ecological farming and plant-based diets.
But recovery is not just about new investments – it is also about shifting existing funding. Governments continue to support the gas, oil and coal industries to the tune of billions, instead of shifting all support in the sector to the clean, renewable energy systems of the future, and thus creating new employment.
Similarly, subsidies have entrenched a food system that has bankrupted millions of small-scale farmers, benefiting industrial farming, the pesticides industry, and rich landowners, destroying nature close to home and in far-flung places, and putting us all at risk of more pandemics. To shift public farming subsidies and drive a transition to a healthier, more humane food system that employs more people, the EU needs to scrap its Common Agricultural Policy and start afresh.
Any investment plan must also focus on shifting support to boost a new, green economy without locking in outdated and destructive industries. Governments and the EU must not be allowed to disguise a refusal to abandon business as usual by applying a thin layer of green paint.
2. Does it provide for everyone?
Protect livelihoods and decent jobs, and support reskilling of workers from unsustainable to sustainable sectors of the economy
Invest in quality jobs in future-proof sectors (e.g. renewables; home renovation; public transport and cycling infrastructure; train networks; ecological farming; nature restoration; repair, reuse and sustainable product design; public healthcare; education; arts)
Instead of burdening future generations with mountains of debt, governments must, for example, end tax avoidance, and ensure the wealthiest contribute the biggest share of recovery funding
Strengthen essential public services, invest in urban green spaces and natural infrastructure
Support the most vulnerable people in society and tackle income inequality
Ensure digitalisation policies have a positive impact on employment, and protect rights and freedoms
Investments and bailouts must protect people's livelihoods (not shareholder dividends and CEO bonuses), support workers in learning new skills, and open up opportunities in sectors that are future-proof, including home insulation and renovation, solar panel installation, and the expansion of train networks, public transport and cycling. Ecological farming can also provide more than enough healthy food and fair prices for farmers, while generating more and safer jobs than destructive industrial farming.
The 2008 financial crash ruined millions, but it also turned millionaires into billionaires. This time must be different. From corporate tax dodgers to billionaires, everybody must pay their fair share.
Governments should also be wary of the impact of digitalisation at all costs. Decent, stable jobs in essential services and clean industries must replace the gig economy. It is time to address income inequality, reduce working hours to boost employment, improve our work-life balance, and decrease our overall environmental footprint.
The recovery package must also demonstrate that European governments are prepared to help the most vulnerable within our communities, from the long-term unemployed to refugees, as well as beyond our borders, where responding to the health and economic crisis is even harder.
3. Does it safeguard fundamental rights?
Make funding conditional on respect for democracy, fundamental rights and the rule of law, and sanction any infringements
Discourage the use of tracing apps
Democracy is a prerequisite for a green and just Europe. Strong and inclusive democratic institutions, the respect of fundamental rights and the rule of law by all levels of government should be a prerequisite for the granting of EU funds and support schemes.
The EU should take strong action against any government using the health crisis as an excuse to suppress the rule of law and fundamental rights (including the right to privacy, freedom of speech and the right to protest) with unnecessary and disproportionate measures.
Finally, the EU should discourage the use of COVID-19 tracing apps, unless clearly justified, limited and time-bound by law. Such technologies could introduce disproportionate and pervasive surveillance, disguised as a public health tool to control the disease. This is a major threat to people's privacy that could undermine freedom of movement, freedom of expression, and freedom of association.
Contact: Greenpeace EU press desk: +32 (0)2 274 1911,

[email protected]
For breaking news and comment on EU affairs: www.twitter.com/GreenpeaceEU
Greenpeace is an independent global campaigning organisation that acts to change attitudes and behaviour, to protect and conserve the environment and to promote peace. We do not accept donations from governments, the European Union, businesses or political parties. We have over three million supporters, and offices in more than 55 countries.
EU Transparency Register: 9832909575-41