Organic farmers of Jamui, Bihar presented their recommendations in a pre-budget consultation meeting
"There is indisputable evidence of the linkage of Air Pollution to the health of the individuals. One of the biggest reasons for increasing air pollution levels over the past years in cities is the unsustainable transportation we use. According to the Airpocalypse-IV report, about 80% of Indian cities are vulnerable to air pollution and exceed the national air quality standards. The 'cost of toxic Air' report estimates one million deaths each year in India due to air pollution generated from burning fossil fuels and costs 10.7 lakh crore or 5.4% of India's GDP every year. A paradigm shift in the current transportation sector is the need of the hour.
Manoj along with two more representatives of Jivit Mati Jaivik Jamui Abhiyan (Living Soils Organic Jamui Campaign) was part of the delegation that were consulted by the Deputy Chief Minister cum Finance Minister, Principal Secretary, Agriculture and other concerned officials.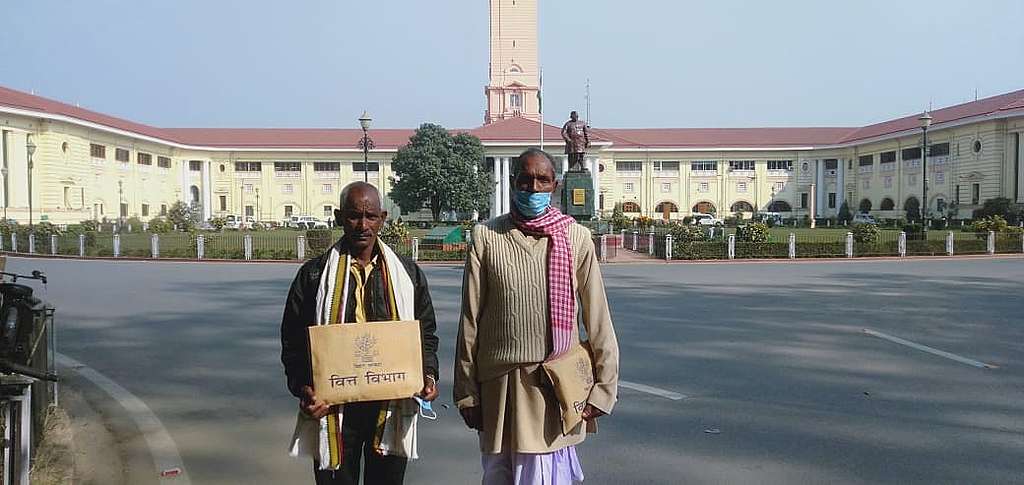 Banarasi Das, another organic farmer from Jamui's Tari Davil Village elaborated on the recommendations they shared with the decision makers, "We are small farmers and are facing multiple challenges related to fair pricing, availability of good quality native seeds and on the top of everything, the changing weather pattern and extreme weather events."
Thus, Kedia farmers have divided their recommendations into three sections. The first one is linked to increase in farmers' income through increased government procurement of grains and pulses from farmers in Bihar at the minimum support price (MSP). To cater to over 176 million Public Distribution System (PDS) cardholders, the government needs over 80 to 90 lakh tonnes of grains annually. We have asked to procure this quantity from Bihar farmers. We have also requested the government to introduce institutional procurement of millets and other coarse grains, pulses and oilseeds at the MSP. This will increase farmers incomes and will also encourage farmers to grow more diverse crops.
The second section of their recommendations details the need to allocate reasonable budgets for climate resilient and biodiverse ecological agricultural practices including mixed and multiple cropping, adding millets, oil seeds, native and ecologically adapted varieties of vegetables and uncultivated/forest food in the crop mix. "We have also recommended creating an Environment Services Fund for incentivising sustainable farmers. Our recommendations also include assisting small and marginal women farmers in developing their organic kitchen gardens through Jivika and ATMA to better their food and nutritional security while equipping them in organic farming." Manoj Tanti said.
""Through the government's flagship Ankuran Poshahar Vatika (Nutrition gardens) scheme, the government can also help school children to learn organic farming and grow safe and nutritious fresh vegetables for their mid day meals," he further added.
The third set of recommendations deals with higher government investment in creating decentralised infrastructures for soil and water conservation. "We cannot survive without healthy soil and water hence we have asked the government to assist farmers, especially, small and marginal and women farmers in building infrastructures to conserve these sources of life and livelihoods for more than 76% of Bihar's population. These infrastructures will equip farmers to fight the climate crisis and protect the food security of Bihar and the nation from the vagaries of extreme weather conditions." Manoj concluded.
(Ishteyaque Ahmed is a senior campaigner at Greenpeace India. He expertise in Sustainable Agriculture and has been one of the driving forces in ensuring Kedia Community becoming Bihar's first organic certified organic producing group.)